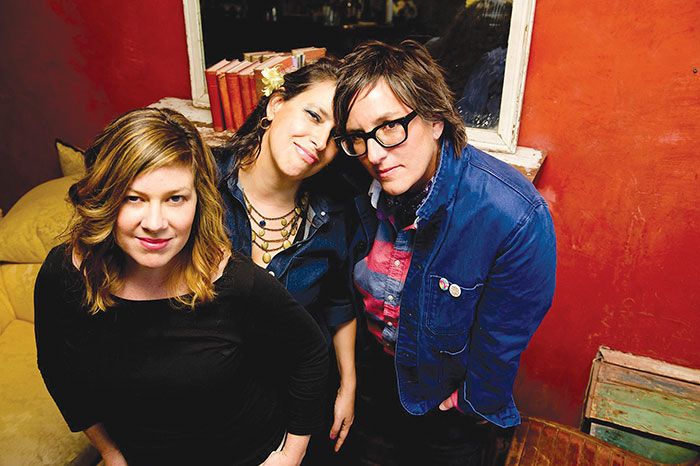 Jill Cunniff, Gabby Glaser and Kate Schellenbach were the coolest girls in the East Village when they emerged as the eclectic alt-rock group Luscious Jackson under the Beastie Boys' label Grand Royal in 1992. After putting out four records and hitting Billboard's Top 40 with Fever In Fever Out's "Naked Eye," the group disbanded in 1999 -- until now. On November 5th they'll release their latest body of work, Magic Hour, and timing couldn't be better. They're still the coolest.

What have you been up to for the past 14 years?

Jill: I started songwriting -- co-writing with artists and producing -- and had a family. We all have kids now, which, you know, took a lot of time. I made a record in 2007 and Gabby made a record, too. Kate is in L.A. and worked on Ellen and won an Emmy as a producer.

The '90s are having a major cultural revival. Why do you think that era resonates with so many people?

Gabby: I think every generation is going to get somewhat nostalgic about their younger years. In the '90s we were reminiscing about the '70s because that's when we were kids. Even the liner notes in In Search of Manny allude to a loose, freewheelin' time.

Jill: Music activates memories, which is cool because it can bring you back to a certain feeling. But, it was important for us to not be nostalgic when making this record. It does have stuff that is reminiscent of our early work, but that's just who we are. I hope that we made something that resonates now too -- that's the point.

How do you feel the music industry's changed since you were first starting out?

Jill: Back then there was actually money in the system so there were a lot of excited people working in the [industry]. When I look back at that period I feel like there was a positivity, an optimism -- especially around Grand Royal. People had jobs, people were buying CDs. There was a functioning system. After, sort of when we broke up, I felt that things were starting to switch. There was a sort of sadness and we realized it was time to move on.

How do you see your sound fitting into the current musical climate?

Jill: People didn't really understand our music when we were starting because it was really eclectic, but now, because of the Internet, people's tastes are more varied. Rather than being splintered into groups--I like "funk," I like "rock"--people think how we thought back then. It's not like, "Why are you rapping and rocking at the same time? Why are you funking and folking at the same time?"

Gabby: Yeah, you can't funk and folk at the same time?! It's funk or folk--come on, people!

Jill: Oh, but you can.

New York was a big inspiration for your early music -- what drives your sound now?

Jill: You always carry your influences. Growing up going out in New York influenced us and made us who we are. We are still those same people who hung out and listened to different music every night. That eclectic worldview never goes away.

Gabby: Yeah, I felt very fortunate to be around such great music. But the best thing about making the album was getting back with each other; creating music and having it come together so easily.

What was your favorite thing about making the new album?

Jill: Well we made this one song, "#1 Bum," and it's a gender reversal -- it's basically a girl watching a man's butt. It's like a comedy moment and it was so funny to make that song. It reminded me of when we were teenagers and we would just sit and laugh and laugh and just roll around on the couch.

Gabby: And really that was the best thing about making the album -- getting back with each other and making a melody and making a riff and having it come together so easily. It's like a puzzle and everything fit together right away.