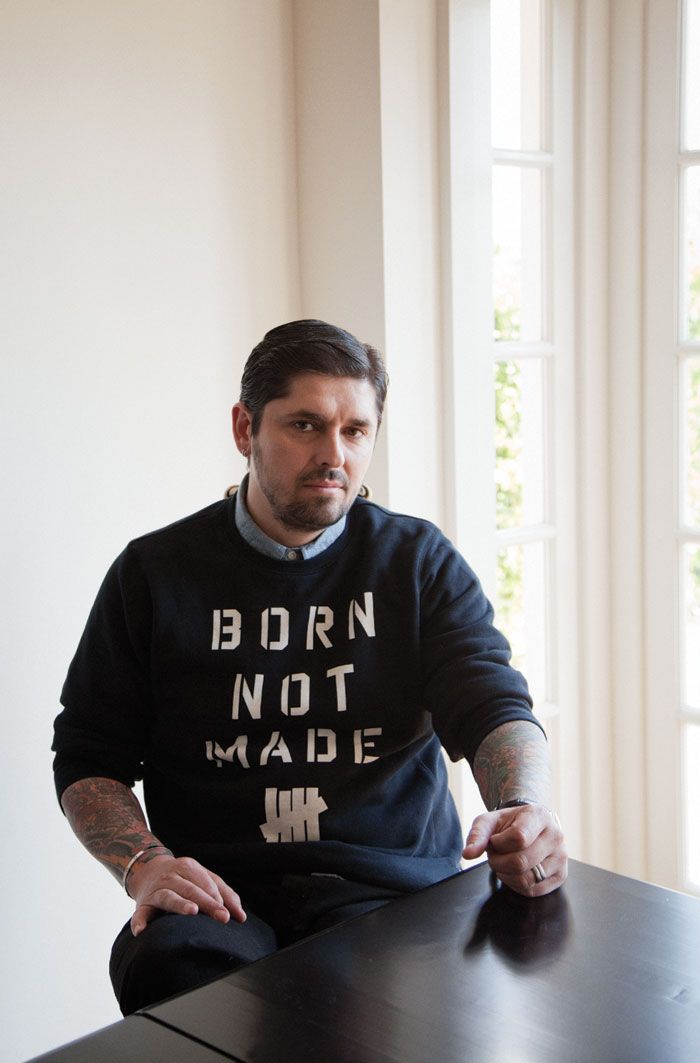 Ludo wears a sweatshirt by Undefeated, shirt by Joe Fresh, watch by Bell & Ross and bracelet by Cartier.
Peripatetic Ludovic "Ludo" Lefebvre is a chef without a restaurant no more. After years of Los Angeles pop-ups, called LudoBites, and a fried chicken truck, called LudoTruck, he's parking his talents in a West Hollywood strip mall. At Trois Mec (French slang for "three dudes"), his first brick-and-mortar restaurant, which opened last month, Lefebvre collaborates with Jon Shook and Vinny Dotolo of Animal and Son of a Gun fame. How does he describe it?
"A blend of French and American, dishes inspired by la cuisine ancienne."
Such as?
"Butter and cream."
Health-conscious Angelenos may not usually go for butter and cream, but they've embraced the native of Auxerre, France, since his early days as the executive chef of L'Orangerie and Bastide. LudoBites began in a friend's bakery in 2007. "No advertising, no press, no PR, but we had lines out the door," chimes in Krissy Lefebvre, the chef's wife and manager, who also helps manage their two-year-old twins, a boy and a girl. Appearances by the amusingly hot-headed Lefebvre on seasons of Bravo's
Top Chef Masters
, and, more recently, as a judge on ABC's
The Taste
, followed.
Trois Mec, Lefebvre says, "will have refined hospitality but not froufrou. I want my customers to eat with their hands, like my children, to have a connection with the food. If it's embarrassing, you can wear a napkin on your head like we do in France. Hide behind your napkin. Nobody can see you."
Because wearing a napkin on your head in Los Angeles isn't embarrassing?
"I don't think so," says Lefebvre. "Trust me."