"The struggle is financial, that's always the biggest one really," admits Raul Solis, founder of New York-based ready-to-wear label LRS. "Continuing to make and evolve collections, keep investing in a brand, and the business not growing as fast as the demand of the actual business needs to grow... that's the biggest challenge."
Solis is hardly alone in that department, as the sentiment rings true for many niche designers who are trying to scale their business while remaining steadfastly independent. The current climate, which largely favors luxury conglomerates and fast-fashion players, has proved difficult for independent names struggling to find their footing, as Zac Posen's recent shuttering demonstrates.
Now about five years into running his label — known for its subversive, deconstructed sportswear — the rising designer (who cut his teeth at 7 for All Mankind and Proenza Schouler prior to launching LRS) opens up about the difficulties navigating a small brand, the risks he took moving to New York, and the realities of getting by season after season.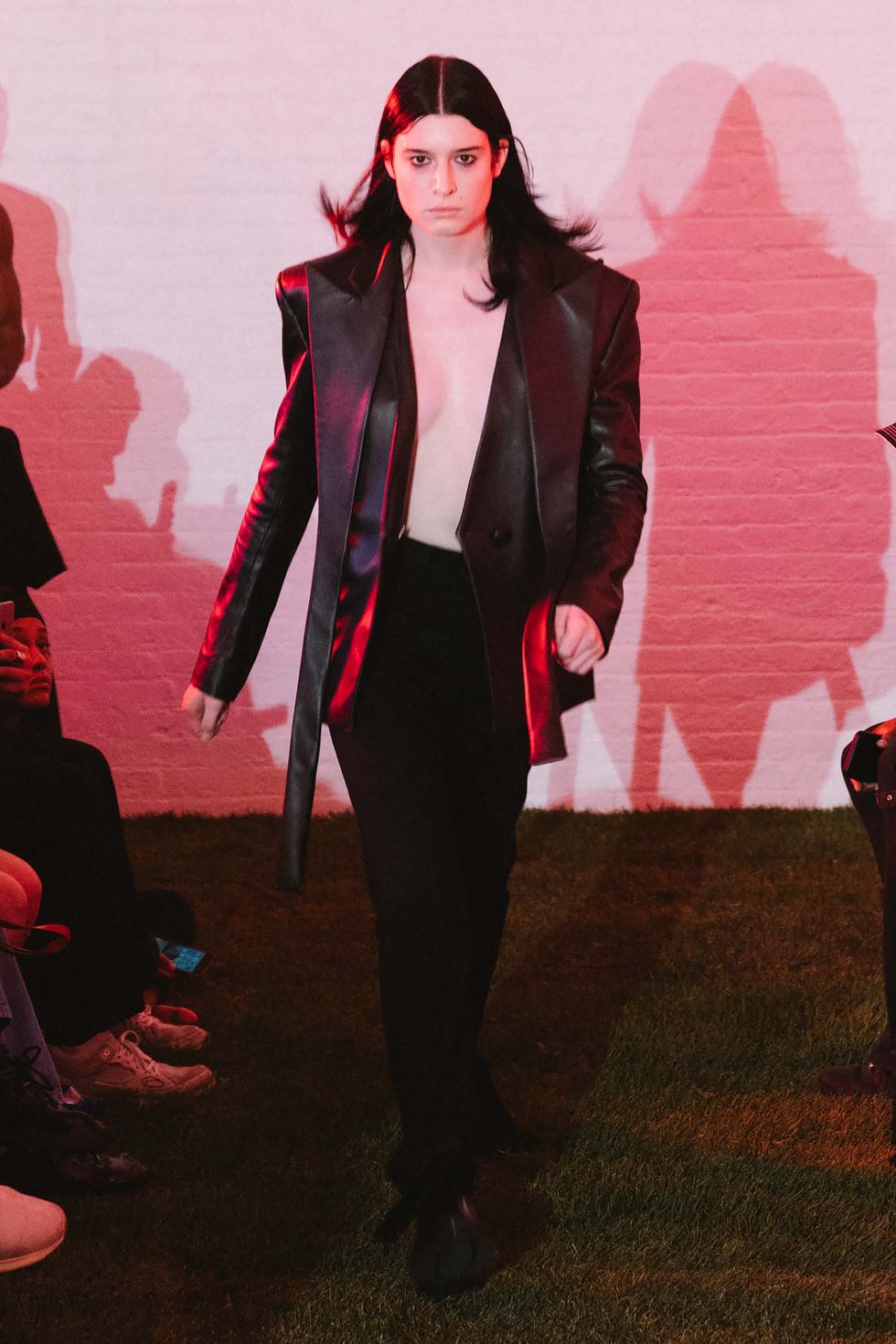 LRS Spring 2020
Looking back at the last five years since starting LRS, what are some things that stand out to you as you've evolved?
Five years is a very good point to look at what I've been doing and I keep going back to the same things regarding construction and our fluid way of wardrobe. Even though we started with women's, it was always very masculine in a weird way. And I've been looking at the same things the more we continue to really look at a concept. At least this past season we've been going back, looking at what we've been doing, and nailing those things whether it was denim, leather, tailoring. Again, just keep looking at staples and languages and solidifying our codes.
So let's go back a little. What was it like starting out in LA before ultimately moving to New York?
Well, I dropped out of school to get a job in LA and I worked there for a while. I ended up getting a job at a denim company which was just starting [7 for All Mankind] and I grew up with them. It was amazing. I was with them for about five or six years. That pretty much set my structure, my resume, my workload — It was pretty much my second school technically. I always wanted to come to New York to come to school, but financially my parents weren't able to, so after five-and-a-half years at 7 I knew I needed to come here and that it was time. I mean for me I don't think it's healthy to be in a place for that long if it's not your brand.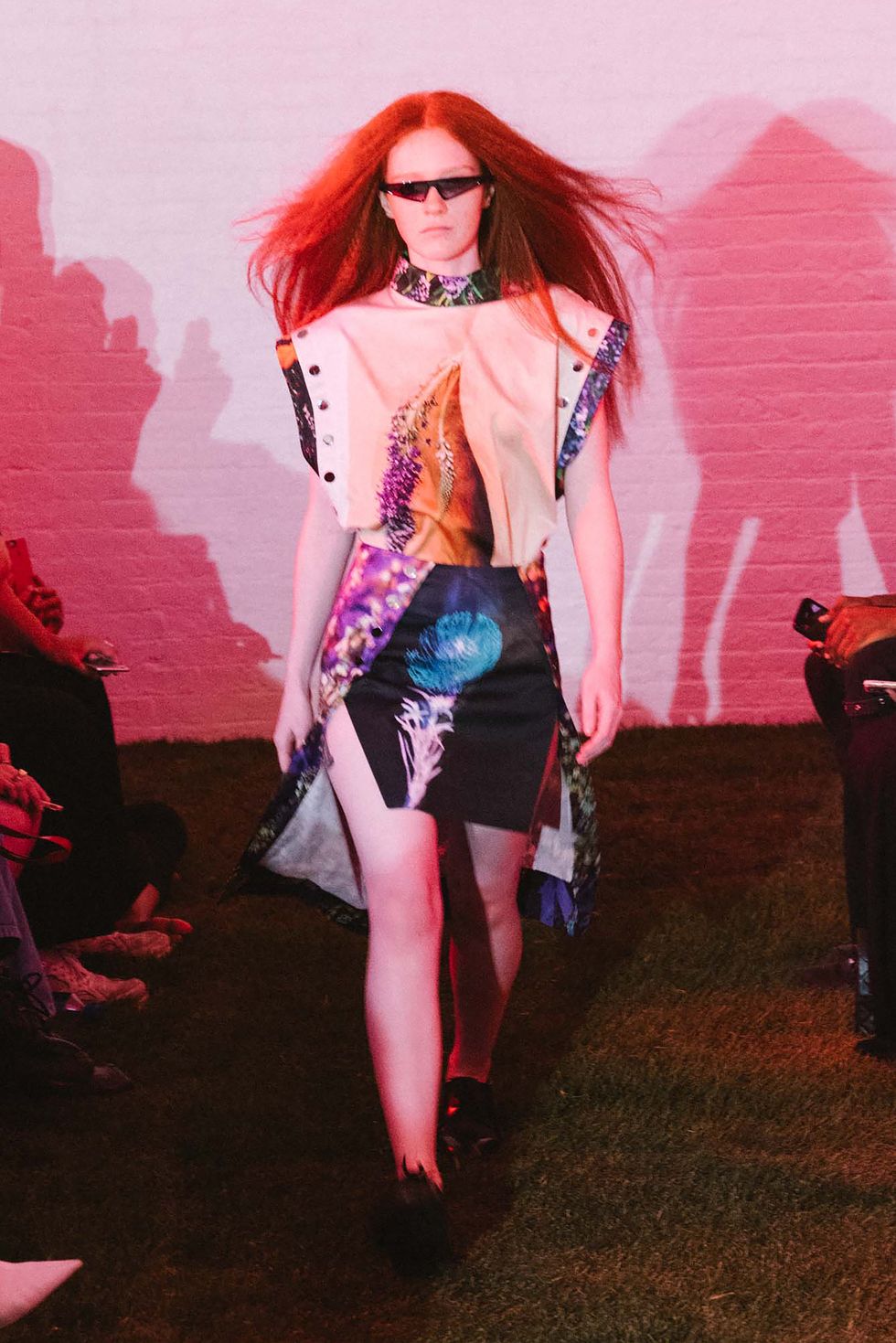 LRS Spring 2020
So what happened after you left 7 for All Mankind?
I decided to leave and they gave me a contract where I couldn't work for a full year. I stayed in LA for half of the year, worked on my portfolio and thought about whether I wanted to do denim or not. Then I came to New York just to see what the opportunities might be here as far as work without anything lined up. I think I was here for about three months then the CEO of Proenza Schouler found out I had moved through mutual friends and she gave me a call like "Hey would you be interested in talking to us?" and I was like "Yeah absolutely!" I mean it's a brand I had admired a lot and still do. I worked with them for about four-and-a-half years.
Tell me about the time between Proenza and launching LRS. What made you decide to go ahead and start your own brand?
I've had two major jobs, and both of them when I started were startups. I realized that's where I thrive the most. I'm not very into a set corporate environment. So when 7 was bought by VF, which is a huge conglomerate, I knew I had to step out, just because my whole aesthetic of my design and portfolio is a bit more creative than a corporate scenario. With Proenza, I was with them prior to when a portion was bought by Andrew Rosen, so going through the whole process from independent to corporate I realized I didn't want to go through that transition again. Another reason was just working on a portfolio to get me out of denim into a more ready-to-wear platform. So I started working on my portfolio and it began to get picked up by stylists and retailers. It just slowly became a business, but wasn't really intended.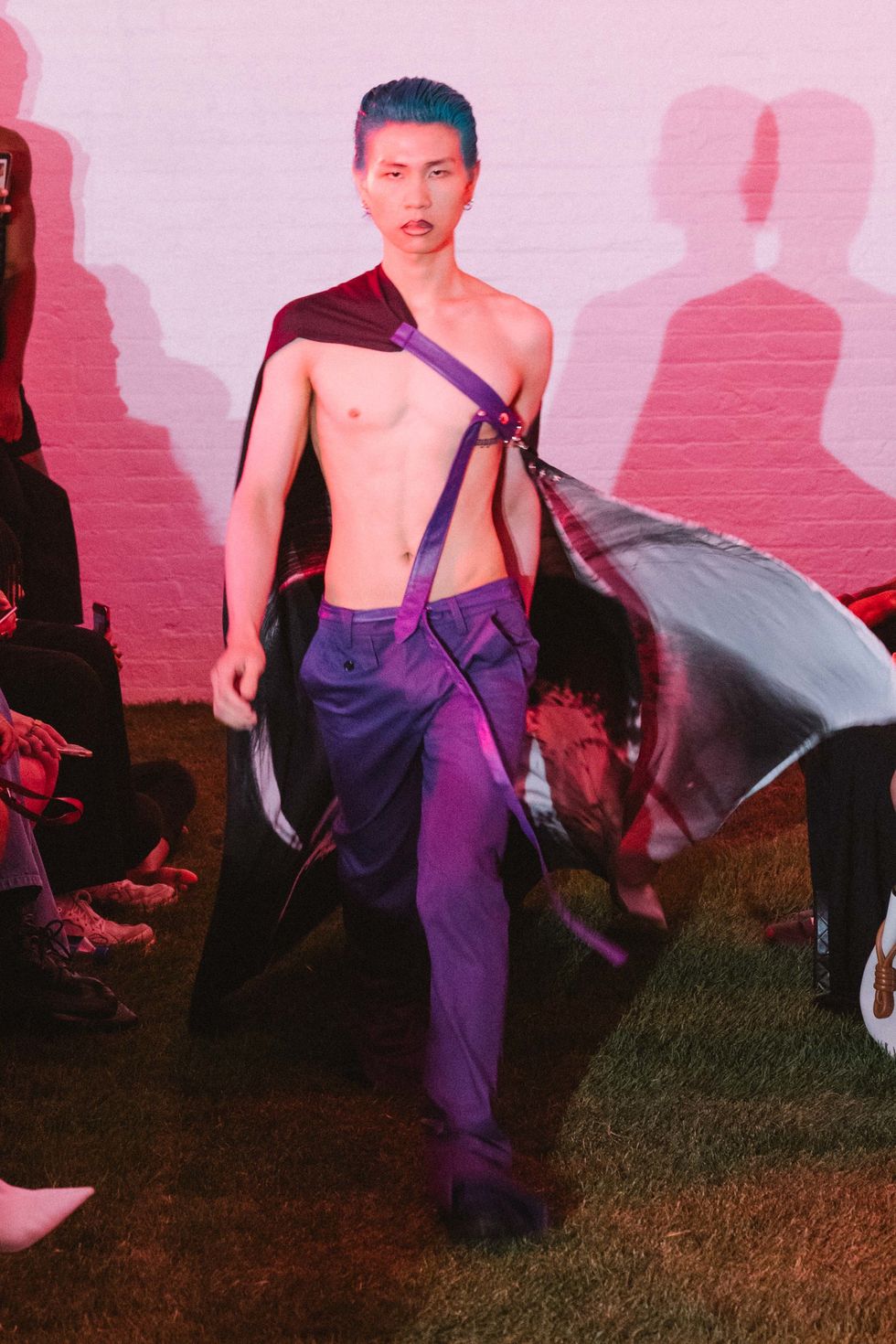 LRS Spring 2020
It kind of sounds like it happens so easily — like, "Oh yeah, I did my portfolio and it got picked up by so and so's stylist and store." What are the biggest factors that made this happen for you when just starting out?
[Laughs] I mean luck, you know? I think social media played a huge part of it. As far as connections I've been working under brands and maybe my resume seemed intriguing to some people. But it really was also a moment when larger designers in New York were shifting and moving to Europe, so there was this gap in the calendar and there's always a young-brand or designer, so I think there's a group designers where we all started at the same time. It seemed like a bus. It really was just a moment, or flow. Super happy it happened then and I was able to do it at that time.
Have you grown your team at all since then? Or what are the numbers like right now?
I've gone back and forth through the past five years. We sell to boutiques, so that's always a very shaky income. It's been up and down. Right now I have a production manager, and it's me designing. There's a consultant and stylist friend of mine who comes in but not necessarily in-house all the time; she comes in through the process of the design throughout the show or the lookbook. For interns, I work with Parsons and Pratt students and they come in and out through the seasons. It's a very very small team. It's just making it myself, the help of some interns, and the production person that manages that other part of it.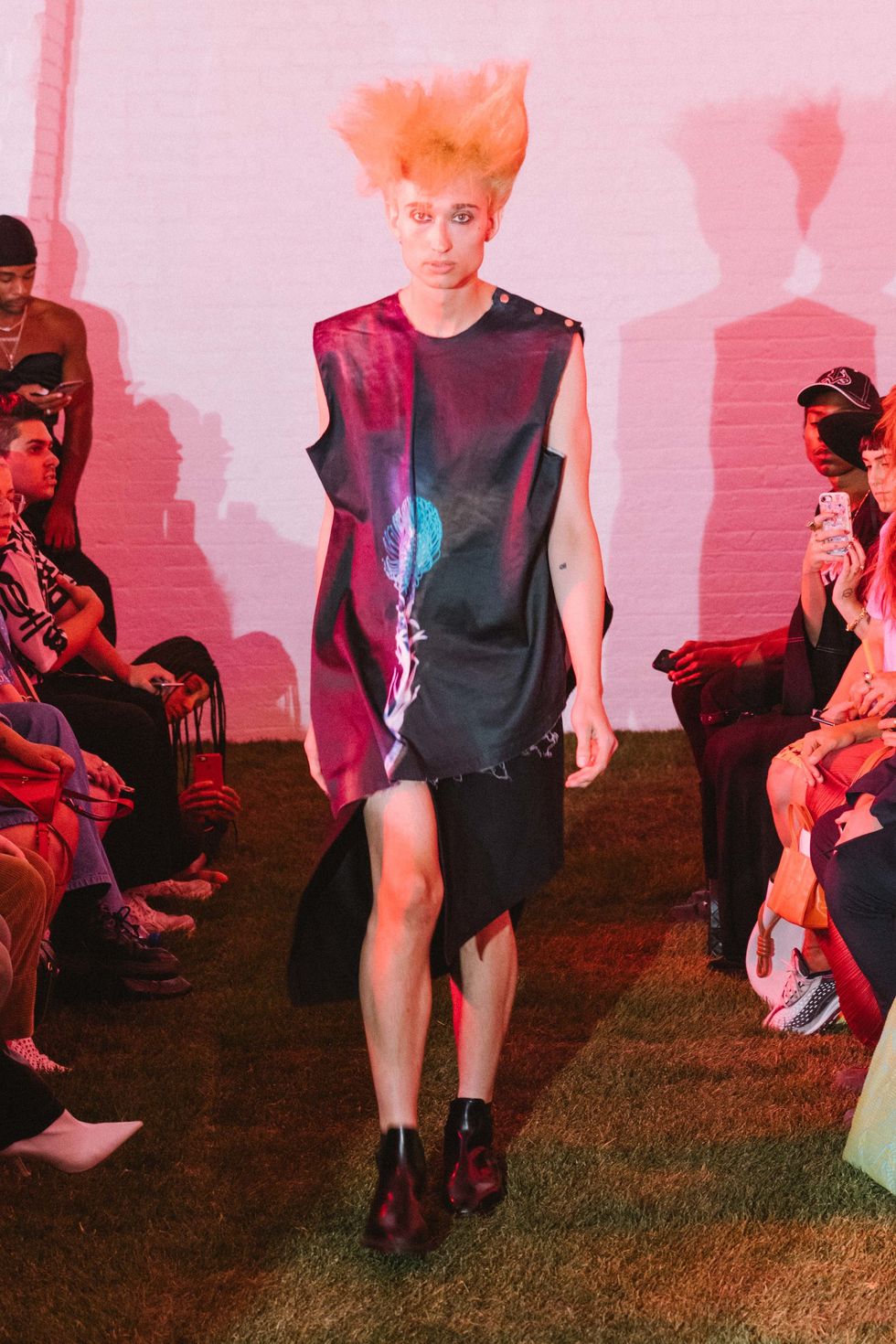 LRS Spring 2020
As an independent designer, how do you find the next level for your business without becoming too big or mainstream?
There are a couple major designers that are extremely successful that have scaled and maintained their brands independently. There's Raf Simons, who as a brand I think is so well structured. Because it's so independent you see his ties in the business then you see his clothes, you see the runways, you see the collections. The way he manages his stock is really interesting. Also Vivienne Westwood for a really long time was an independent brand. I think she now has two investors, but even then they're not part of the big umbrellas of the luxury market. These brands that I look up to show a very authentic vision of what they are wanting to design and have full control of different aspects whether it's marketing or retailers.
Lastly, what are you setting your mind to long term?
The end of every season I'm just like, "Are we gonna have a next season?" It's hard to look too far ahead for me. Obviously I know what I want to do with the brand, but I take it really season by season, like, "Can we have a show?" or "Can we have a conversation in the next six months about showing differently?" I want to explore other ways of presenting it. That's where I'm headed and what I'm thinking as far as even paring down the collection. Making a show requires so much product to put 28-30 look collections together. You end up realizing as a small brand you don't even need that much product. It ends up being such a filler, and I don't know necessarily if that's what I'm looking for at this moment. It's about how can you communicate that instant excitement to your audience or fanbase, because shows are exciting. But a lot. [Laughs].
Sign Up For The Morning PAPER