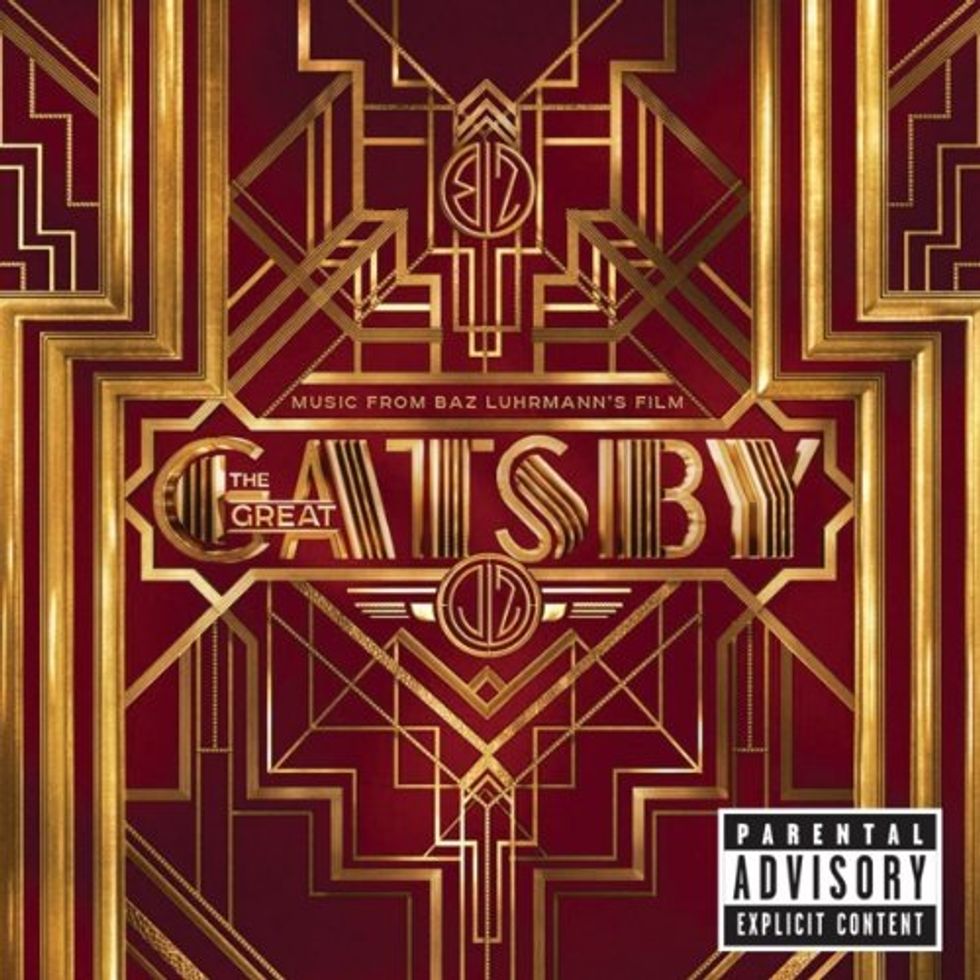 This morning, after several weeks of parcelling out individual songs to different blogs, Interscope Records unveiled the full soundtrack for Baz Luhrmann's forthcoming film adaptation of The Great Gatsby (out in 3-D next Friday). Executive-produced by Jay-Z, the soundtrack will be released on vinyl by Jack White's Third Man Records, and is chock-full of contemporary hitmakers: André 3000, Beyoncé, Lana Del Rey, Fergie, Bryan Ferry, Florence + The Machine, Goonrock, Gotye, Nero, Coco O. (of Quadron), Q-Tip, Emeli Sandé, Sia, White, will.i.am and the xx.
This music's anachronism to the film's 1922 setting is almost unremarkable, part of a trend that dates back a little over a decade. On May 1, 2001, Columbia Pictures released A Knight's Tale, which combined medieval jousting scenes with classic-rock anthems by Queen and AC/DC. The following week came Luhrman's Moulin Rouge!, relocating Nirvana to fin-de-siècle Paris. (His previous feature, Romeo + Juliet, doesn't count because it adapted the action of Shakespeare's play from medieval Verona to '90s Miami.) Sofia Coppola plundered post-punk for 2006's Marie Antoinette.
The following year, Ridley Scott's American Gangster -- which focuses on a Gatsby-like self-made hustler in 20th-century New York (in this case, the '70s) flying too close to the sun -- inspired Jay-Z to record a related concept album, leaning heavily on period-era R&B samples from the likes of Marvin Gaye (on a song called "American Dreamin'") and Barry White. None of it was used in the film, which still made use of present-day recordings by neo-soul singer Anthony Hamilton.
Still, none of these stories are as strongly associated in the popular imagination with a particular style of music as Gatsby, Fitzgerald's follow-up to 1922's Tales of the Jazz Age. Appropriately, many of the new soundtrack's songs play with jazz hints of jazz. Will.i.am's "Bang Bang" opens with a pretty authentic Charleston rhythm before ratcheting up to bombastic four-on-the-floor EDM. The Bryan Ferry Orchestra, fresh off an album of Roxy Music tunes in "Jazz Age" arrangements, re-recorded Beyoncé's 2003 smash "Crazy in Love" in a similar style with Emeli Sandé on vocals.
Where Ferry remakes contemporary hits in a period style, Nelson Riddle did the reverse for Hollywood's previous take on the Gatsby story, winning a 1974 Academy Award for his lush, easy listening-style arrangements of Tin Pan Alley hits like Irving Berlin's "What'll I Do" and Ted Snyder's "The Sheik of Araby." (I couldn't track down the soundtracks for the 1949 Gatsby film with Alan Ladd and Betty Field or the 2000 TV movie with Toby Stephens and Mira Sorvino. The 1926 silent film is considered lost.)
* * *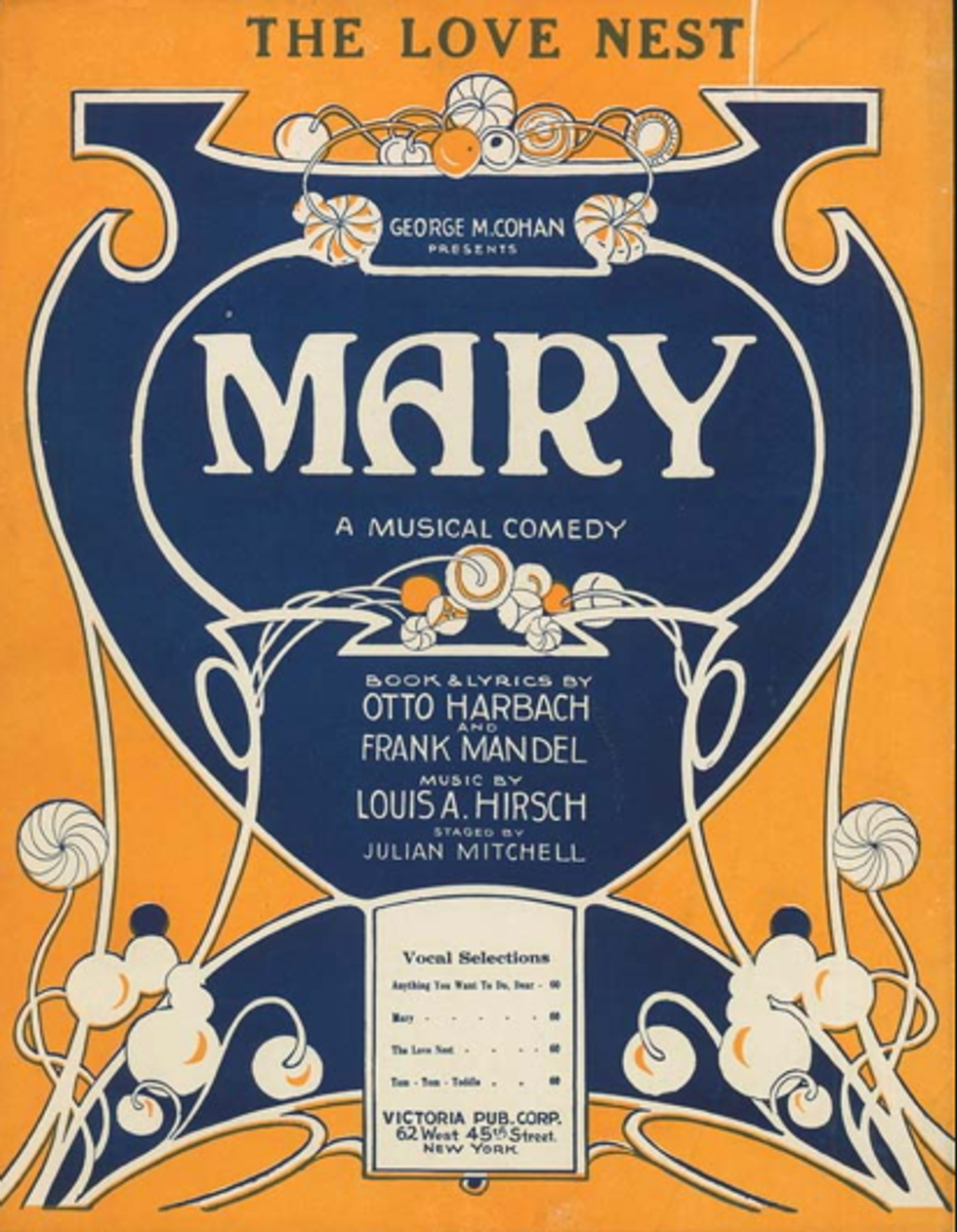 But what would be a truly authentic Great Gatsby soundtrack? Fitzgerald quotes "The Sheik of Araby" in a scene where narrator Nick Carraway is riding through Central Park "and the clear voices of little girls, already gathered like crickets on the grass, rose through the hot twilight[.]" Most of the music in Gatsby is likewise performed by amateurs -- recordings had yet to overtake sheet music in popularity.
Gatsby's boarder Klipspringer sings for his supper with solo piano renditions of contemporary hits like Lou Hirsch's "The Love Nest" and Van & Schenk's "Ain't We Got Fun," whose lyrics about fortune's injustice ("One thing's sure and nothing's surer/ The rich get richer and the poor get -- children") Fitzgerald quotes. The title character's famous parties had "no thin five-piece affair, but a whole pitiful of oboes and trombones and saxophones and viols and cornets and piccolos, and low and high drums" playing "yellow cocktail music."
At one of these parties, Daisy Buchanan's attention is caught by the sound of Paul Whiteman's "Three O'Clock in the Morning" -- "a neat, sad little waltz of that year, [which] was drifting out the open door." The narrator asks, "What was it up there in the song that seemed to be calling her back inside?" It's not clear whether the song is live or recorded, nor who's performing it. "Three O'Clock in the Morning" is one of four Whiteman songs to top the charts in 1922, according to Joel Whitburn's Pop Memories 1890-1954. Here are the rest of that year's chart-toppers (some might be familiar to Boardwalk Empire viewers):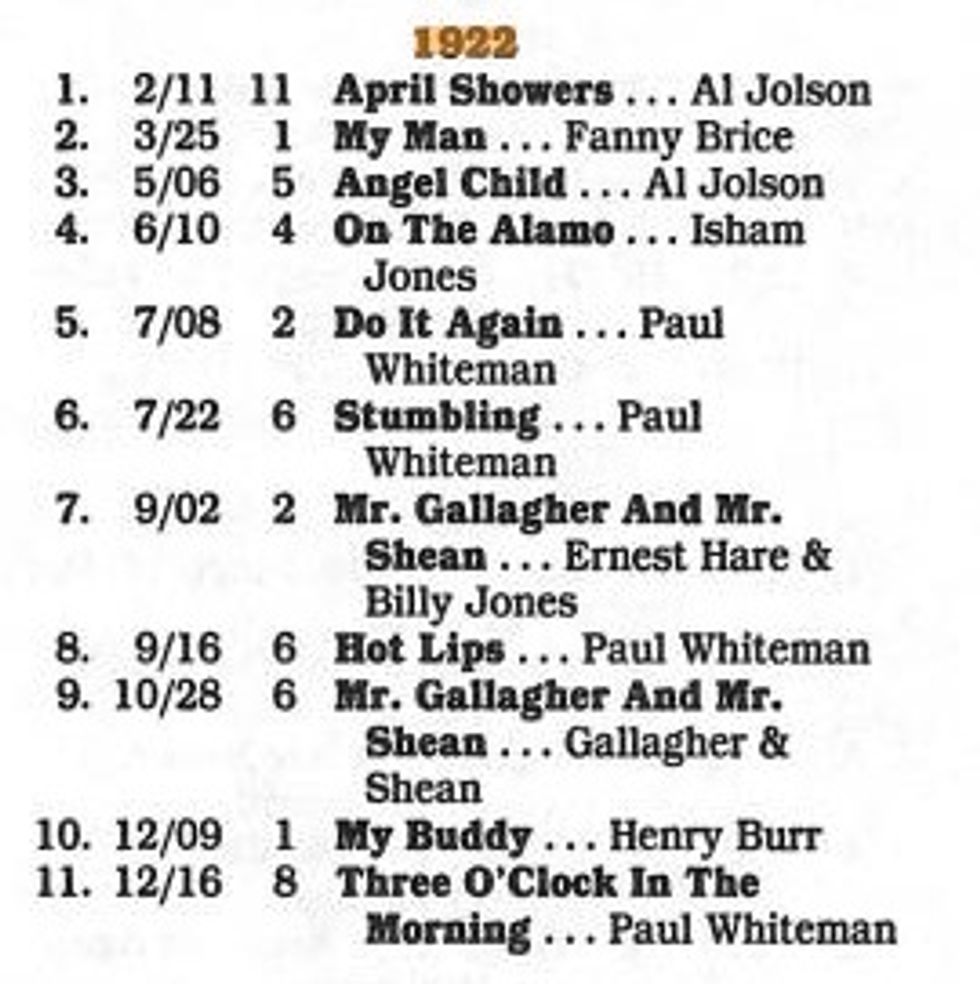 And here they are in a playlist: