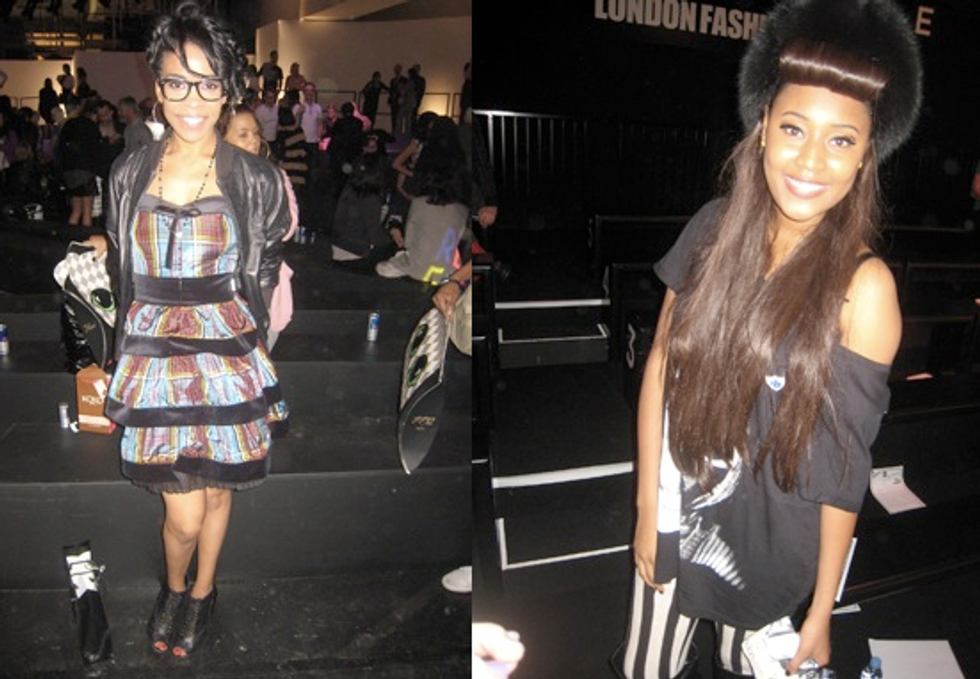 NAME: Michelle Williams
OCCUPATION: Singer
SPOTTED AT: The PPQ show
SO MICHELLE, WHAT BRINGS YOU TO LONDON? I've been here since June as I've been performing in the West End production of Chicago playing Roxy Hart.
WHAT'S BEEN YOUR FAVORITE SHOW SO FAR? Oh wow, I loved Ashish, I thought it was so much fun, and the PPQ show has been really great – they're probably my two favorites.
FAVORITE PLACE TO SHOP IN LONDON? Anywhere – there's just so much! It can be high end, it can be vintage, it could be you know the market on Petticoat Lane, it doesn't matter - I like to mix it up.
What are you wearing? PPQ!
NAME: VV Brown
OCCUPATION: Singer
SPOTTED AT: Ashish
HOW HAVE YOU ENJOYED THE SHOW? Loved it – I'd wear any of it!
YOU'VE GOT SUCH A PARTICULAR STYLE--WOULD YOU EVER CONSIDER COLLABORATING ON A LINE? Yeah I love fashion, love dressing up. If I were to do my own collection I'd have everything too big, all oversized and sloppy. I'd call it Wearing Your Boyfriend's Wardrobe.
BUT YOU'RE SO IMPECCABLE! Oh no this is me roughing it up… Look at how messy my hair is!
WE SAW YOU PLAY AT SECRET GARDEN PARTY THIS SUMMER AND YOU WERE REALLY INTO IT. Yeah playing at festivals like that is just the best feeling – you get to dress up on stage, give it loads and enjoy the craziness of the crowd. I love it.