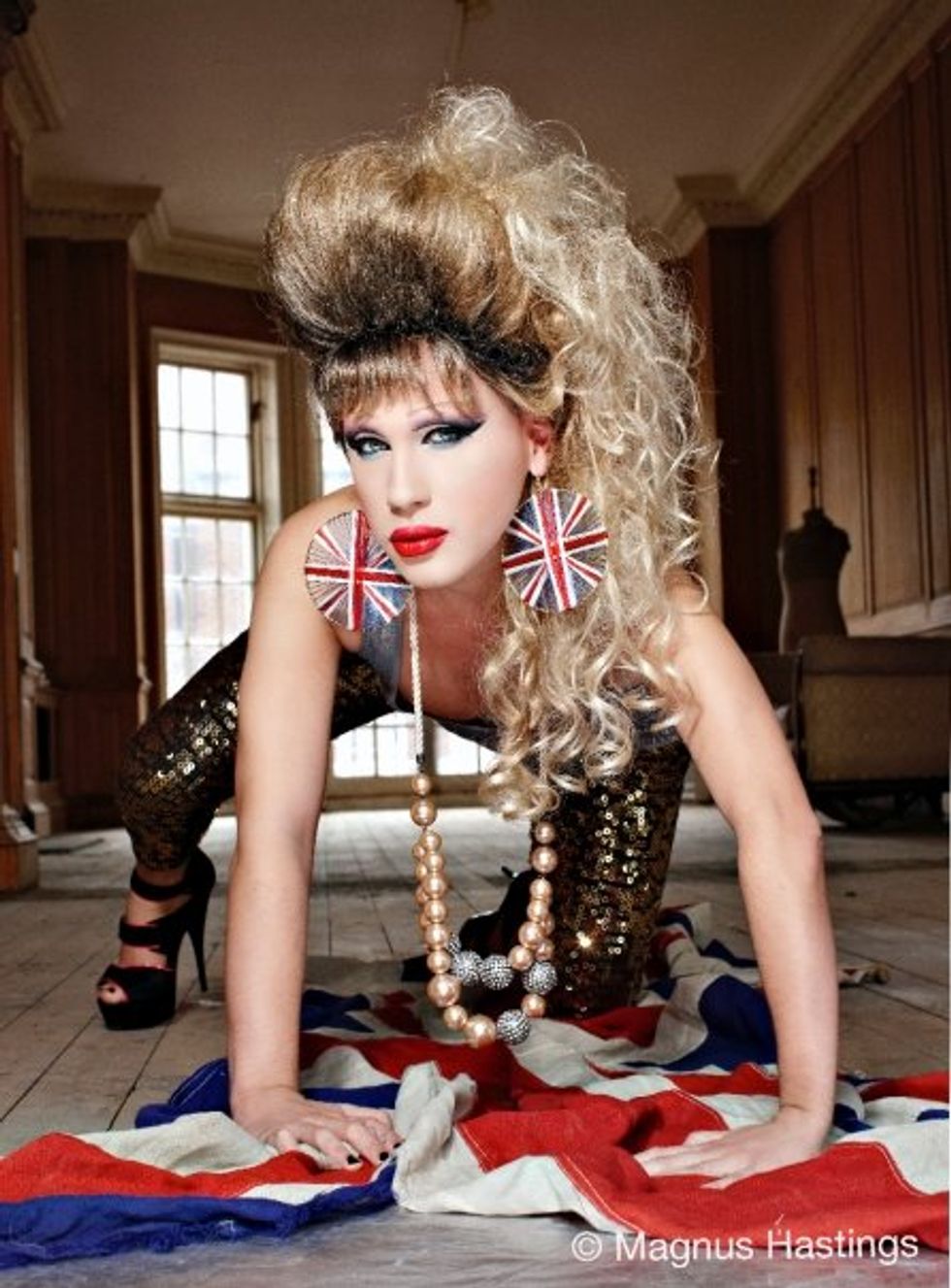 This London Fashion Week, we've managed to wrangle East End designers and girls-about-town Nova Dando and Bubbles Gilmour to report on the madness from their loft in Shoreditch and the tents of  Somerset House. We consider this somewhat of a coup, as Nova and Bubbles are two of the most sought after London duo since Peaches and Pixie! Ms. Dando spoke to superstar DJ and front row fashionista Jodie Harsh on her fave London Fashion Week picks
.
So what's been your pick of London Fashion Week?
I thought Basso and Brooke was beautiful -- all those stunning colors and prints, like a rainbow regurgitated. I loved the embellishment and all-round classiness of Sass and Bide, especially the amazing gold shoulder-armour piece they showed. I definitely want to get my hands on that.
What emerging trends have you seen? On the catwalk and on the street?
The make-up was very toned down this season -- almost nude in many cases. That's a trend I won't be following myself! Black and gold seems to be the colorway of choice. I don't think we'll ever see the back of harem pants either -- I spied a low crotch moment at almost every show I went to.
What makes London Fashion Week exciting for you compared to other fashion weeks?
There is so much creativity and young talent in London -- perhaps this stems from us having amazing fashion schools like LCF, Saint Martins, RCA and Ravensbourne. Although Burberry, Matthew Williamson and Westwood are back here, we don't really have any other big super-brands showing, unlike Paris, Milan and New York, but this lack of money only breeds more originality and creativity in our designers, which makes things a lot more interesting to me.  
What have you been working on this season?
Well my party Circus has been touring and is about to settle into its own home in London -- you can read about that on
thisiscircus.com
. I've been in the studio remixing and working on some  dance music production and I spent all of Fashion Week blogging and Tweeting for Vitamin Water. Along with my DJ-ing, that makes me a busy girl!
What was the best party at LFW?
Matthew Williamson always throws a great party. I hung out with Sienna Miller most of the night, and Palmoa Faith performed an unplugged set -- she's such an amazing songstress. Roisin Murphy also hosted a brilliant party with club night Caligula and Linda Farrow sunglasses. The Crookers DJ-d and Roisin sung while the colorful characters of the underground fashion scene danced on. That's my kinda night!
www.jodieharsh.com
www.twitter.com/jodieharsh