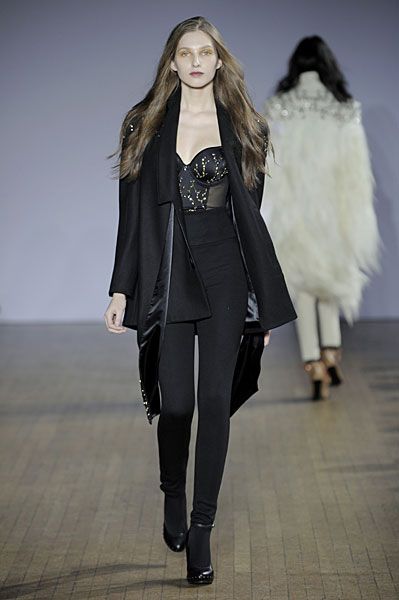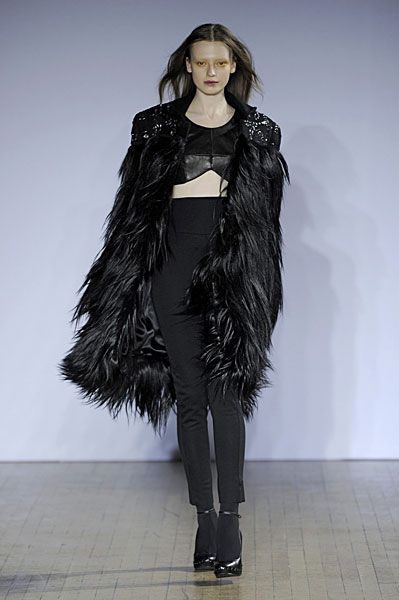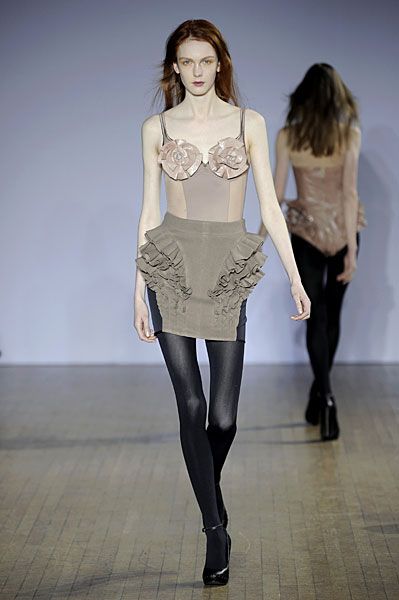 This London Fashion Week, we've managed to wrangle East End designers and girls-about-town Nova Dando and Bubbles Gilmour to report on the madness from their loft in Shoreditch and the tents of  Somerset House. We consider this somewhat of a coup, as Nova and Bubbles are two of the most sought after London duo since Peaches and Pixie! Here, Bubbles speaks to designer Annette Felder of Felder Felder.


The Felder twins are always rock and roll, their collections always show how much pleasure they got out of making it. The leather flower and jewel encrusted boobs combined with the ruffles made the collection super sexy with the muted colur palette -- predominantly nude, black and grey -- giving it a harder edge. The cookie monster finale coat was a highlight for sure and will keep Nova warm for the whole of next winter!
What was your inspiration for the show?
The show was inspired by story tellers like Bram Stoker and Tim Burton, who have the ability to bring something very romantic into a dark setting. They conjure up very atypical and addictive love stories. Dani and me feel attracted to working with opposites.
I loved your music for the show -- what was it and who did it ?
My fiance Arthur Baker always works on our show music. It is such an integral part of the show and he knows exactly what works for us. For AW '10, he created an intro that had vocals from
Bram Stoker's Dracula
mixed up with wolves' howling and a great beat on top. It was so dramatic. The second song, Arthur recorded with
Little Boots
specifically for our show. It was a cover of Joy Division's "Shadowplay." Boots did such an amazing version and Arthur had her voice colliding with Ian Curtis' original voice. The final song was also a cover,  Robert Palmer's "Addicted to Love,"  by Florence and the Machine. Arthur did an unbelievable remix of it. We are all so obsessed with it that we had it playing on loop for hours in the studio!
What was the show highlight for you?
I think the highlight for Dani and me was, when the long, white goat-hair coat came on stage to the first beat of Florence' "Addicted to Love." It was perfect timing, which is nearly impossible to plan and it summed up the mood of the collection in a dramatic climax.
What excites you the most about London Fashion Week ?
There is so much creativity here, we love a lot of the other designers and think the quality of the collections and show production has progressed incredibly over the last years.
What plans do you have for your label over the next six months ?
There are quiet a few things. Among them, we are working on a denim project which will launch this summer and will be very exciting.