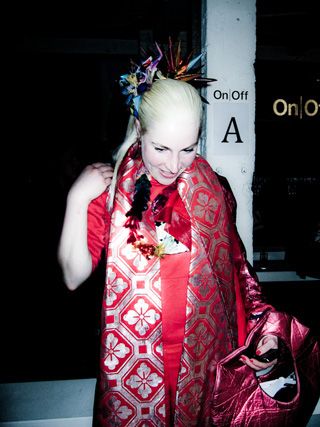 This London Fashion Week, we've managed to wrangle East End designers and girls-about-town Nova Dando and Bubbles Gilmour to report on the madness from their loft in Shoreditch and the tents of  Somerset House. We consider this somewhat of a coup, as Nova and Bubbles are two of the most sought after London duo since Peaches and Pixie! Nova Dando spoke to accessories designer and blogger extraordinaire Fred Butler about her faves of London Fashion Week. Fred is seen out at every interesting fashion event -- you know it must be a good hot show when you see Fred there. Always dressed in her trademark head to toe colored spectrum looks topped off with her latest creation.Fred, what were your top faves of London Fashion Week?
Charlie le Mindu for being totally unique, bonkers and true to his vision; Michael Van der Ham for reinventing the dress; Craig Lawrence for knitting a wearable Haley's Comet from foil; David Koma and Hannah Marshall for celebrating and redefining showstopping sexiness; Chris Shannon and James Long for totally accessible but intelligent menswear... oh and Cooperative Designs because they are outrageously organized and talented -- en route to take over the world
What trends did you notice during London Fashion Week?
Weirdly I keep seeing teddy bear fur... from the collections to the street style of the editors at the show.... me included... I thought I was mad but evidently not!
Why do you like LFW?
Because Londoners aren't intimidated by industry expectations or limitations. They take risks. It's generally upbeat and not too earnest. It's quite a small industry so most designers know each other and therefore their styles are very self assured and signature. It's always a strong mix of honed talent without too much overlapping or homogeneity. It's fresh and kooky but relevant, not ridiculous.
What have you been working on this last season?
I can never remember what I've been working on because I'm always living in the moment, focusing on each deadline as it comes. But I'm looking forward to seeing the film I have made for Diane Pernet's special "A Shaded View of Fashion" at the launch of Vogue.it. And also Lady Gaga wearing the hat I made for her Telephone video which is literally a telephone!
What is your collection called this season?
It's called "not all that glitters" and is inspired by light, Aztec civilization and gold work embroidery.