Lola Kirke grew up in a world where everyone was famous and everyone made art. She also grew up in a world where rock music was made by men. These two facets of her unique childhood have shaped the path of her young but already remarkable life as an artist — and the order of the hyphens that precede her name.
The actress-turned-singer was born in London and raised in New York City music and fashion circles by her father, Simon Kirke, the drummer of English supergroup Bad Company, and her mother Lorraine Kirke, designer and owner of cult West Village boutique Geminola. Surrounded by artists as an adolescent, pursuing acting seemed natural to Lola, the youngest of the multi-talented Kirke brood who watched her sisters, actress Jemimah (of Girls fame) and doula-musician Domino go on to creative careers.
Kirke started acting when she was 10, attended Bard College, and had a breakout year in 2014 when she made her debut in Amazon's Mozart in the Jungle co-starring as Hailey Rutledge, an aspiring classical oboist opposite Gael García Bernal, scored a role in David Fincher's Gone Girl (as motel rat Greta, who befriends and then robs Amy), and was cast in Noah Baumbach and Greta Gerwig's hilarious dramedy Mistress America.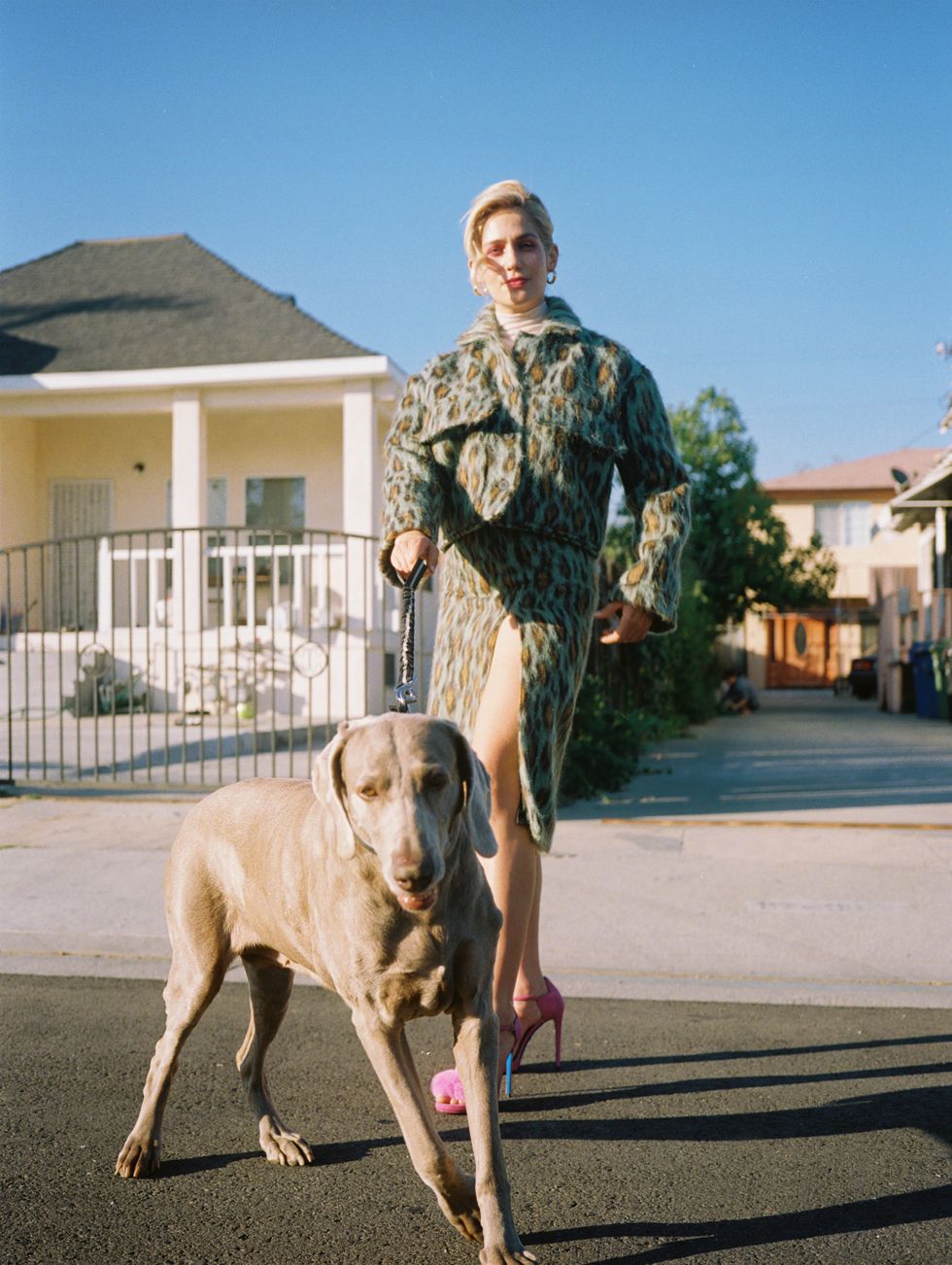 Suit & Turtleneck by Kenzo, Heels by Loriblu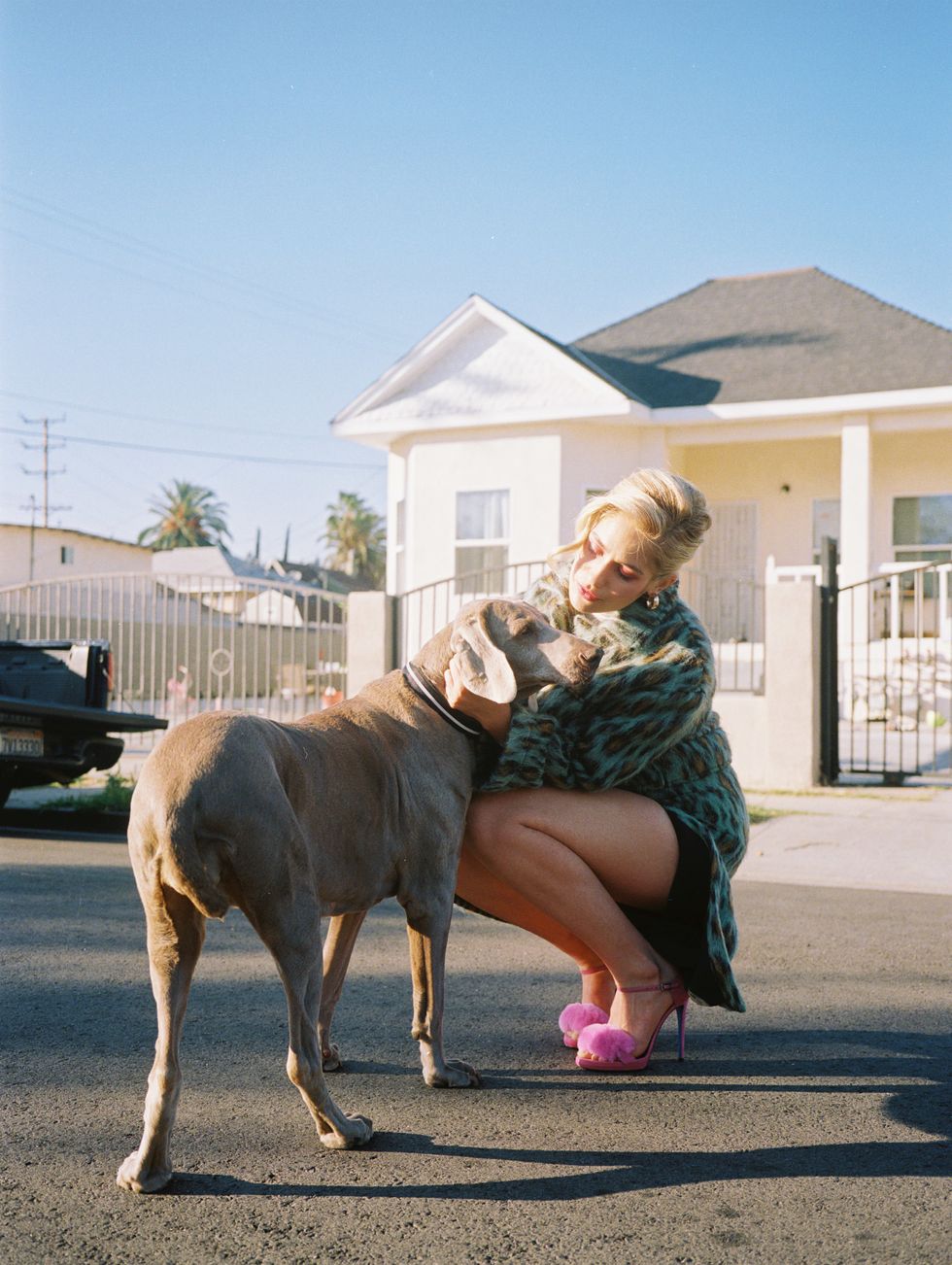 Suit & Turtleneck by Kenzo, Heels by Loriblu
"I only knew a world where music was dominated by men, and women had a very specific role as wives and girlfriends and daughters."
The world of acting was one she entered with relative ease and didn't doubt her place in. Music, however, which she'd been introduced to through a childhood on the peripheries of the hyper-masculine '70s British rock scene via her father's career, felt unwelcoming. "I started acting both professionally and as a hobby long before I dared to pick up an instrument or start writing songs," she says. "I only knew a world where music was dominated by men, and women had a very specific role as wives and girlfriends and daughters."
It has taken the 28-year-old years and the discovery of a group of female musician peers to wrest herself from the role of "daughter of a rock star" — to carve out a space in music aside from the leather pants, pelvic thrusting, groupies and "baby, baby" lyrics of her father's world, where she could see herself.
It's a testament to the insidiously pervasive power of male-dominated, often-misogynistic rock culture, that a girl like Lola Kirke could grow up around such an abundance of female artist role models, and still feel that rock music was a boy's birthright. "I was always intimidated to explore my own capabilities as a musician because of those roles that I saw," she says.
One day in her early twenties, however, Kirke got her heart broken so badly that she didn't have a choice but to start writing songs, and decided that, instead of leaving it up to either boyfriends or male musicians to save her, "I was gonna be the boy that I wanted to love me... And I started writing the songs I wanted to hear."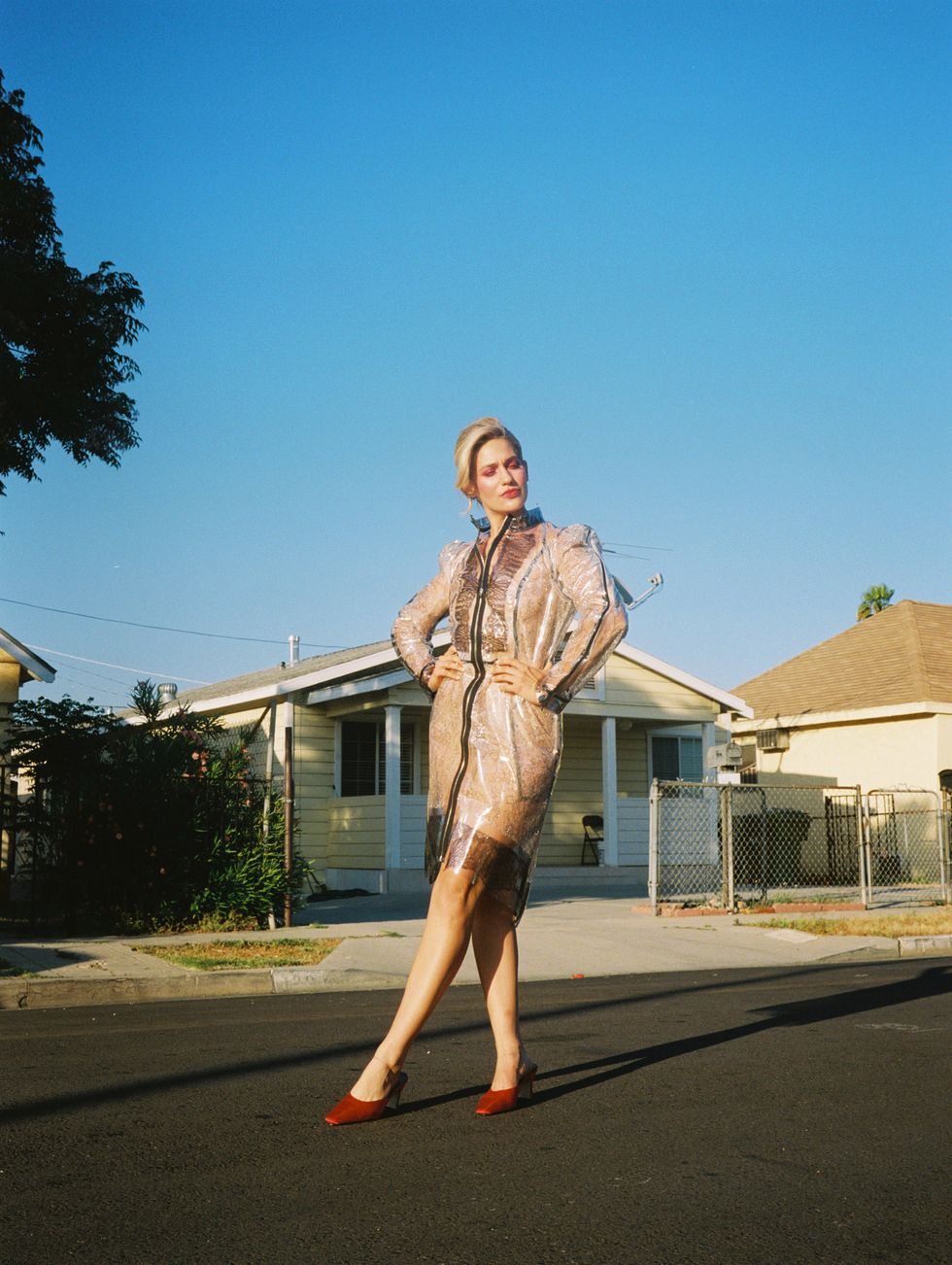 Coat by David Ferreira
That was it. Kirke made time in her acting schedule to write and record. In 2016, she released her debut EP, EPvia Spirit House Records: a hazy, melancholic four-song country-rock collection full of jangly guitars and aerial strings that evokes dusty California highways, rings with the wistful, lyrically vivid tones of Gram Parsons' cosmic American, and recalls the warm, floating vocals of Bedouine (who Kirke cites as a favorite act today).
Now, she's getting ready to release her first full length album, Heart Head West, set for release on August 10 via Downtown Records. Kirke has teased us through a couple of tastes this fall and summer — her mournful, self-probing love letter to a struggling friend "Monster," and exploration of the limits placed on womanhood, "Supposed To."
Today, she's released a third single, "Sexy Song" — a warm, slow-building rumination on her relationship to her body, desire and self-worth that's as sonically lovely as it is thematically rebellious. In the stunningly choreographed video, Kirke explores, caresses, manipulates, inspects and abuses her body: posing seductively then picking her own nose, running her hands down her hips, and then sticking her fingers down her throat, as real iPhone selfies glitch across the screen. The song and video capture both the volatility that often defines women's relationships to their own bodies and sexualities, and the triumphant pleasure of reaching a truce with your body and desire. Although it peaks in declarations of hard-won self-love, as she decides on the chorus with an audible glint in her eye, "if you won't love me tonight, I guess I'll love me tonight," it's the kind of empowerment anthem that's more interested in the messy, chaotic process, than the shiny end-result.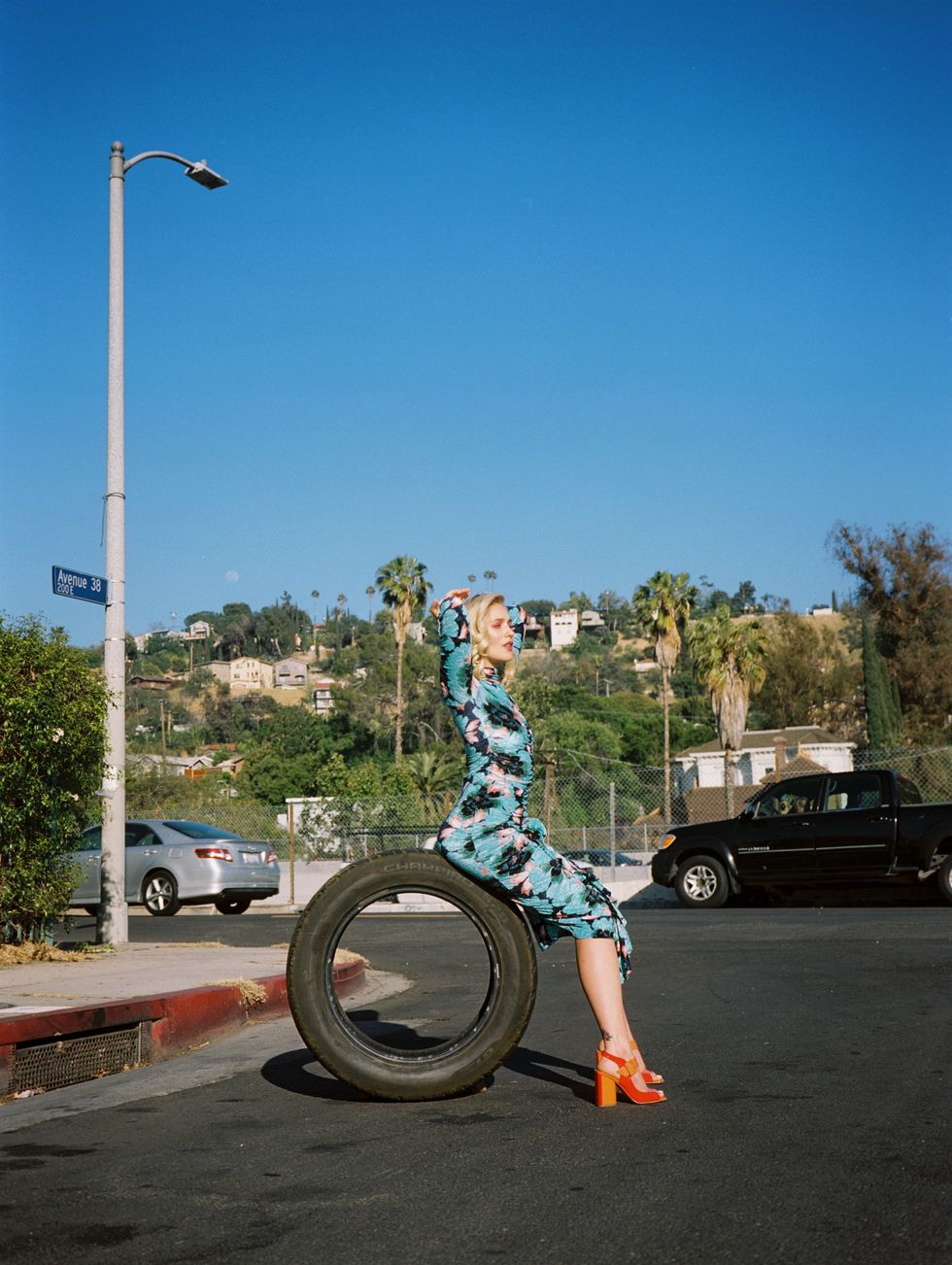 Dress by Kenzo, Earrings by Jiwinaia, Heels by Baldini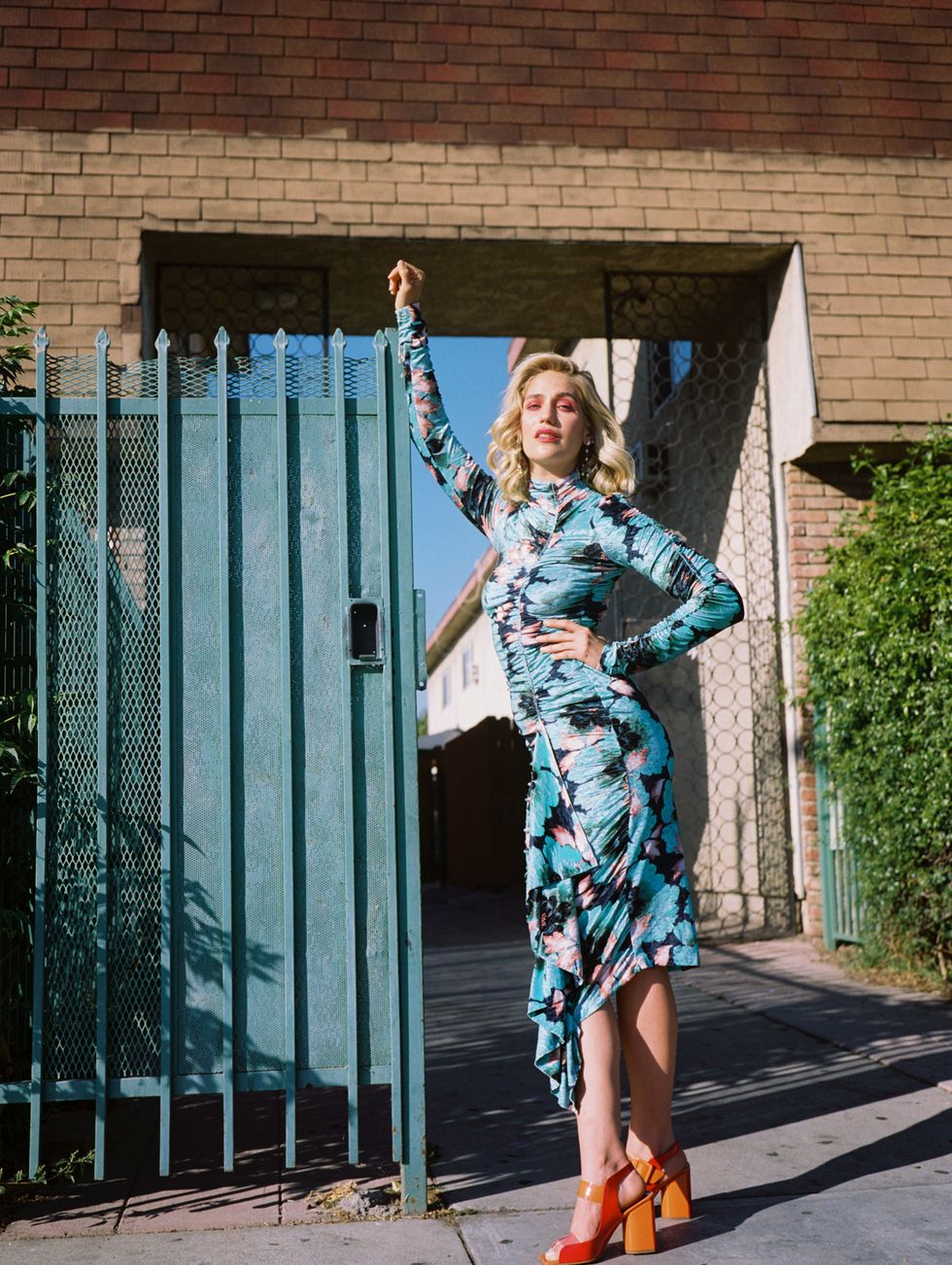 Dress by Kenzo, Earrings by Jiwinaia, Heels by Baldini
While retaining the sepia-toned twang of EP, Heart Head West seems to tinker with a more contemporary, dreamy indie-pop and alt-country sound, reminiscent of heartbreak powerhouses like Angel Olsen, Jade Bird or Sharon Van Etten. The album promises to be diaristically vulnerable, and Kirke calls it "a deeply personal record about basically everything I thought about in 2017: Time, family, loss, social injustice, sex, drinking, longing... essentially everything I'd talk about with a close friend for 40 minutes."
Kirke describes music as an outlet for her pain, grief and loneliness, saying: "I'm just grateful that I have a place to put them." As a hyphenate working in two creative fields, she sees music as an artform in which she is both subject and object of her art, while in her acting, she looks outward to others experiences.
"Everything that I write is from my personal experience."
She explains "everything that I write is from my personal experience," and musing on the difference between her fields says, "with acting I think that you're using the mother tongue of expression... you're using human behavior as a canvas for creation. And with music, I'm interpreting what specifically I'm feeling into language and sound." For her, however, the "desire and longing to work in both mediums comes from a similar place... the same void."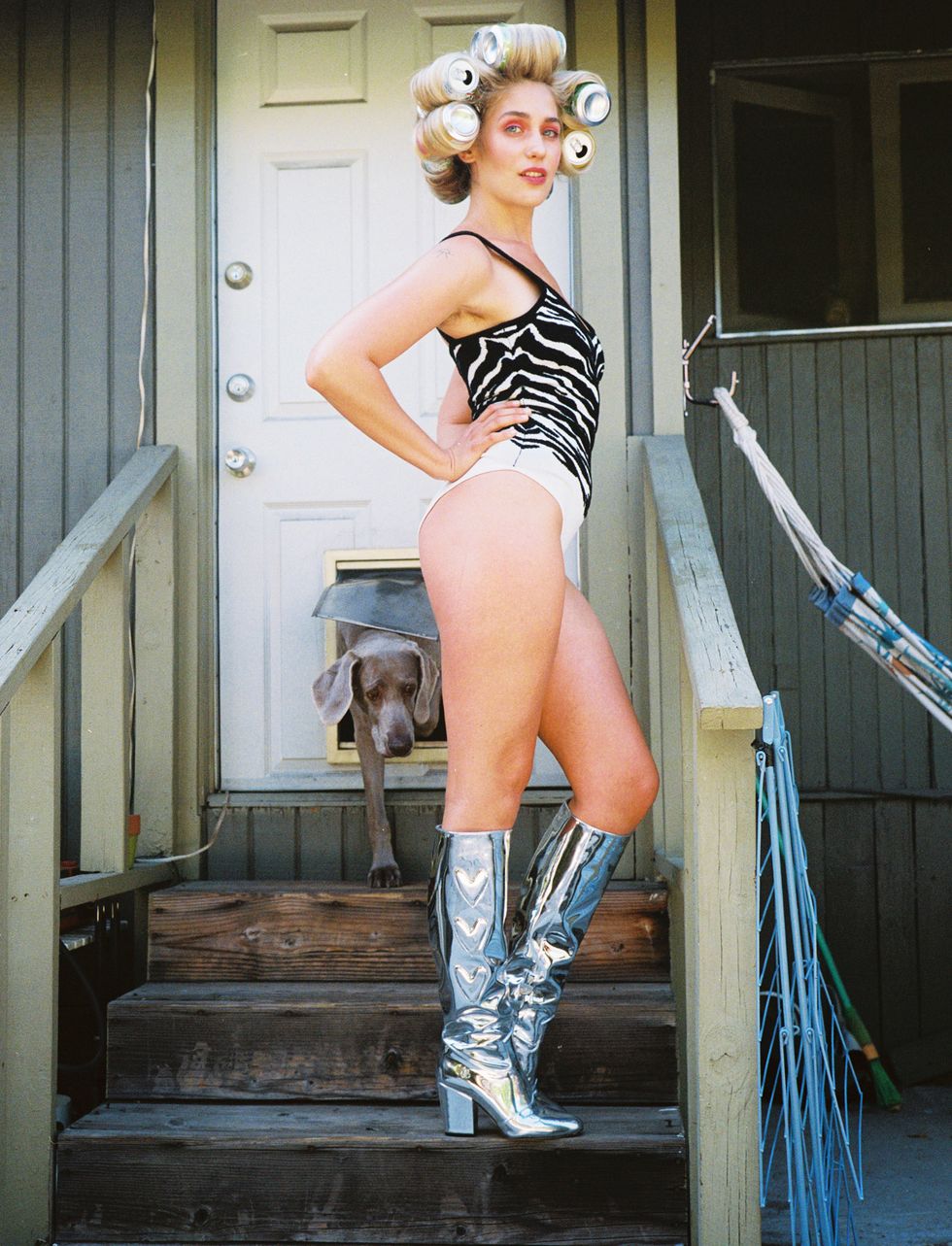 Bodysuit by Adam Selman, Boots by Chiara Ferragani, Rollers by LaCroix
Her explorations into that void are a thrill to experience in their musical form. The character of a pissed-off, heartbroken woman with a guitar and a keen observational eye that I instinctively cast Kirke in when I listen to her music, in its sheer aura of cowboy-booted femme power, places Kirke into a circuit of young women in Americana, from Margo Price to Julia Jacklin to Margaret Glaspy, who are carrying the torches of a multi-generational legacy of pissed off women with guitars.
Tellingly, last month Kirke hosted the Americana Music Association's "Tribute to the Pioneering Women of Country, Blues & Folk" at Music Hall of Williamsburg, where she (donning a Dolly Parton-worthy get-up), alongside musicians like Jade Bird, Amy Helm, Cassandra Jenkins, Courtney Marie Andrews, Deva Mahal, Kanene Pipkin from The Lone Bellow, Nicki Bluhm, Vera Sola and others paid tribute to pioneering women in songwriting history, including Patsy Cline, Dolly Parton, Bessie Smith, Carole King, Mahalia Jackson, Joni Mitchell, Linda Ronstadt, Emmylou Harris, and many more.
Remembering the cathartic female solidarity and pure joy of the evening, Kirke indulges in a bit of magical thinking. "This event was like this alternate universe," she says. "To be backstage and have everyone be a woman, and so marvelously talented at that. It was such a different energy! It was so supportive and loving... and I thought, 'Wow, this is really interesting!' Like what would the world look like if it these industries were dominated by women? I don't know..."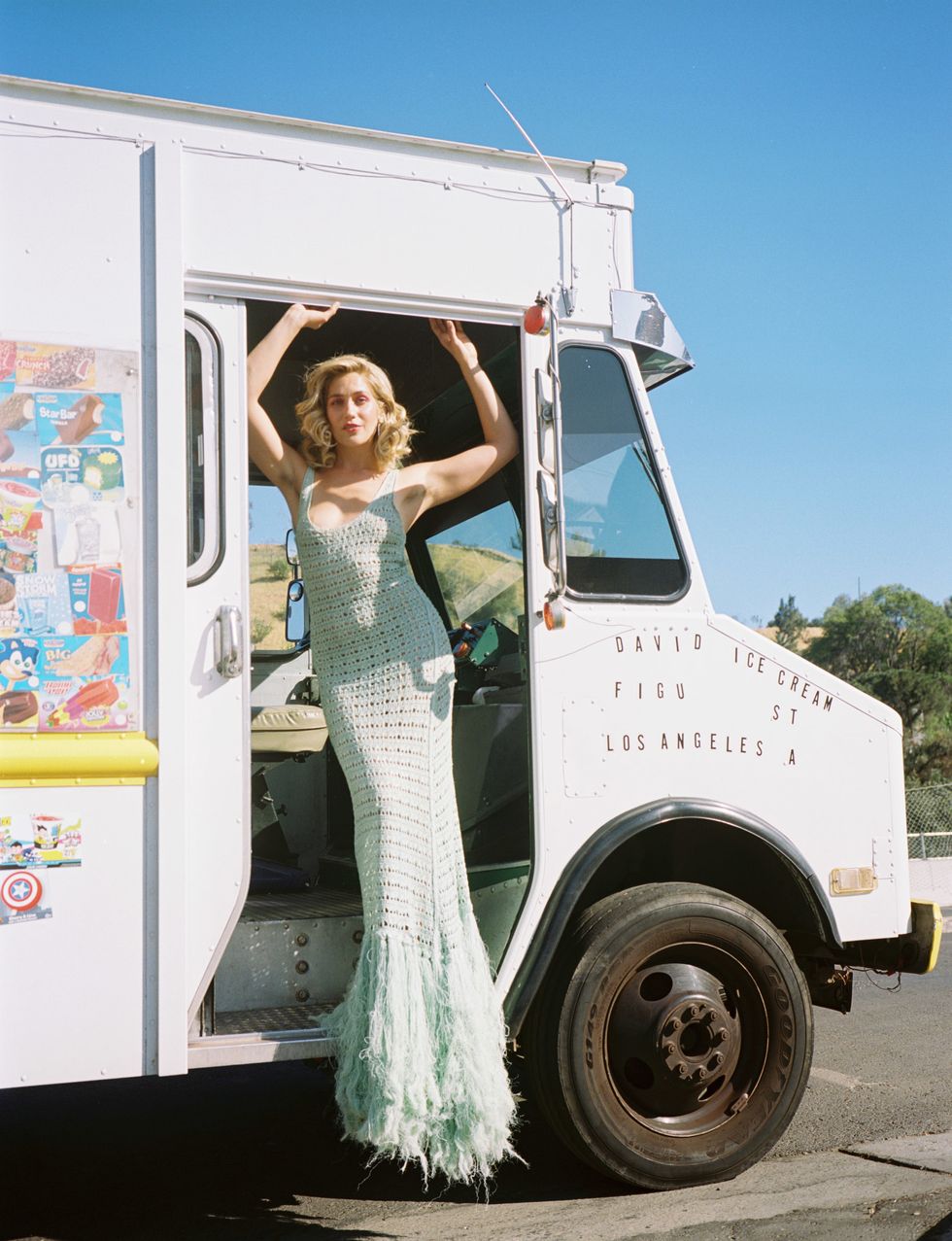 Dress by Acne Studios
Kirke's experiences in the entertainment world have left her with a strong set of feminist politics that she isn't afraid to express in her music, interviews, on social media or in Hollywood. Recently, longtime New Yorker film critic Anthony Lane offered up some uncalled-for sexist musings about her appearance, focusing on her body rather than her acting, in his review of Steven Soderbergh's thriller Gemini, which Kirke co-starred in earlier this year alongside Zoë Kravitz.
Lane wrote: "The role is hardly flattering; most of the time, she wears big jeans and a baggy gray top, while sporting the haircut from hell — brown bangs cut straight across, as if by a six-year-old with blunt scissors. At one point, in need of camouflage, she dyes the tresses blond but keeps the style. Talk about unsane. Kirke, however, who made such an impact, in 'Mistress America' (2015), requires no disguise; she is sphinxlike enough as it is."
Kirke eloquently clapped back via New Yorker's "The Mail" letter-to-the-editor section: "I am disappointed by Anthony Lane's glib criticism of my character's appearance in the film 'Gemini' (The Current Cinema, April 2nd). To deem unflattering the 'big jeans' and 'baggy gray top' I wear throughout the film is to suggest a preference for heroines in more tight-fitting clothes. And to even mention my 'haircut from hell' is to miss the point of my performance entirely. We need to see female characters be powerful and beautiful in ways that don't rely on outdated representations of women."
Kirke recalls her surprise and anger that critics are still making such comically out-dated series of amateur mistake: adherence to archaic beauty standards, judging women for their appearance rather than their skills, and failing to recognize the implications about the kinds of women's stories that will be told on-screen if all female characters must be beautiful.
One gets the sense from speaking with Kirke that strong feminist politics don't actually make it any easier to exist in industries that are constantly tearing women down. Kirke says she still struggles with falling into the traps of internalized misogyny, and recalls re-watching Gemini in a moment of vulnerability after reading Lane's review, and criticizing her own appearance, thinking "God, I should've worn a bra in that scene!" Her balance of self-critique and self-empathy are a model for any woman negotiating life in 2018's political and cultural limbo, when society lags far behind even mainstream feminist convictions.
Channelling this struggle into her music, however, seems to help, although she says she's still "so much more confident as an actor." The truth is that Lola Kirke, in terms of her career, doesn't need to make music. She has an impressive resume of critically acclaimed films — which will surely continue to grow with her upcoming projects: thriller Vulture Club starring Susan Sarandon and Love & Oatmeal due in 2019 which she'll co-star in alongside Ben Platt — to provide her with fame, a platform and a living.
Rather, Lola Kirke is an example of an artist making music because she needs to be, in a far deeper sense than a career — in the sense of someone who, all other motivations aside, has something to say and stories to tell: about gender, power, pain, loneliness and joy. So, she might still be finding her voice, but we're lucky that she's taking the time to do it.
Sign Up for the Morning PAPER