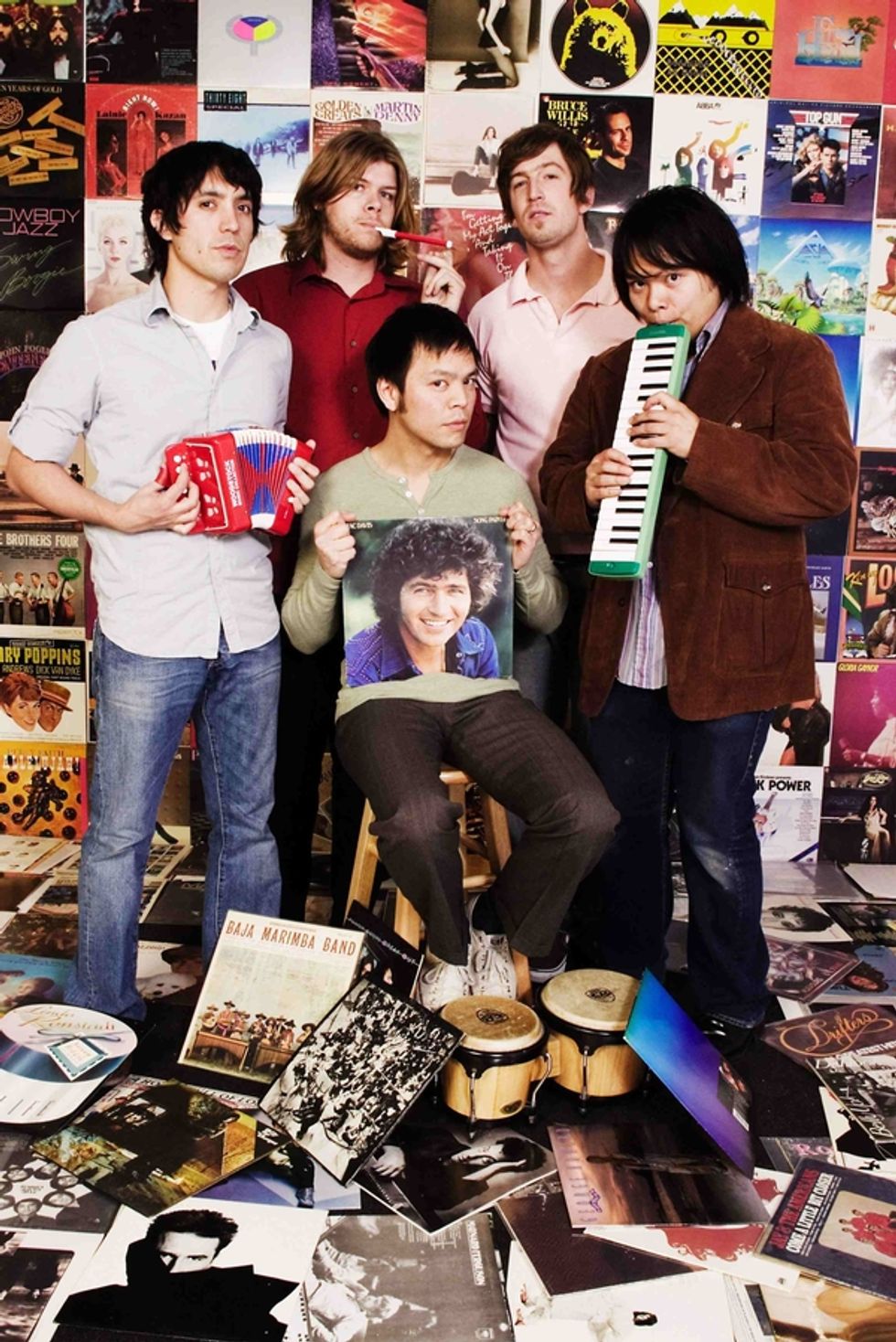 I don't mean to gush about a band like this, but The Little Ones are so fabulous it puts a big grin on my face just thinking about them!  Not only is their playful pop music great, but they are a geniunely happy band with members who love each other - it's the whole package!  I wrote about them a while back, but after seeing them for the first time last week at the Mercury Lounge I had to write about them again.  The Little Ones are from Los Angeles and this was their first time performing in New York.  Their live show was even better than their ep (if that's even possible) and confirmed my belief that these guys are going to be big.  Plus they were all smiles throughout the entire set, which prompted me to introduce myself immediately after the show.  They were so amiable!  I know this all sounds like a school-girl crush but it's incredibly refreshing to see a band that is talented but still humble and who are all best friends.  The lead singer and the bassist are even related, and one member dates another member's sister - it's all in the family!  Here are some questions I sent to the band about their trip to NYC, answered by frontman Ed Reyes.  Dear Little Ones, please come back!

How was your first New York experience?

I think our first New York experience went pretty well.  It was a bit hectic when it came to the logistics (borrowing gear and equipment).  All in all, it was really great to play in front of another crowd in a different city.  We met so many genuine people who enjoyed our music.

Were the audiences everything you anticipated?
Yes, they were all wonderful.  They welcomed us and had a good time.



 
Were you disappointed at all?
We weren't disappointed but I wish that they all danced a bit more.  Maybe next time!

What was a high light from your slew of shows out here?

I think the highlight was playing at the Bowery Ballroom and Mercury Lounge.  I have seen many memorable shows at both venues and I felt so honored to play there.  Another highlight was meeting the other bands we played with like Elvis Perkins, Figurines, Matt Costa.

What are some fabulous things about New York that you can't get/experience in LA?  What are some not-so-fabulous things?

I think you can't beat the food and the people of New York.  You can't find that in Los Angeles.  People seem more genuine in New York.  At any hour of the night you can find a great place to eat.

What's your favorite place to eat in NYC?  Favorite bar?

I think our favorite place is Ray's Pizza and Katz's Deli.  We definitely visited both places more than once.  Although, we realized that Rosario's Pizza was a bit better than Ray's.   Our favorite bar was a German bar located right next to our hotel on Rivington.  We watched a little World Cup with some die hard German fans.

You guys seem so genuinely happy when you perform.  Do you think it's important to play with family (the blood and the non-blood kind)?

It is so important to play with people you love.  I think it's a different experience.  Our hearts are all in the same place and brings us joy to know we are playing music together.

Finally, where does your name come from?

It actually is a direct result of my two pugs.  Everyone refers to them as the Little Ones.