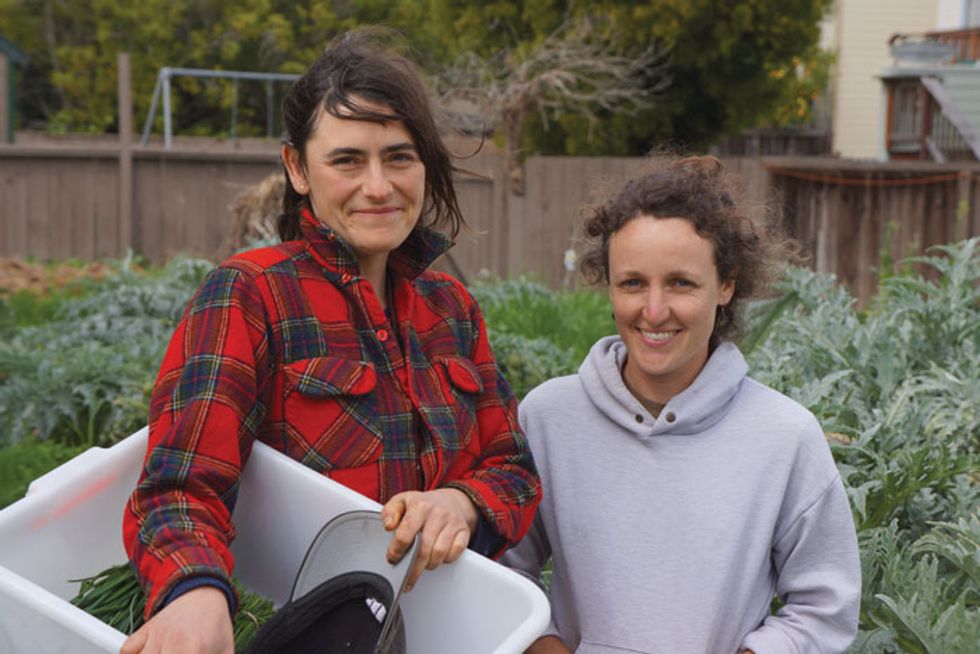 Brooke Budner (L) and Caitlyn Galloway (R) with their harvest at their san francisco urban farm, Little City Gardens.
"Visually, this farm is a big painting for us," Caitlyn Galloway muses, but Little City Gardens, a nearly one acre urban farm nestled in the Mission Terrace neighborhood of San Francisco, is more than art -- it is also a business and a platform for activism. Galloway, a professional sign painter with New Bohemia Signs, founded the farm with Brooke Budner, an illustrator for a young farmers' initiative called Greenhorns. Little City Gardens began as their backyard garden in the Mission District in 2008, but in 2010, looking to expand, the duo heard about the unused, wild-fennel-choked property and scoped it out on Google Earth. They made a few calls and negotiated a cheap, short-term lease.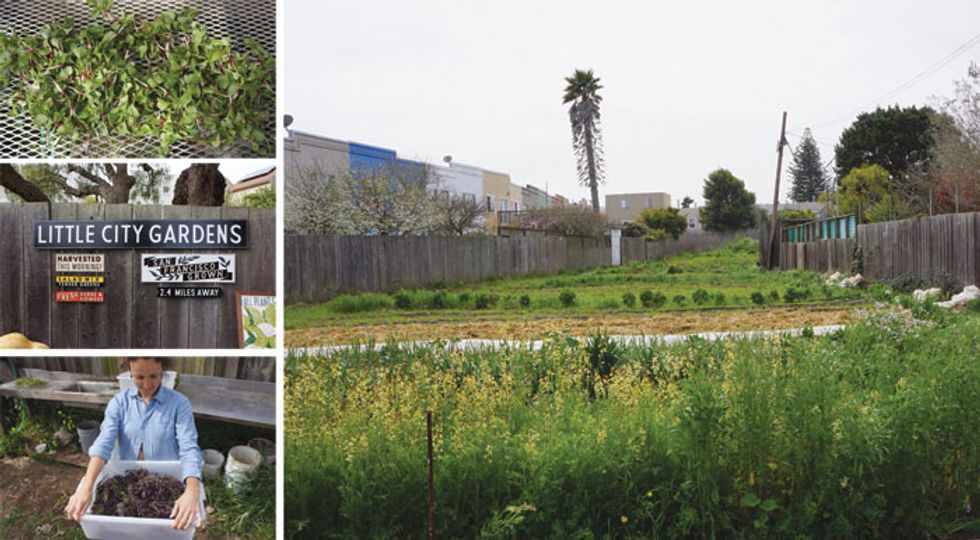 Currently most of their bounty flows straight into the kitchen of Bar Tartine in the Mission District (to be peppered throughout its Cali-Nordic-Hungarian menu), but they have sold through a farmers market and a CSA share and still supply a handful of independent chefs doing pop-ups and catering. Their beautiful mesclun salad, a blend of tender tiny lettuces, bitter greens, obscure herbs, punchy weeds and colorful flowers, is complex, delectable and utterly of the time and place in which it was grown and harvested. There is a delicate balance of sweet, lemony, spicy, nutty, bitter and vegetal flavors and a compelling, kaleidoscopic range of colors and textures among its more than 30 ever-changing seasonal ingredients. Through the year, the farm also provides its chef clients with cardoons, artichokes, Tokyo turnips, tiny breakfast radishes and sprouting broccoli.
With Little City Gardens, Galloway and Budner are on a mission to spark a dialogue about food systems, land tenure and ecology. They also hope to create a viable economic model for aspiring urban farmers to follow. Budner, for one, foresees more farms like Little City Gardens as necessary and inevitable. "Urban farming is going to have a place in the future city. The more information and experience we can gather and put forward, the more prepared we'll be when people are ready."