Ariana Grande and Mac Miller have reunited for the official remix of Song of the Summer™ contender 'Into You', and it is hot hot hot. The last time these two crazy baby-faced babies got together was on Mariah-lite banger 'The Way' from Ariana's 2013 debut, where they sucked face and made the world wonder: MORE THAN FRIENDS? (no.)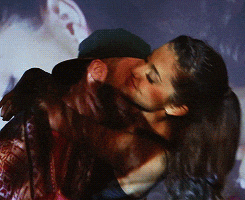 Be that as it may, if the release of Britney Spears' new music video didn't already have you smudging up your closest mirror and Groupon-ing pole dancing classes, this electro-RnB slinkfest certainly will.
Listen below...
Need more? Our lil cupcake may not be welcome in the White House, but she is always welcome to release a goosebump-inducing a cappella rendition of 'Into You', which... she also did this week.
Watch below and