Lindsay Lohan, the Marilyn Monroe of self-identifying with Marilyn Monroe and the queen of "now-deleted" social media benders had herself a NIGHT last night. By the time it was all said and done, she had confirmed her rumored engagement to 23-year-old businessman Egor Tarabasov, only to accuse him of cheating with a "Russian Hooker" and implying via reference to her role in Labor Pains that she was pregnant. What a time to be alive. Let's review the tapes...
It all started with a Snapchat on Friday night, where LiLo says, "my fiancé's being really angry at me," adding "but I'm drinking water sitting here waiting for him to get home." Ok, fiancé! "E.T. phone home," she says, wearing the flower crown filter. "Water," she emphasizes.
I guess he never came home, because yesterday morning she posted this pic of them with his face all MS painted away and a "My Baby Shot Me Down" Nancy Sinatra lyric caption. "I guess #art is what you make of it." So true.

I feel like she's still drinking water at this point, and we could come back from this. But then, late last night, the barrage of Instagram posts and tweets began, starting with a post reflecting on the ravages of fame and "thanking" Egor for not coming home... Here we go.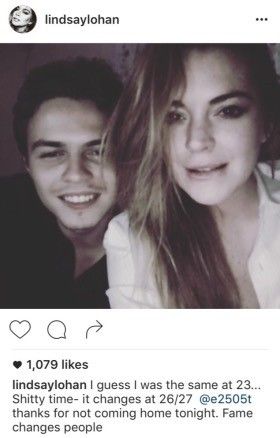 Salting the earth in those comments...

Followed by a pic of Egor receiving some kind of futuristic bottle service at the clerb...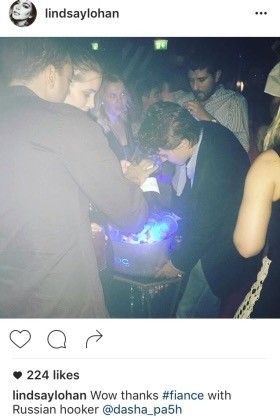 Wow thanks #fiance!
The 'Russian hooker' she tagged is actually socialite Dasha Pash, who made her Instagram private REAL quick after the snake emojis started flowing in. Becky with the #fiance!
Her follow up was this video of E.T. getting lit in the middle of the 'Silencio' scene in Mulholland Drive with the caption,

And then... UMMMMMMMMMMMMMMMM.
Which links to an image in a Google search from a 2008 movie in which her character pretends to be pregnant to avoid getting fired? This post is one of the few that survived the night, by the way. I need water!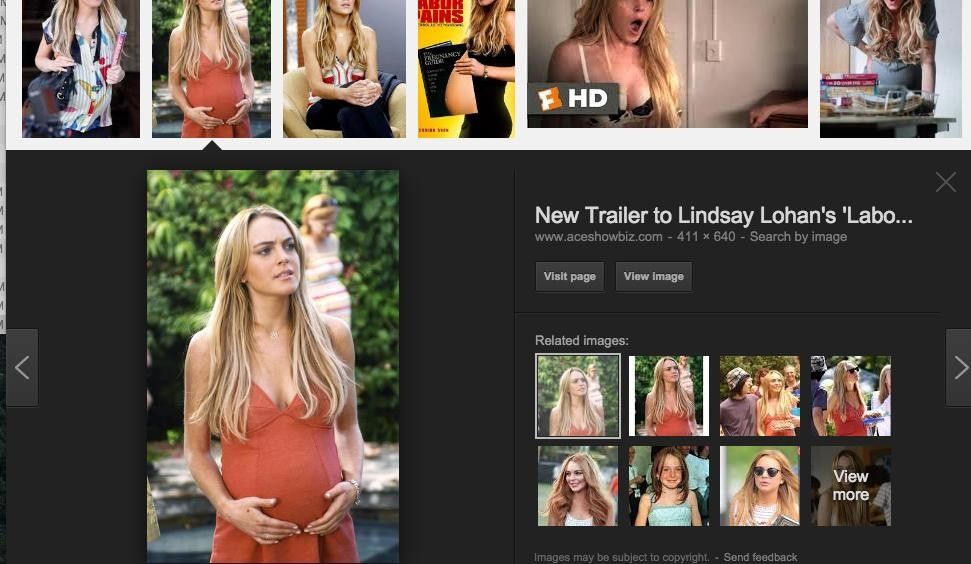 A couple hours later, LiLo came back, posting aaalll of Dasha's contact info with a caption tagging both Putin and Donald Trump...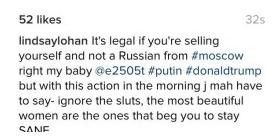 Closing out the night with this post, that seems to have been captioned by a spam bot. IS THIS AN ANAGRAM?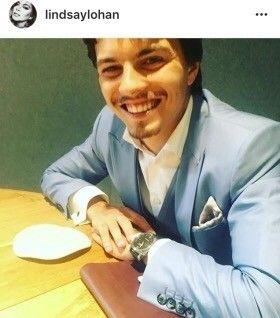 By the cold light of morning, water bottles strewn everywhere, LiLo deleted most of her posts and added this image... I guess #art is what you make of it. Hope these two lovebirds can work it out.
[H/T PCD2009]
[Splash image via Instagram]