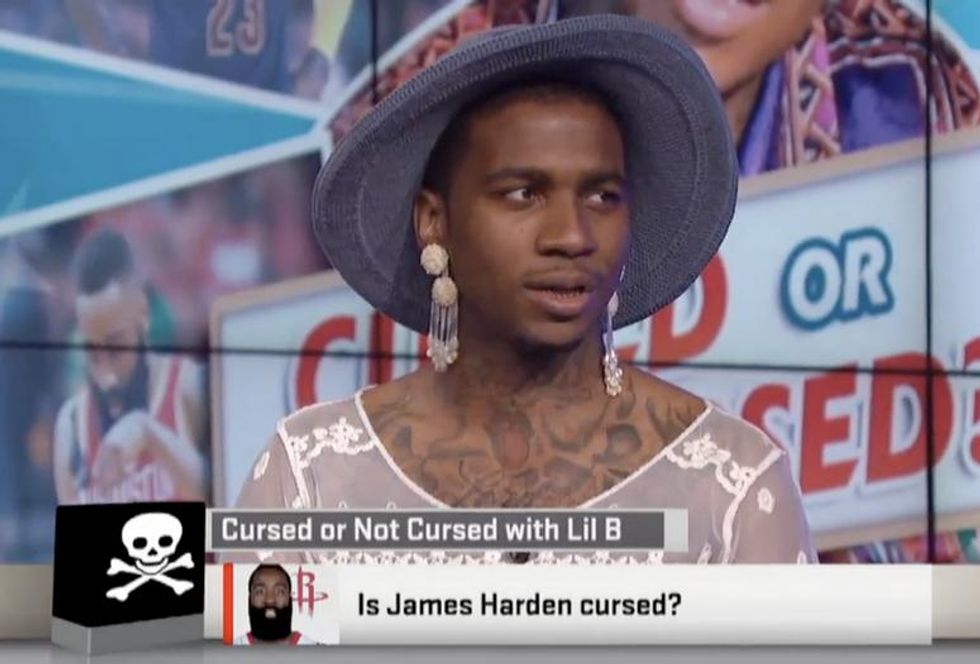 The hyper-prolific Oakland rapper and Internet demigod Brandon McCartney, AKA Lil B, is a national treasure and the gift that keeps on giving when it comes to weirdo rap experimentation, fashion trolling, improvised MIT lectures, Twitter haikus, cat adoption advocacy and stumpin' for Bernie. Lil B is also the earthly incarnation of The BasedGod -- a mystical, beatific crusader for positivity and radical self-acceptance, inspiring an entire internet subcontinent of loyal followers to be their most #based selves. However, even ultra-positive Twitter warlocks have their limits, which several elite NBA players had to learn the hard way after incurring the wrath of the #BasedGodsCurse. This curse story really exploded last summer during the NBA Playoffs, with B himself appearing on ESPN in a breathtaking church lady outfit (above) to play Cursed or Not Cursed, but his supernatural control over professional basketball (so far there haven't been any non-NBA players caught in his crosshairs) really began all the way back in 2011. In honor of B's latest 56-track mixtape and his first curse threat of 2016, we have compiled this comprehensive guide to Lil B's curses, because those who don't understand based history are doomed to repeat it.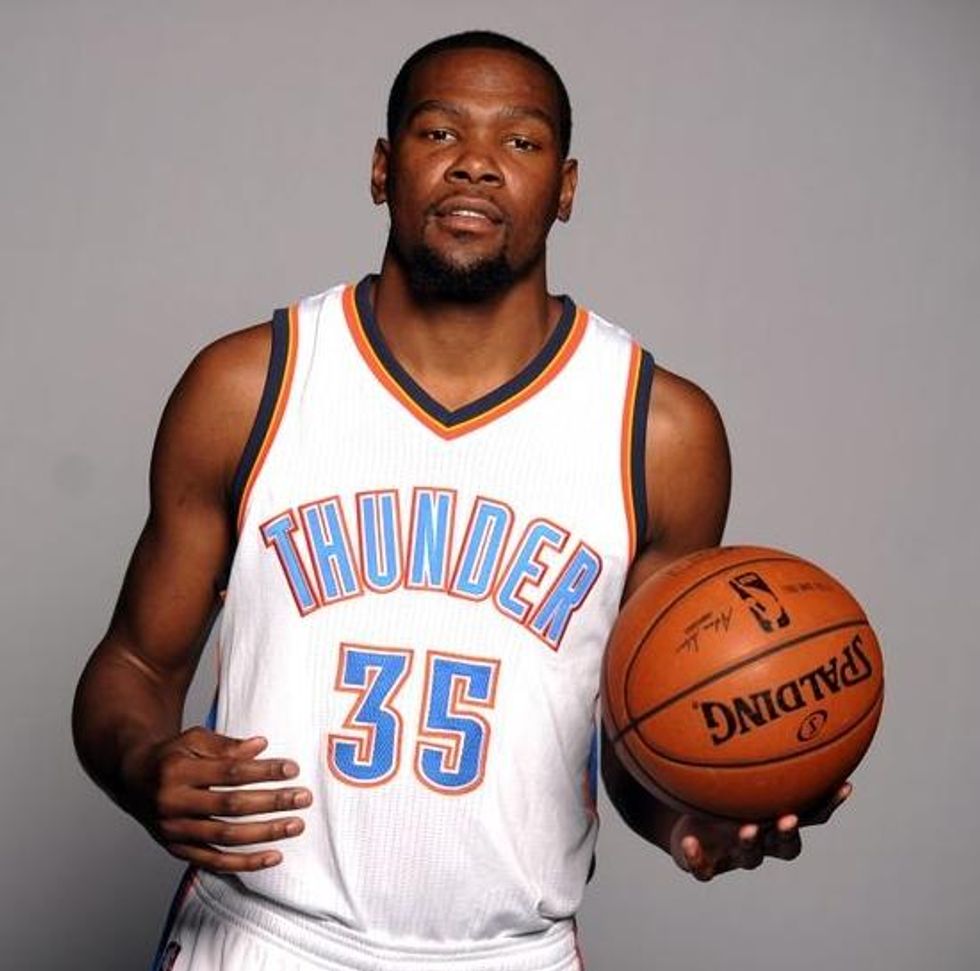 The Afflicted: Kevin Durant, Power Forward for the Oklahoma City Thunder
Status: Cursed 2011-2012, 2014-Present
Play-by-play: Kevin Durant, then the highest scoring player in the NBA at the height of his powers, unwittingly incurred the wrath of the BasedGod with a somewhat innocuous tweet expressing his disbelief about Lil B's popularity back in May 2011. Big mistake. Huge. After challenging KD to a game of one-on-one, which went unanswered, Lil B fired back with the first ever #BasedGodsCurse, declaring that Durant would never win a title after calling him "wack." There were some attempts to set up a curse-ending game of hoops that never came together, and in 2012 the curse was briefly lifted in a #based act of mercy following OKC Thunder's blistering defeat at the hands of the Miami Heat in the final round of the Playoffs. Things went quiet until circa the 2014 All Star Game, when all of a sudden, apropos of nothing…
F*ck Kevin Durraaaaaaaaannnnnnttttt
Ya cursed. The Based God giveth, and the Based God taketh away.
Final Score: Oh the humanity. Oh the memes! Not only did the Thunder fail to make it through the 2014 semifinals, but Kevin Durant subsequently sustained a series of brutal injuries that have taken him almost completely out of commission from 2014 to the present. He stands before us, quite literally a broken man. But there is hope! If Kevin Durant agrees to meet Lil B on the court for a game of 21, he will finally be freed. Pretty low bar for the removal of a career-altering curse, no?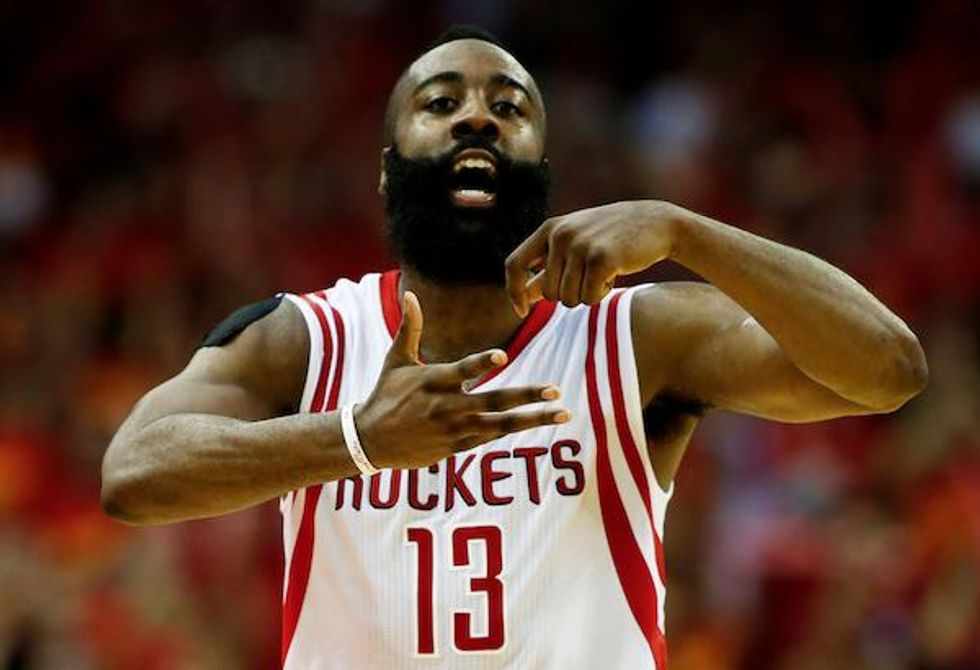 The Afflicted: James Harden, Shooting Guard for the Houston Rockets
Status: Cursed May-June 2015, October 2015-Present
Play-By-Play: One thing you need to know about Lil B is that he has a "signature cooking celebration dance," which looks sort of like stirring and eating an invisible bowl of soup and is his wholesome, food-centric reclaiming of the "flick of the wrist" dance associated with cooking crack. There are many layers of symbolism folded up inside the gestures of this dance, but for the purposes of this story, all you need to know is that it looks suspiciously like the victory dance James Harden started doing during the playoffs in May 2015. Lil B's repeated requests for credit went ignored, and in the face of blatant swag theft, he had no choice but to kick things up a notch, telling TMZ that "[Harden] is cursed for the rest of the playoffs and further notice until he speaks on what dance celebration he's doing and where it comes from."
Final Score: Not to get all grassy knoll on you, but after the curse took effect, the Rockets lost their next game by 35 points -- AKA KEVIN DURANT'S JERSEY NUMBER. After that, the formerly unstoppable Rockets completely botched the Western Conference semifinals against the Warriors, while Harden, then a serious MVP candidate, set a new record for turnovers during the playoffs. The coup de grace? Lil B himself was in the building for Harden's final defeat, cooking it up court-side. The internet went nuts, and Lil B compared Harden's dance to a counterfeit Picasso. Those were heady, heady times. After Harden's humiliating loss, he foolishly doubled down, telling TMZ he had no idea who Lil B was (a fib which was almost immediately debunked). After this insult, Lil B did a bit of soul-searching and surprised everybody by mercifully lifting the curse from Harden, reasoning that the baller was a troubled soul deserving of our pity. This was all well and good until Harden took to the 'gram with a photo of himself doing the cooking dance last October, causing Lil B to reactivate the curse that seems to linger over the lackluster Rockets season to this day. Sad, cursed. Accept no off-brand celebrations.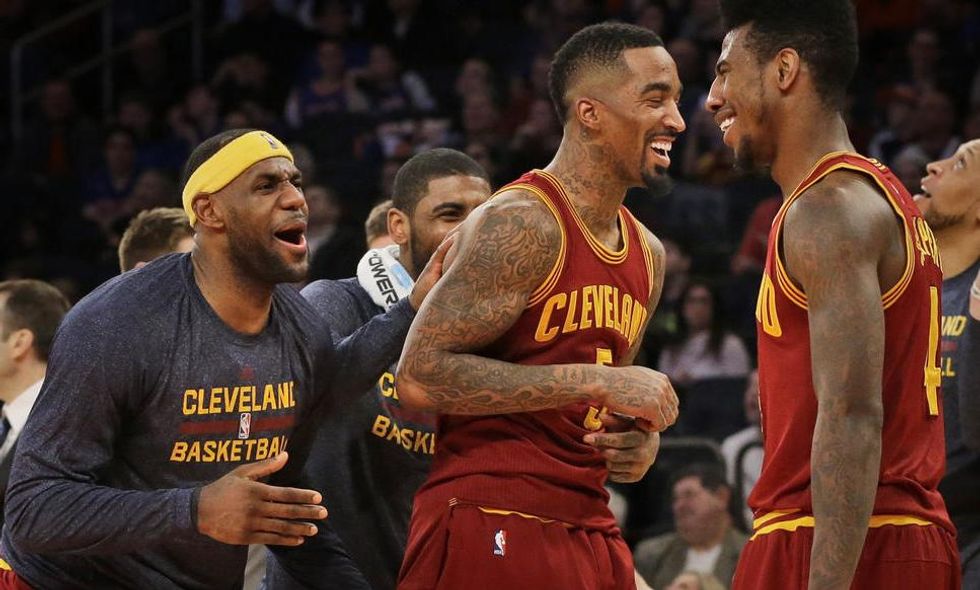 [Photo via]

The Afflicted: Kyrie Irving, Lebron James, Kendrick Perkins, Iman Shumpert and J.R. Smith of the Cleveland Cavaliers
Status: Warned June 2015
Play-By-Play: While the jinxed Rockets were busy losing the Western Conference Playoffs, J.R. Smith released an adorable Instagram video of himself with a superstar group of his fellow Cavaliers, sipping Veuve Clicquot and dancing in their locker room hot tub to Flicka da Wrist by Chedda da Connect. They had already won the Eastern Conference Playoffs, so it was an ideal occasion for a celebration dance… or so they thought. A hyper-vigilant BasedGod thought their flicking verged on cooking, and issued them a warning that no professional athlete would dare to ignore.
Final Score: Iman Shumpert immediately responded to Lil B, thanking him for the swag, and that was that. Curse averted. Was that so difficult?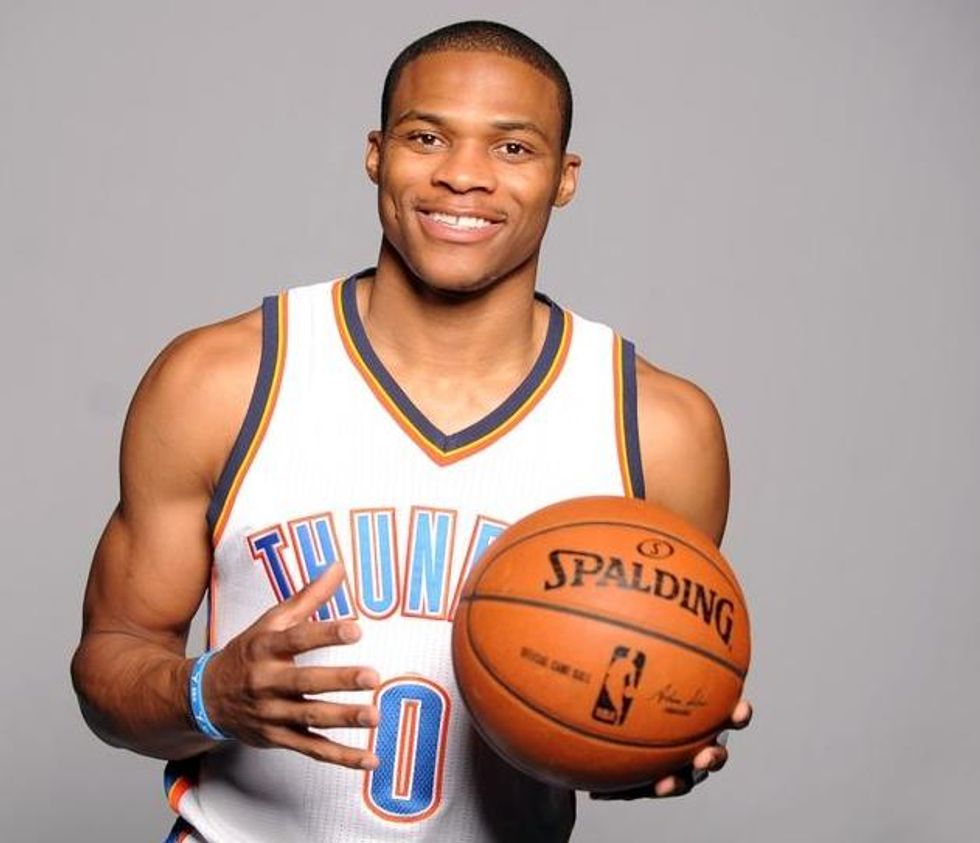 The Afflicted: Russell Westbrook, Point Guard for the Oklahoma City Thunder
Status: On thin ice November 2015 - Present
Play-by-Play: At this point it's truly difficult to imagine anybody in their right mind coming after Lil B. Let alone a basketball player. Let alone a current teammate of living cautionary tale Kevin Durant, and a former teammate of James Harden. But in an interview with Complex discussing his creative partnership with aughts denim giant True Religion, Russell Westbrook claimed to have never heard of Lil B. The internet held its collective breath, waiting for a decision to come down from the Based God…
Final Score: Lil B seemed content to laugh Westbrook's claim off, tweeting a congratulations to James Harden for fighting his own curse long enough to defeat Durant and Westbrook in the Rocket's first victory of the season. B followed up with a breathtaking troll, by calling Westbrook out for "looking like a sandwich" in his True Religion commercial. And, well, you be the judge. Westbrook seems to have escaped the capital-C curse for now, but having "looks like a sandwich" forever attached to your name on Google is sort of a curse of its own.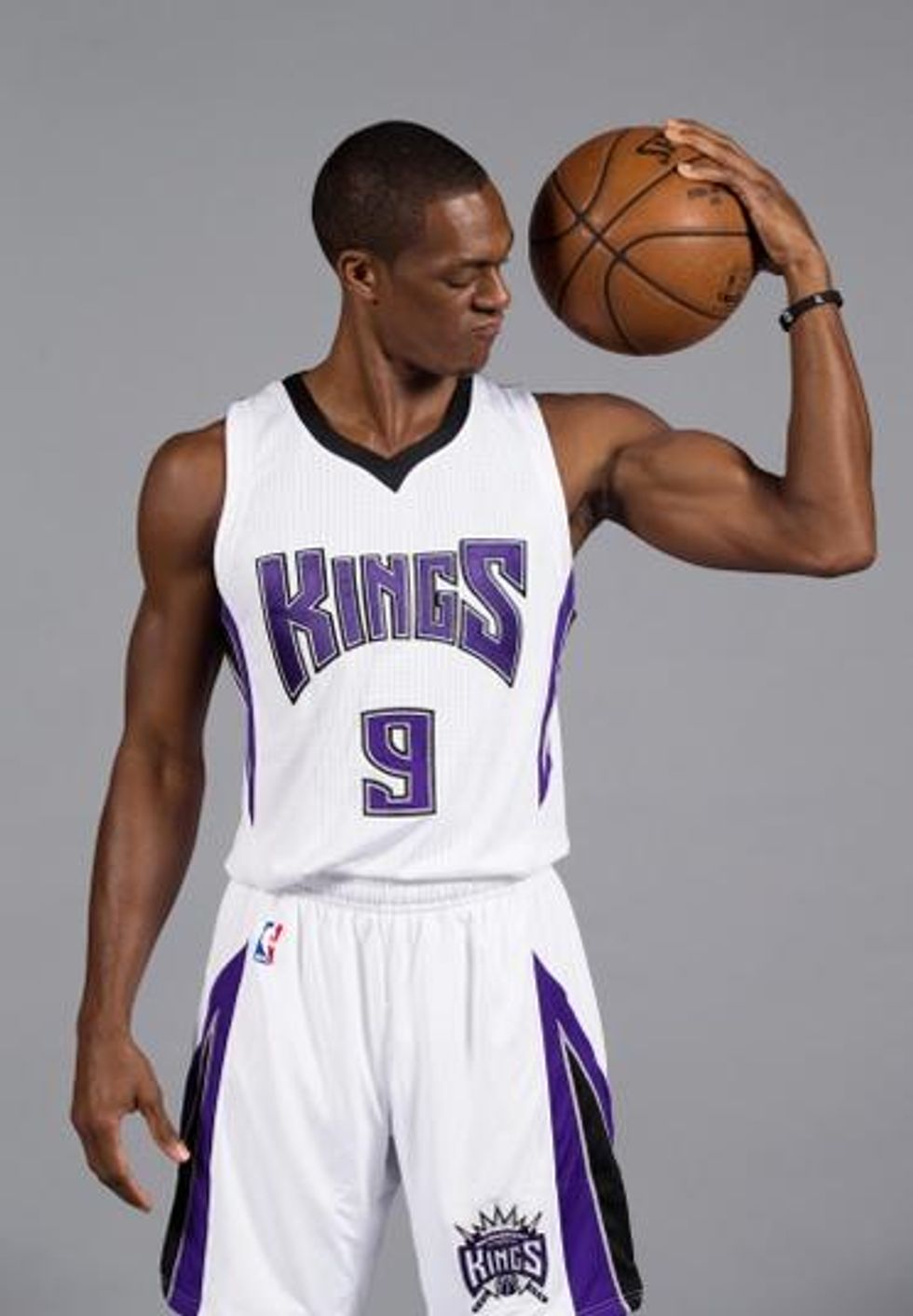 The Afflicted: Rajon Rondo, Point Guard for the Sacramento Kings
Status: Warned January 2016
Play-By-Play: New year, new #BasedGodCurse. Or at least that's what it looked like after Rajon Rondo attempted to trip player Deron Williams from the sidelines in their January match-up with the Warriors. Lil B quickly responded to this act of poor sportsmanship, tweeting, "Please keep things honest Rajon brother, we do not want any curses coming."
Final Score: Thousands of Kings fans tweeted at B, apologizing for Rondo's behavior and begging the Based God to spare their point guard. Lil B has not pursued the curse any further, but we sincerely doubt Rondo will be on anything but his #based behavior from here on out.
You May Also Like