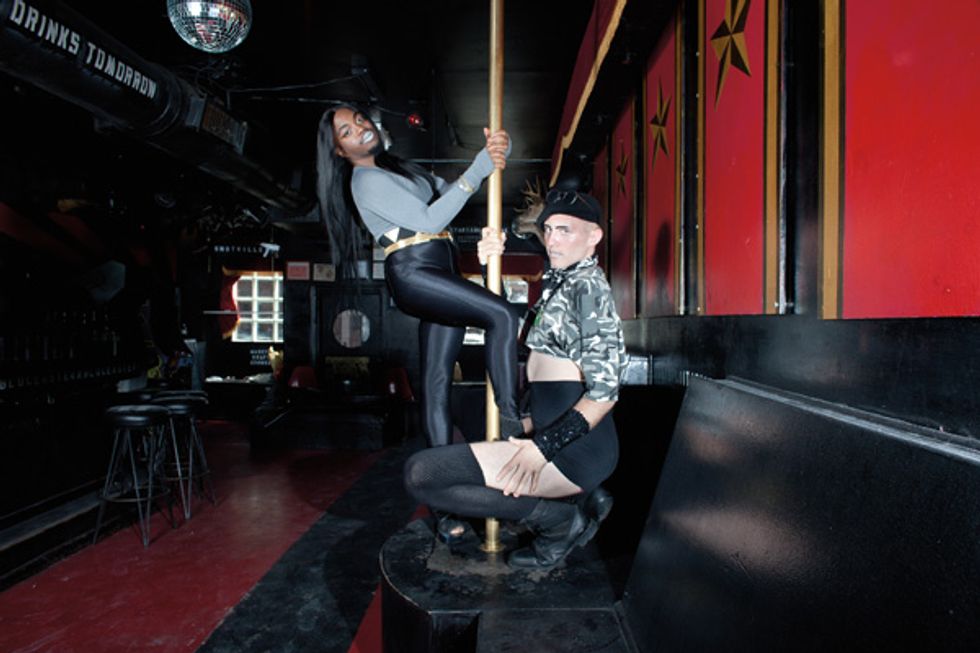 You can thank rap duo and creative collective House of Ladosha for launching "Cunt Life" into the pop culture lexicon. The phrase, emblazoned across one of the group's popular T-shirts in the style of Tupac's iconic "Thug Life" tattoo, recently went viral when Rihanna was photographed wearing the shirt in London this summer.
Antonio Blair, one half of House of Ladosha with Adam Radakovich, defines the phrase bluntly: "Cunt Life is a lifestyle choice. Point blank, period. And if I have to explain it to a bitch, then you are not about that life."
Loosely interpreted, Cunt Life evokes both over-the-top gay vernacular and hard-edged hip-hop -- a combination that could also define House of Ladosha. Blair and Radakovich first met at Parsons and bonded over their love for Southern hip-hop and female rappers. They started making music in the summer of 2007, gathering a devoted Web following, and then started designing their T-shirt collection in 2011 with DJ Michael Magnan.
Both Radakovich and Blair credit their love for Jennie Livingston's 1990 documentary Paris Is Burning, about the various voguing "houses" or troupes who performed in the Harlem-ballroom drag scene, as a heavy influence in their music and clothing. Other House of Ladosha designs include a shirt with Naomi Campbell's face on it with "Mother" written boldly above the model's head, and House of Ladosha's logo -- a take on Versace's Medusa crest. Ladosha's Medusa, however, is wearing a bandana and sunglasses. The
online store
description reads: "Throw a shady statement without saying a word."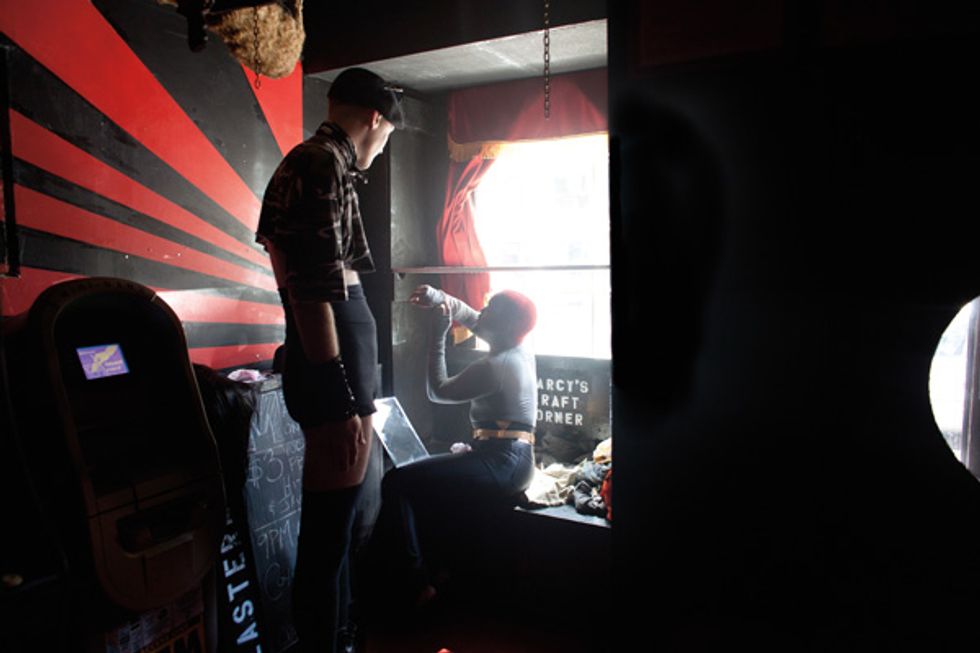 "They have their own language more so than anyone else right now."
-- Cody Critcheloe, Lead Singer of SSION
"We're restocking because the demand is so high," Radakovich says.
In New York, House of Ladosha devotees are "flashy, but, they don't really have a definitive look," Radakovich says. "It's everyone from club-kids to drag queens to hipsters to biological females and gay boys." Shirts have been spotted as far away as Austria, and Radakovich's mother rocks their House of Ladosha shirts proudly in Steubenville, Ohio.
Their music, which evokes the same entertaining mix of arch raunchiness and creativity as their T-shirts, has an equally devoted fanbase. Performing as Cunty Crawford and Dosha Devastation respectively, Radakovich and Blair are part of a new wave of rappers including Le1F, Big Freedia and Mykki Blanco, who have built intense followings by celebrating their gayness instead of excluding it.
"It's weird," Radakovich said. "In New York, we definitely have, like, a big following. People will come up to us and be like, 'Oh my God, I love your music.' But we've also gotten messages from all over the world, which is crazy. Fans send us e-mails saying how much they want us to tour where they live."
Other musicians have also taken notice. In the past year, the duo has performed with Azealia Banks and art-punks SSION, and their collective boasts affiliations with rapper Zebra Katz, stylist Contessa "Cunt Mafia" Stuto and trans nightlife fixture Juliana Huxtable Ladosha. We're "50 bitches deep and growing like mildew," Blair says.