"While I haven't necessarily been hailed as a fashion icon (that's the cute way to put it) I am obsessed with clothes," Lena Dunham wrote in a recent Instagram post about London Fashion Week.
As such, the writer-actor-director was thrilled to make her runway debut today for 16Arlington. The buzzy British womenswear brand, known for their campy faux feather explosions ensured their LFW debut was memorable, dressing Dunham in a black A-line loofah mini dress with single-sleeved black leather bodice.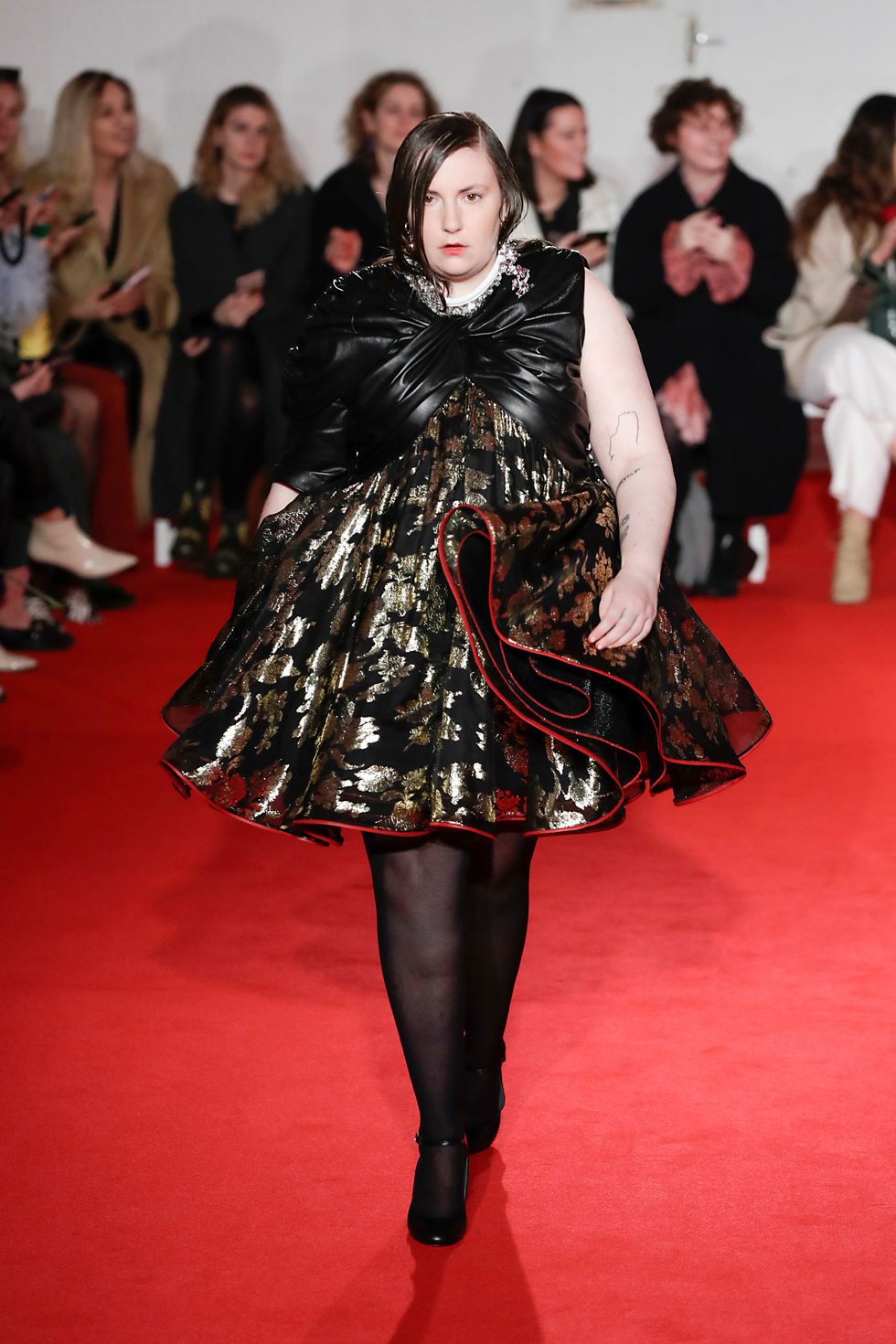 Dunham first got connected with the brand last year, when she wore one of their glitzy gold-sequined, feathered gowns to the Once Upon a Time… In Hollywood premiere.
"I grew up watching Girls, so we were so excited about it," said designer Kikka Cavenati tells Harper's Bazaar. "Lena takes fashion seriously, but has so much fun at the same time, and that's what we do. We take what we do seriously, but we also have fun with it. We just got on really well.
"She dresses for herself," adds co-founder Marco Capaldo. "We've been lucky to work with such powerful women from the beginning – women who are changing the world for a better place and Lena is a prime example of that. She embodies this spirit of power and intelligence. Everything we stand for as a brand, she ticks every box for us."
It's a fitting team: Dunham and 16Arlington are both vocal advocates for size inclusivity. Dunham's body positive nudes, that she's shared throughout various health struggles, are an Instagram institution. And while 16Arlington's ready-to-wear clothes currently only go up to a 14-16, they plan on extending their collections to a size 18. The brand has become a go to for party dresses and statement coats, seen on the likes of Solange, Lizzo, Awoa Aboa, Jorja Smith, Ashley Graham and Rita Ora. They also claim responsibility for J. Lo's Met Gala look.
Prior to the red carpet, Dunham elaborated on her love of fashion in a slideshow of her favorite looks over the years. "There's never a day where I don't get dressed with intention, even if it's pajamas and bunny slippers in my bed," she writes. "As our chosen leader Rihanna once said "I actually have had the pleasure of a fluctuating body type" and that doesn't always lend itself to the doors of fashion opening wide- people have a lot of rules about how girls with flesh should dress (and, let's be real, rules about how every type of woman should dress- it's exhausting.) But I've had some incredible and warmly inclusive designers make looks for me, and it's a real joy to stroll through the archives and remember some of my favorite moments in my life as a mannequin... Shout out to all the designers who have made room for my Spanx free stomach, which is almost as wide as my hips because that's one way a woman's body can look."
Dunham is currently producing Industry, an HBO/BBC series about young bankers and traders in the wake of the 2008 financial crash, as well as an HBOMax high school dramedy called Generation.
Sign Up for the Morning PAPER