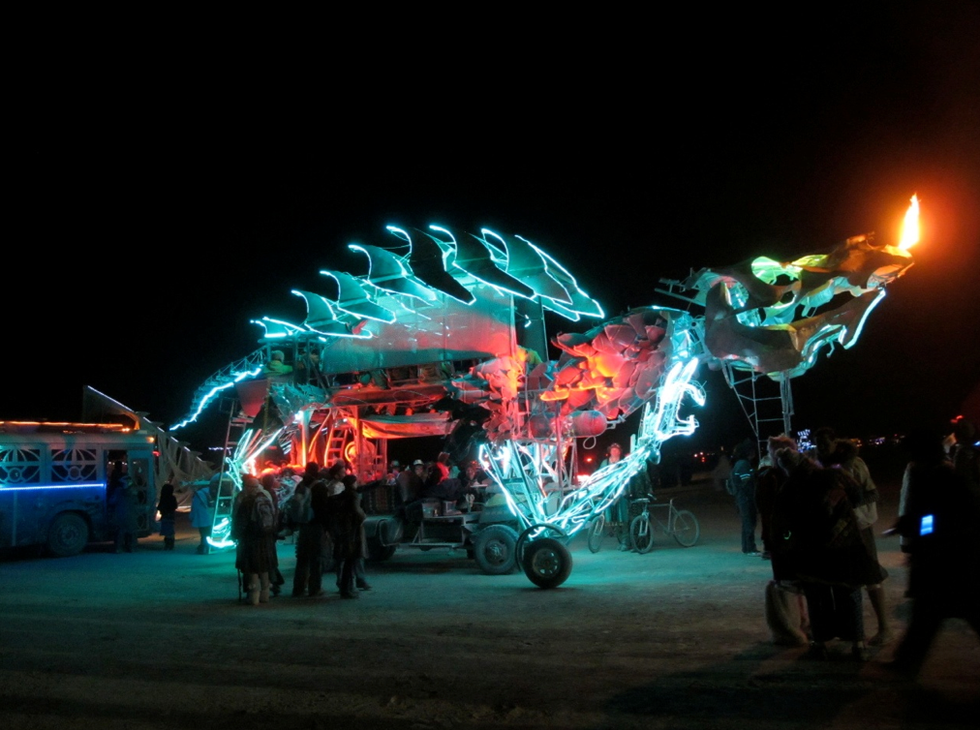 Gon KiRin
, a hulking, LED-lit, fire-breathing dragon art-car, made its way to New York this weekend to sit center stage at the Robot Heart Halloween party in Brooklyn. The car, fashioned out of hydraulics and steel, is the brainchild of LED artist
Teddy Lo
who collaborated with American artist
Ryan C. Doyle
, to create Gon KiRin. 
"We thought the dragon was an interesting metaphor for what is happening with the growth in Asia, so as an Asian artist collaborating with an American, it brings a whole new level of meaning to the piece," said Lo before the event on Saturday, "he [Doyle] pushed the limits of mechanical design and I pushed the limits of LED and technology."
And, what exactly was the Robot Heart party?
Michael Henderson,
co-founder of the Play(a)Skool camp at Burning Man explains: "Robot Heart is probably one of the most important art cars at Burning Man. It isn't much about the art, it's about the astounding wall of sound it creates, which rivals any club. It's literally a double-decker bus with 2-3 stories of enormous speakers and a giant heart on top, and tends to attract the best DJ's."  In other words, Robot Heart just parks itself somewhere, then other art cars form a circle around it and everyone parties to its mega-sound and music.
 At the Brooklyn incarnation of Robot Heart, Gon KiRin, who also had a notable presence at this year's  Burning Man festival, was seated in the center of the giant space. Strips of deconstructed rubber tires formed the flesh of its appendages and ended in shard-like rubber claws.  Plates of dark, smoothed steel which formed the dragon's shell were reminiscent of the anatomy of a prehistoric dinosaur and giant speakers in the dragon's belly made placed the music at the beating core of this beast. Some party-goers stood to the side with mouths agape, while others lounged on top of the robot, danced on top of himand took pictures.   
If you want to know more about Teddy Lo and
Gon KiRin
, check out
this video
created by the artist where he personally introduces you to the dragon.