"I want to make music you can either dance to or cry to," rapper Le1f says of his debut studio album, Riot Boi. "I try to make music to have sex to, but I don't really like that." Indeed, the 26-year-old Manhattan native (whose real name is Khalif Diouf) has always harnessed a vortex of emotion since he first burst onto the music scene, originally producing music for former hip-hop conglomerate Das Racist (Diouf met the trio shortly before he began Wesleyan University, where the group also were attending). Now it's Le1f's turn in the spotlight; he's been gaining momentum with last year's critically lauded debut EP Hey, a performance of his viral hit "Wut" on David Letterman and the release of his first full length LP, Riot Boi (out now via Terrible Records).
While Hey was Le1f's call to arms, Riot Boi is his first ground offensive; we see the artist turning his queerness and blackness -- things that could easily be used against him in society's eyes -- into cannons. "I'm a wonder like Stevie, like Stevie you don't see me," Le1f rhymes in his song, "Swirl," effectively summating the experience of being not only a man of color in modern America, but also gay. "When I was an angsty young twenty-something, that used to plague me a little bit," he says. "I had to deal with all of those levels of identity and micro-aggression." Throughout the album, the rapper articulates the numbing sensation that came with this oppression, adding, "I got used to being unseen and unphased by that."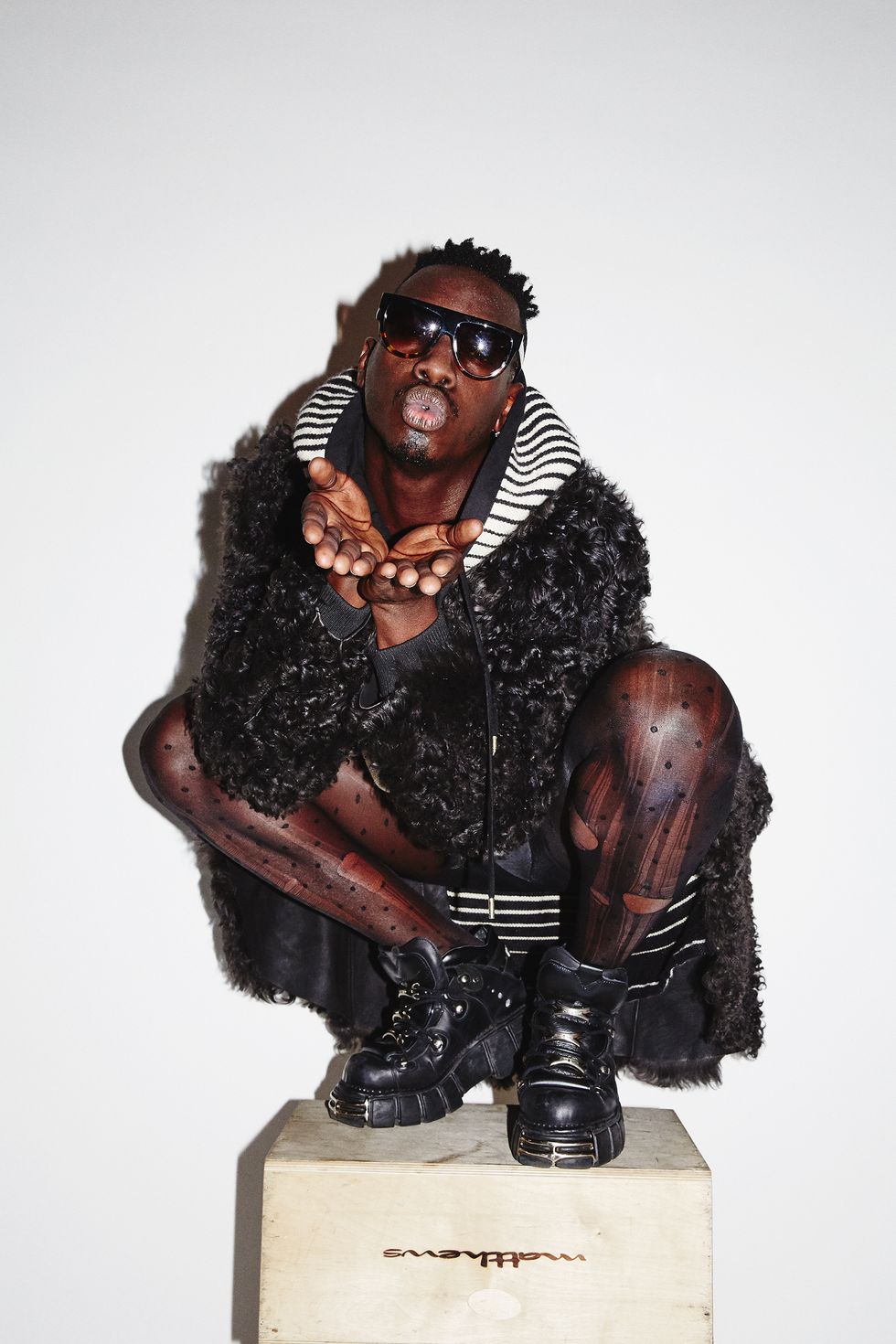 Le1f wears a BlurBlank Studio shearling coat, a Skingraft black and white hoodie, Falke sheer polka dot tights, Celine sunglasses, New Rock shoes and a BlurBlank Studio earring
After graduating with a degree in dance from Wesleyan in 2011, the rapper returned to New York where he fell in with the city's creative downtown and Brooklyn nightlife scenes, communities that were acting almost like incubators for a group of rising young rappers and performers -- many of whom also identified as queer artists of color -- like Zebra Katz, Cakes da Killa, Mykki Blanco, and House of LaDosha (who appear on Riot Boi). But it was out at bars, clubs and parties that he also began to experience the white male gaze, with men fetishizing his skin color; the experience was the polar opposite of being "unseen" but still made the rapper feel like he was entering territory of discrimination. His song "Koi" finds Le1f elaborating on this unwanted attention over PC Music producer SOPHIE's manic production, recounting, "He's asking me where I live/I'm like, 'far away, mister, real real far'…I'm not laughing with you, I'm laughing at you."
Le1f views "Koi" as an expansion of "Wut" -- notably the endlessly re-blogged moment in the music video where he sits on the lap of a Pikachu mask-wearing white man. "When I sat on that white guy's lap, no one really understood that I was trying to dominate and reject that at the same time. Everyone was just taking screenshots of me on the Pikachu, like 'Oh my god, this video's so cute!', which was great for my career." Another song on Riot Boi, "Taxi," further illuminates the crisis of racism within the gay community, one that's perpetuated on gay-centric social media and is a topic that few seem to want to discuss. "You open Instagram and all the hot boys have green eyes and light skin even though they're black. It's about that kind of rejection [if you don't look like that] and not being phased by it," Le1f says.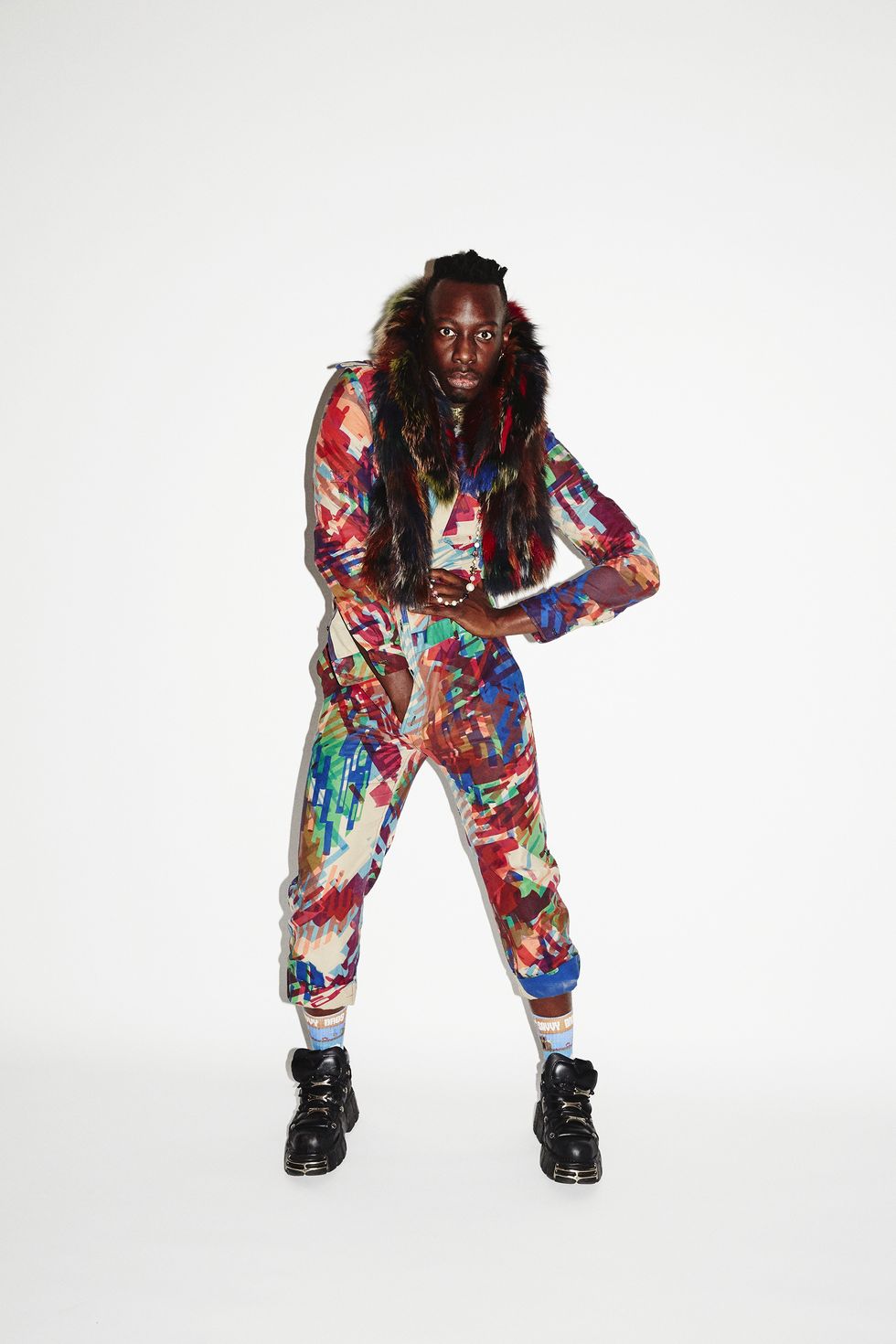 Le1f wears a BlurBlank Studio multi colored jumpsuit, an Adrienne Landau multi-colored fur jacket, a Carhartt camo shirt,
New Rock shoes, Happy Socks socks, a Chanel necklace and a BlurBlank Studio earring
But the artist also has no problem calling himself out -- along with the rest of gay culture -- on transphobia and misogyny. "When you already have the privilege of being a guy, you don't have to think about co-existing or consciously not being rude to women," Le1f says. "There are song things on the album that have to do with me having said something transphobic or misogynistic, and hurting someone's feelings and being like, 'Whoa, I didn't know.' It's me trying to deal with my own feelings and being mad at myself; it's not like I'm exempt from it."
The high standards the musician holds himself to are reflected in the production quality of Riot Boi; the album is a true progression for Le1f, and a tremendous leap forward -- not only for the inclusion of queerness in hip-hop -- but in music, in general. Le1f blends his spitfire with sultry vocals -- the first time he's truly demonstrated his singing -- and his gift for testing out unexpected production pairings sets him apart from his music peers. It's this talent for mixing and matching and experimentation that makes Le1f an artist whose output doesn't seem to fit into one tidy little genre or classification.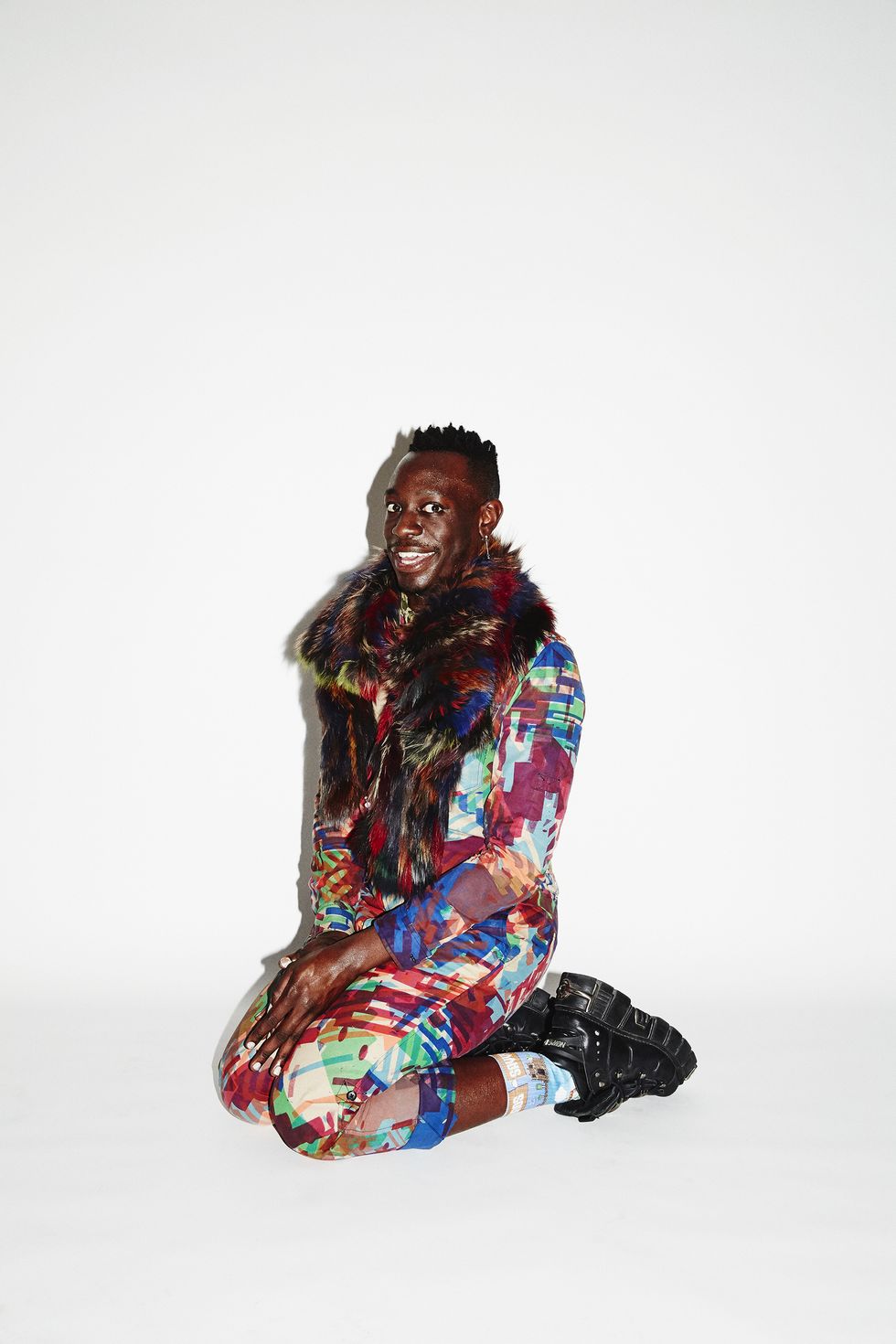 "I think people really underline the word 'rap' when they talk about my music, just because I'm gay," he says. "And then people turn it on and they're like, 'what?'" He adds, "When I'm in an Uber and the driver asks me what I do I say, 'Oh, I'm an electronic musician.' They'll be like 'Huh?' And then I'll say 'Yeah, like rapping, singing, and producing.'"
"You have no idea of who I am," the artist continues, speaking about the anonymity of riding in an Uber. "I could say I'm a cellist."
With Le1f's innate ability to challenge norms -- and make damn good music in the process -- becoming a cellist doesn't even seem that far-fetched.
Riot Boi is out now on iTunes, via Terrible Records. Get a copy HERE.
Photos by Eric T. White / Styling by Paul-Simon Djite
Grooming by Nora Bussolari
Fashion Assistant: Cathleen Peters

Related Articles Around the Web
You May Also Like