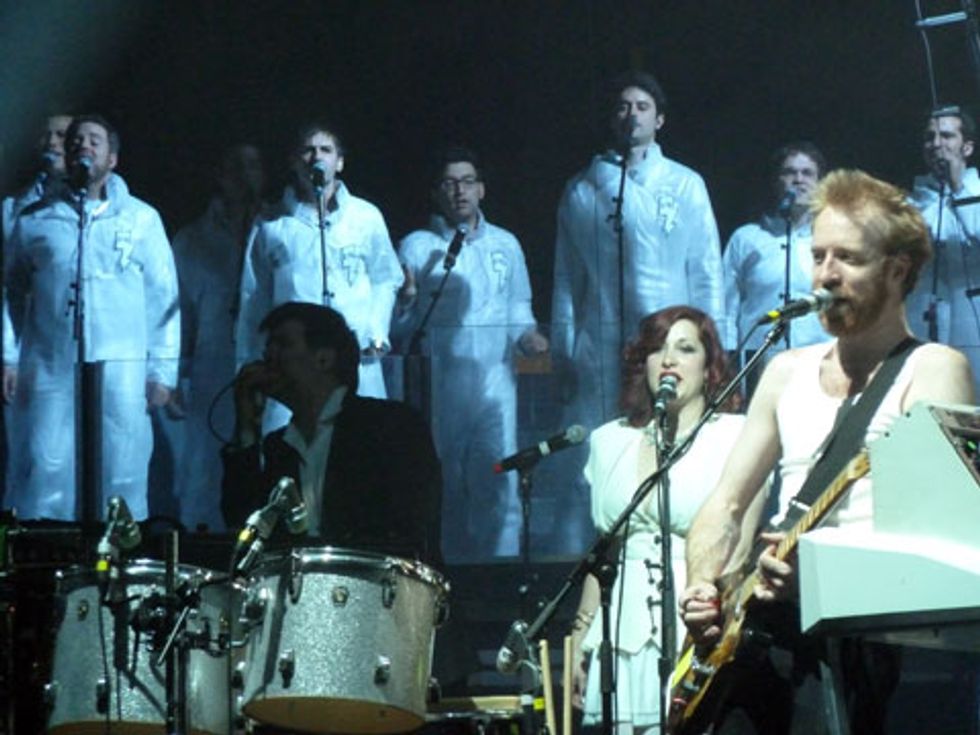 If you were among the lucky 20-plus-thousand who caught one of
LCD Soundsystem
's final shows last week at
Terminal 5
or attended their epic
"Long Goodbye"
at
Madison Square Garden
on Saturday night, you might still be twitching from excitement and exhaustion. You might also still be wondering who those strapping young fellows with angelic voices singing back-up and clad in silver and white spacesuits were. We are here to say that they are not, as some on Twitter suggested, the band
Antony and the Johnsons
. The back-up choir was comprised of members of Brooklyn punk-rock trio
Mr. Dream
as well as the all-male choral group the
State Street Singers
. They also happen to be some of our best friends. We chatted with Mr. Dream's
Nick Sylvester
and
Matt Morello
(the only one in both Mr. Dream
and
the State Street Singers -- double whammy!) about their recent dream-gig.
How did this even happen? As in, how did you ultimately end up on stage at Madison Square Garden in spacesuits?Matt Morello:
The short story is that James [Murphy] tweeted a few weeks before the final shows that he needed a 12-person men's chorus, and we happened to have one. The slightly longer story is that sometimes a bunch of our friends get together at my apartment on State Street in Brooklyn to drink semi-moderately and sing choral repertoire we don't get to do in our bands, day jobs, graduate programs, etc. Every year my roommates (who sing in the group) and I throw a Christmas party and the group spends a couple months preparing a short set for it that ends up sounding pretty good, and when it's over we all talk about how we wish we could do it more often.
Nick Sylvester:
The even longer story is that most of the State Street Singers are former members of the Duke's Men of Yale. They're extremely talented vocalists, did world tours in college, that kind of thing. Significantly less corny/vibrato-y than most a cappella types though. James and I have been good friends for a while now, so when I found out the guys were interested, I emailed James and told him about the group. That was it really. As for me, I used to sing men's choral music in the Harvard Glee Club, which I guess has its own implications.
MM:
The spacesuits were James's idea.
Did you work closely with James on the arrangements? How did that part work?MM:
We sat down with James and Al Doyle [from Hot Chip, LCD's guitarist] a couple weeks before the shows and listened to all the songs they were thinking of having us on. We talked through the parts, how they usually did them, or how they imagined they might want them now that they had a bunch of extra voices.
NS:
They were relieved to work with people who knew the songs and the reference points already. Like, they could say "stacked Bowie vocals" or "make this sound like Parliament" and trust that Matt and I could deliver. After that Matt took the lead with the arrangements and transcriptions and rehearsals. He has a killer ear and was able to sort out all the parts in just a few days.
MM:
We joined the band for a couple rehearsals the week before the Terminal 5 shows, where they heard what we'd come up with and then gave us more suggestions. They were really generous in terms of helping us figure out how to work the mics and the monitors and get the various gestures right.
What was the craziest thing you witnessed in the crowd from your high-above perches?MM:
Probably watching a guy vault two barriers, shake off a security guy, drop like eight feet, and run into the GA pit at MSG, only be to be chased down by five more security guys.
NS:
Some of James's saddest songs are his catchiest. So at all these shows we saw a lot of dudes with their arms around each other, shouting "I can change if it helps you fall in love!" or "All I want is your pity!" but with these huge grins on their faces. Totally valid but still kinda crazy.
Highlight of the whole thing?NS:
Every night, in "Dance Yrself Clean," when the drums came in.
MM:
Watching the band watch Juan [MacLean] and Marcus [Lambkin, Shit Robot] do "Ships Talking". Plus, you know, the general concept of singing with many of my best friends for one of my absolute favorite bands, over and over.
Most surreal moment?MM:
Hate to pick something obvious, but probably the Garden. After getting over the initial excitement that this was all real and not some very elaborate joke, it was kind of easy to just focus on the work and have a lot of fun, even kind of settle in at Terminal 5. And then came the hugeness of the Garden, and singing in our empty section behind the stage, plus everything that night meant or was supposed to mean to so many people, plus looking around at my bandmates and these guys I've known in some cases for ten-plus years, and we're all wearing tyvek jumpsuits over silver jumpsuits, and also Courtney Love and the Arcade Fire are there for some reason, and all of us are watching thousands of balloons fall on the probable last moments of this band that's the reason for all of this -- I mean, what the fuck do you do with that.
NS:
James and Jon Galkin from DFA are the people who convinced me to move to New York in the first place. So to go from writing an email to James in 2002 because I liked the b-side to the "Give It Up" 7", to performing with LCD at MSG nine years later -- the whole thing is surreal.
How did you guys feel on Sunday?NS:
Exhausted.
MM:
Exhausted.
Any upcoming State Street Singers/Mr. Dream collabs? And more realistically, any upcoming Mr. Dream shows?NS:
I wouldn't rule out a collaboration. The thing to remember about the State Street Singers is that they're up for anything and down for whatever. Mr. Dream is headlining the
Brain-Cave Festival
this Saturday (Apr. 9) at
Shea Stadium
in Brooklyn. We're also playing April 30 at Pianos, then we go on tour with Sleigh Bells and CSS for a few Northeast dates.
***
While you're at it...
Read
Nick Sylvester's 2005 PAPERMAG profile of James Murphy.
Watch
the amazing video for Mr. Dream's single "Crime," off their debut album
Trash Hit
.
Check out
State Street Singers' Jon Boschetto's infrequent-yet-beloved PAPERMAG perfume column Smell Ya.
Photo from Brooklyn Vegan