Fashion week parties include all kinds of over the top attractions. There are celebrities and musical performances, canapés ranging from the delicious to the tragically unsubstantial, watery cocktails and free champagne. There have been parties with live weddings, parties with contortionists, parties where you could grab a prosthetic rib cage and pluck it like a guitar. But last night's Woolrich "American Soul" party is already this season's best party, because this party had a performance from Ms. Lauryn Hill. Lauryn. Hill!
The beloved musician, who stars in Woolrich's Fall 2018 campaign, also called "American Soul," delivered a flawless set at the event, held in a former firehouse and landmark building on the border of Chinatown and TriBeCa. She was introduced by her daughter, model Selah Marley, who described Hill's seminal album The Miseducation of Lauryn Hill — which just turned 20 — as something that "creates an emotional homeland for the dispossessed. It transforms the margins into places of beauty and intrigue, and thereby transforms the world."
Hill took the stage dressed in a black tulle skirt and glittering hoops, eyes ablaze with tangerine-colored shadow. "This is a house party," she quipped. "You're feeling good, looking good." And she played, and everyone in the room rightfully exploded.
The set consisted of some of Miseducation's best-known tracks; Hill kicked things off with "Lost Ones," followed by "Everything is Everything," then "Ex-Factor," then "To Zion," then "The Miseducation of Lauryn Hill." Her voice was strong, clear, resonant. Someone behind me screamed the lyrics through tears while filming an Instagram Live.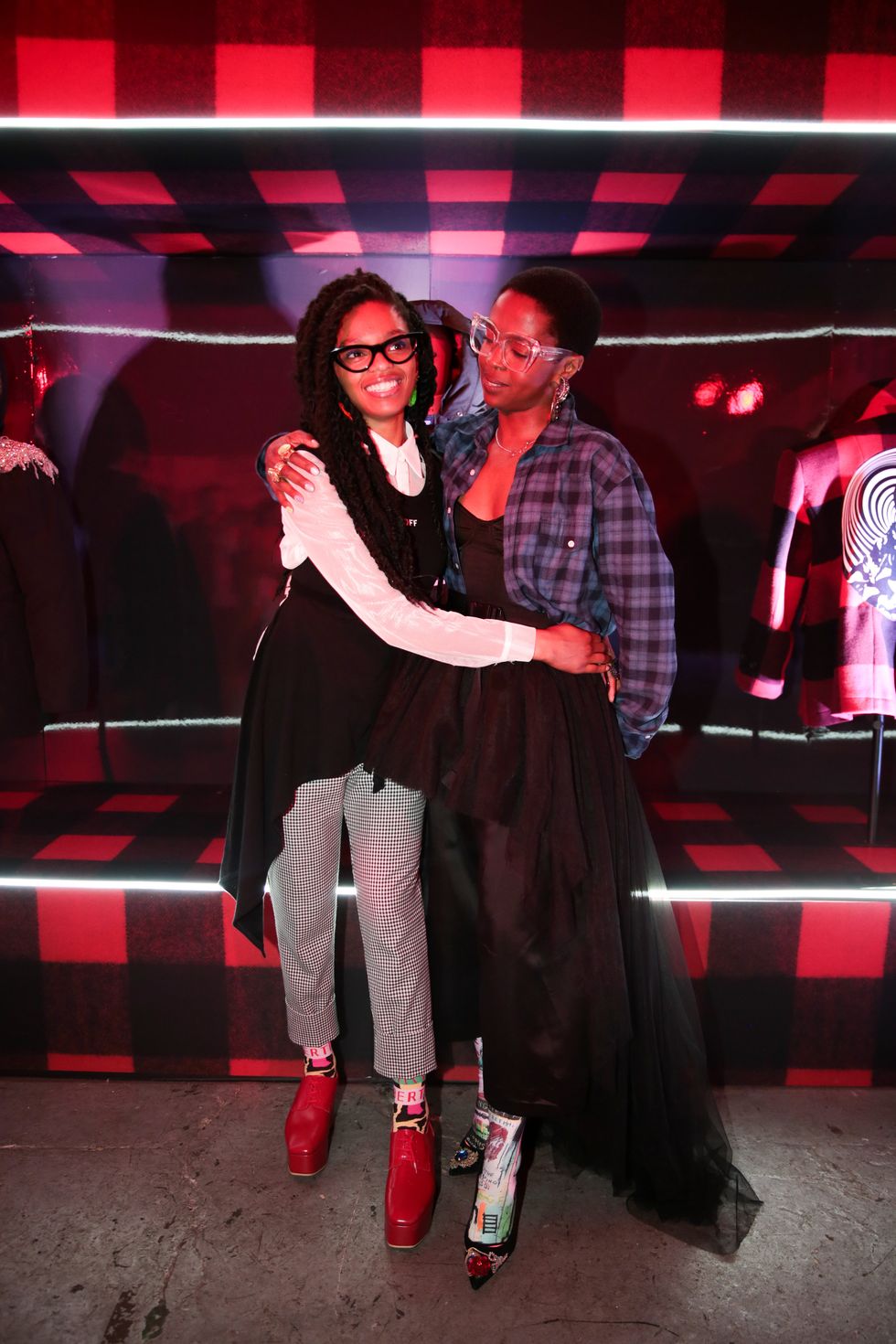 Selah Marley, Lauryn Hill
Hill paused to announce that she had a "surprise." "I made it a family affair," she exclaimed. A teenager in a Palm Angels jacket standing right in front of me jumped onstage: it was Hill's son, Joshua Omaru Marley. He performed a few songs as she stood to the side, nodding approvingly.
"I'm not allowed to tell you Joshua's real age, because I guess that might upset his game somehow," Hill laughed. "Well, Josh is still in high school." The crowd roared. "It takes a considerable amount of courage to get up here after mama," she said. Quite the understatement.
But Hill, thankfully, was not done yet. She did "Doo Wop (That Thing)." She had to do it! People were screaming so loudly that she barely even needed to sing (I was screaming so loudly). And then she graciously performed an encore, The Fugees' "Ooh La La La."
Lauryn Hill is sensitive, an artist who retreated from a world that does not share her values ( a conscious choice; as Doreen St. Felix wrote for The New Yorker, "I resist the narrative that Hill is crazy or lost — that she has failed because she has chosen not to participate in that which causes her strain").
And so she is famously extremely late for shows, often canceling them altogether. There were no such problems at the Woolrich party — dedicated fans have had to wait (and wait, and wait), but chosen invitees to an exclusive event did not. Oh well. Forgive them father, I guess.
Photos via BFA
Sign Up For The Morning PAPER