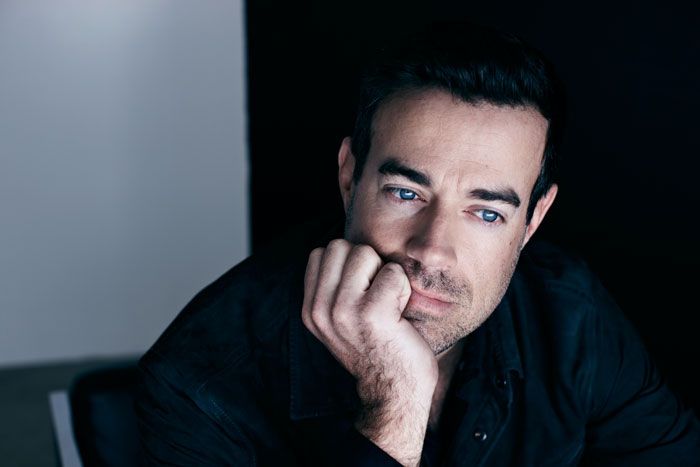 By the time you read this, the Great Flu Epidemic of 2013 will probably be a distant memory. But when Carson Daly picks up the phone one mid-January morning, I learn he's just pulled his three-year-old son out of school. While Daly talks about his vertiginous career, the boy's coughs rattle in the background.
As far as multitasking goes, this is nothing to Carson Daly.
The Voice
-- the primetime phenomenon he's hosted since 2011 -- enters its fourth season this spring.
Last Call with Carson Daly
is now in its twelfth. And his morning drive show on Los Angeles' KAMP has him rising at 4:30 a.m. almost every day of the year.
Oh, and he also has an infant daughter. "So even if I do get a day off, sleeping in is like 6:00 a.m.," he says. "Which I like, actually."
It wasn't always this way. As a DJ at KROQ in the mid-'90s, Daly was living in Ricky Martin's old house, leasing a BMW and raging on the Strip. Later, he would handcraft the tastes of a million budding millennials as the host of MTV's
Total Request Live
. Living in New York, he hung out with Kid Rock and Pamela Anderson at Manhattan haunts like the Upper East Side dive bar American Trash. "I love that place -- Kid Rock and I could drink PBR and his girlfriend could still have a nice little plastic flute of champagne."
Daly's career proves that new crises and opportunities are never more than a season away. In the late aughts,
Last Call
was almost muscled off the air in the Leno-Conan shake-up. Daly decided to reboot the show, switching from the familiar late-night format to something he calls "doc talk:" interviews captured in bars, performances shot at real gigs and guests who mostly fly under the late-night radar. "The takeaway for me," says Daly, "almost 40 with my own family, is that I really just love trying to help people and supporting new music."
***

Carson Daly answers our TV survey:
What is your "guilty pleasure" TV show?
Barefoot Contessa
on the Food Network.
What's the best thing about going to set everyday? The worst?
Craft services and craft services. It's great not to think about what to eat but not great to be surrounded by chicken wings all day.
Do you watch your show when it airs?
I do, but only so I can tweet with fans.