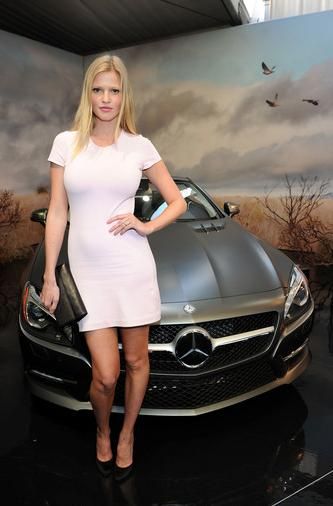 Although most supermodels no longer walk the catwalks of
Fashion Week
(
Gisele notwithstanding
), that doesn't mean the "supers" can't be seen in the front rows, the after-parties or milling around
Lincoln Center
.  PAPERMAG caught up with one such gal -- Dutch supermodel
Lara Stone
-- who was in town during Fashion Week as the
"Mercedes-Benz Fashion Ambassador"
to talk about setting boundaries in modeling, falling down at
Karl Lagerfeld's
show ("oh fuck") and what she makes of the "Dutch model craze."
Since it's Fashion Week, what advice do you have for some of the girls who are just starting out?
It's not easy.  It's quite a stressful thing to do, obviously. I would say try and get as much sleep as possible and try and eat healthily -- definitely don't forget to do that!  Just try and take it as easy as possible and it's okay to say "no" as well.
What do you mean by that?
Lots of things!  I think you have to set your own boundaries and say "this is okay for me" and "this is not okay for me" and really stick to it.
In terms of what?  In terms of what you're asked to wear, what schedules you're asked to keep?
Everything.
What have been some of your most memorable runway moments during Fashion Weeks past?
I've had such fun doing shows, but it was quite a long time ago.  The last time I did a show was
Calvin Klein
two seasons ago.  It's really good fun to do that one because I've done it so many times and it's nice to be with all the people you know there.  For me, the most horrible one was
when I fell over at Karl Lagerfeld's show
.  It was quite a long time ago but I still remember it like it was yesterday.
What was your reaction when that happened?
Fuuuuccckkk.
  Ow.  And then "oh fuck" again.  It was quite embarrassing.
What were peoples' reactions?
I wanted to go like "Oh, I'm so sorry that I fell over" and everyone was like, "Oh, whatever."  It's not the end of the world but it's still embarrassing.
It's interesting that when models like yourself reach a certain point in their careers, they stop walking in Fashion Week and they move onto bigger campaigns.  Do you miss walking in the shows?
I'm really quite happy with the way everything is now because you get a different kind of perspective on the whole Fashion Week thing and what it's like.  But the thing I do really miss -- I don't really miss walking in the actual show that much -- but I do really miss seeing my friends backstage and hanging out and having such a good time.  I really do miss that.  It's like this little group and you just move from town to town and you all understand [each other].  No one else really gets how tired you are.  
Gisele made a surprise appearance walking in Alexander Wang's show -- are you going to be making any appearances in any of the four big Fashion Weeks, in New York, London, Paris, Milan?
No.
What do you make of fashion editors talking about the "Dutch Invasion" or Dutch models as the new demographic of choice in the fashion world?
I don't really know.  There's obviously loads of Dutch models and they're all great but I don't think Dutch people look particularly "Dutch."  It's not like you can just pinpoint and be like "Oh, you're Dutch, you're Dutch and you're Dutch."  It's not like we all look the same at all except that we're all quite tall.  I think it's maybe more an easiness about us.  People from Holland are more relaxed, down-to-earth.
What is the modeling industry and fashion world like in the Netherlands?
I don't really know, to be honest.  I heard they're starting a
Dutch Vogue
in the next few months and I think that's really exciting.  I think that will bring a lot of new, cool things to the country.
Do you visit the Netherlands often?
I don't visit too often but I was just there last weekend to see my mom and dad, which was lovely.  I usually just go for a day or two.  I love visiting but I don't always get the time.
Since you live in London, what are your thoughts on fashion in London versus New York?
I think in New York, it's always been about established brands but it's really cool and you've got a lot of different things.  Calvin [Klein] is really established and has really iconic looks.  In London, it's always been a bit more about younger, up-and-coming designers.  Although you do see [established brands] like
Burberry.Do you think there's anything about London in particular that is encouraging of younger designers more so than other cities?
I don't really know what it is.  [London and New York] are very similar in lots of ways.  I was going to say, "London is a very big melting pot" but then I thought, "Well, so is New York."  Then I thought "They've got these amazing fashion schools" but then I thought "so does New York."  I haven't really thought about it.
What's the first thing you'll do when you leave Fashion Week and get back home to London?
Cuddle.
With whom?
With my husband [Actor
David Walliams
].  And I'm picking up my puppy when I get home next week.
What kind of puppy?
A border terrier named Burt.