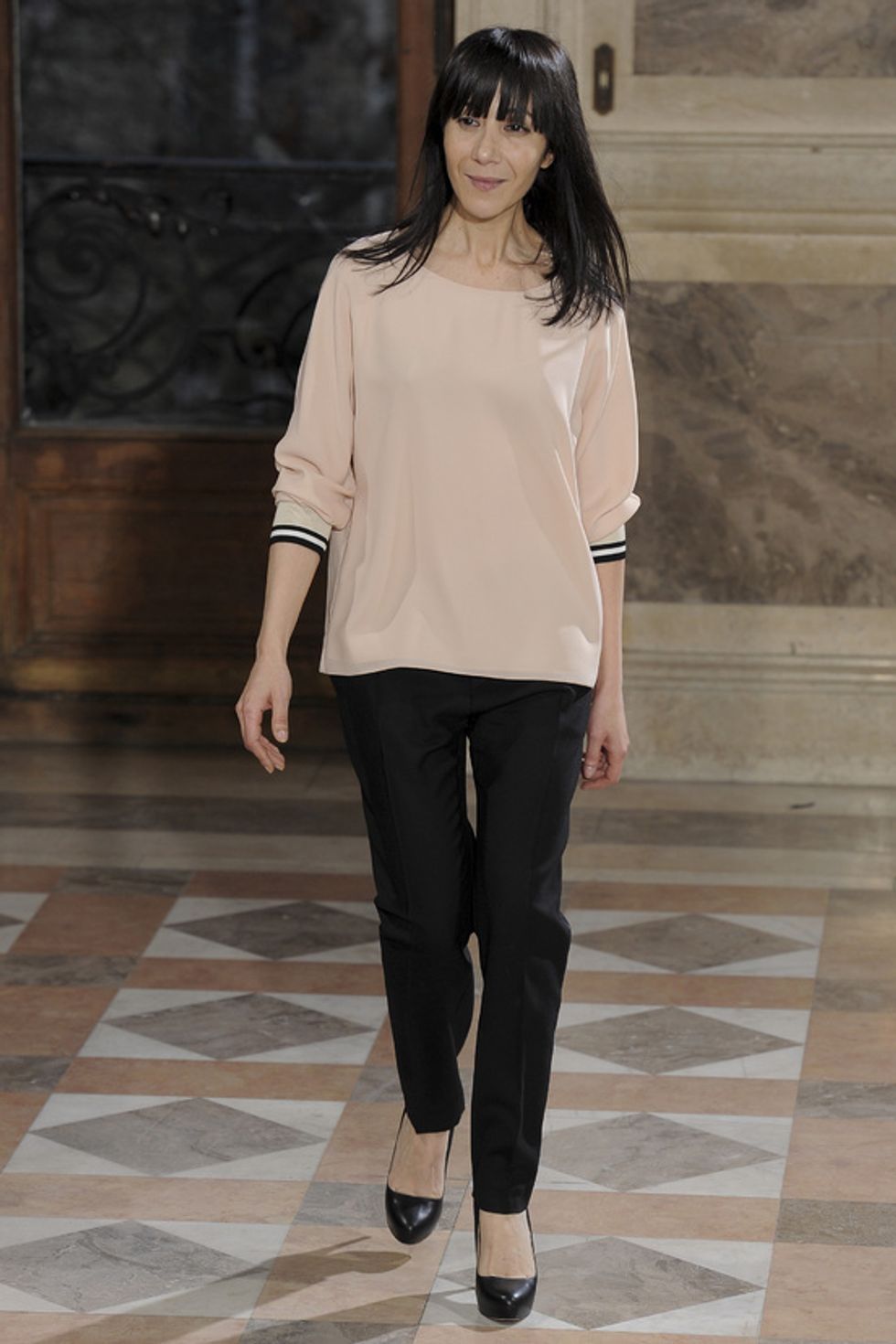 The news this month that Bouchra Jarrar, the french couturière known for her fastidiously tailored jackets and trousers for her eponymous line, would be named director of women's collections at Lanvin after Alber Elbaz's acrimonious ouster last fall was met with pleasant surprise. More in the why-wasn't-it-more-obvious way than genuine shock, but still it gave pause as to why she was not a more clear front-runner all along. The names of buzzier designers topped lists, ones known for their full-flourished, feminine bents like Simone Rocha or Erdem Moralioglu. Those designers were more aesthetically obvious successors to Elbaz, who had established very clear and successful signatures in his 15-year tenure. These included dazzlingly louche evening and cocktail looks often in maquillage pastels or the houses signature Fra Angelico blue, raw silk hems in forgiving fabrics that draped easily over women of any age or size, and most importantly the personality of the designer himself -- warm and candid about the role of emotion in fashion and how he at once thrived on the intimacy with the women who wore his clothes but felt fatigued by the pace and pressure of the business. He would be difficult to replace, not only for being so beloved but also the very public and unsightly recriminations in the wake between the staff left behind and the executives in Paris and Taiwan would make any designer think twice before stepping into the discord. Or any inexperienced designer, which Jarrar definitely is not.
Bouchra Jarrar has the industry bona fides working at the right hands of both Nicolas Ghesquiere during Balenciaga and head of the couture atelier at Christian Lacroix, two poles of french fashion in the last 20 years. It's worth a flip-through of the Balenciaga collections she was a part of (late 90s-2006) to see her hand in the jackets and trousers, with their strong shoulders, curvilinear lapels and cinched waists, that were so much a part of Ghesquiere's look at the house. The precision and sensuality of these singular garments were standouts each season, most notably Spring 2006, which was done in mille feuille muslins and chiffons.
Jarrar's appointment also flies in the face of the current moment in Paris that is suddenly, and sometimes dizzyingly, mad for a new crop of younger designers, like Demna Gvasalia of Vetements and Balenciaga, Sébastien Meyer and Arnaud Vaillant at Courrèges, or Simon Porte Jacquemus. The city, historically encumbered by more fixed ideals of fashion and and an almost feudal modus operandi, is of late experiencing it's own mini youthquake. As exhilarating as it may feel, it remains to be seen who has the staying power. So for a veteran like Jarrar to take over Lanvin is almost refreshing and some comfort that Paris will still reward craft and experience over designer du jour. Though both are very welcome at the table to be sure.
It is also curious, though not surprising, that during discussions of the future of Lanvin most talk centered around the house's more immediate past with Elbaz and no consideration given to the namesake herself, Mme. Jeanne Lanvin, nor everyone's favorite phrase, "brand DNA." Which begs the question, what was Lanvin before Elbaz? Ironically a century ago, Paris fashion was dominated by female designers and entreprenuers. If Chanel was the pragmatist, Schiaparelli the dreamer and Vionnet the draper, then Lanvin was the cipher, if a romantic one, feeling the mood of the moment and creating around it, without any defining design signature. This is not to discount the beauty of Mme. Jeanne's dresses, but in a line-up the collections are as lovely as they are indistinguishable from season to season. What she did create however, and perhaps the most modern of all, was the fragrance 'Arpege' in a trademark black bottle that bolstered the namesake of the company for decades and was a pre-cursor to the cosmetic supported RTW model that keeps fashion in black. It's a nice narrative book end to have a women fronting the house after all of these years but there could not be more difference between Mme. Lanvin's gauzy flounces and Jarrar's exacting silhouettes.
Jarrar's first season for Lanvin will be Spring 2017 and will no doubt focus on the daywear separates she has refined over the course of her career. Also, with a recent investment in her namesake couture business, it is almost certain she will continue presenting during the Haute Couture week as well. All told, she will be designing a total of six collections a year across both brands which is now de rigueur for a designer leading a global luxury business (Lanvin mens will remain with Lucas Ossendrijver). It will be interesting to see if she will bring the brand out of the evening or if alternately she will put herself and her clothes into the evening. Regardless there is no question it will be a sharp, buttoned-up affair.
You May Also Like
Pride
Story by Jonathan Borge / Photography by Pol Kurucz / Styling by Marko Monroe / Hair by Gigi Goode / Nails by Juan Alvear