Embodying the iconic energy-shooting mutant Jubilee in X-Men: Apocalypse (out May 27th) wasn't simply Lana Condor's first movie role. In fact, appearing in the upcoming superhero blockbuster was the first time the California-based actress ever set foot on a movie a set. Condor was a high school student interested in acting when she submitted for the casting call and now she's accumulated a huge following of fans -- none of whom have even seen her work in the film yet. We spoke with Condor about the process of landing the role, why it's important to have an Asian mutant represented in an X-Men film and what she hopes to do next.
What was the process of being cast in X-Men?
I'm super new to all of this. Last year I signed with my former manager and agent in December. Then the casting call went out in February and I went in for pre-reads. They were seeing a ton of girls, [but] I guess they liked me, so they actually called me the very night after my first audition and wanted to know if I would be cool cutting my hair in case they needed to. Then I went in a couple of times after. I never actually met (director Bryan Singer] or anyone else. After four or five auditions I waited. For two and a half months! I kind of knew I was in the running. [At the time] I was a second semester high school senior. None of my friends really knew that I was trying to act, because it was so new. During school, my agent and manager called me and were like, "Are you by yourself?" I was like, "No, I'm in school surrounded by all of my peers. This is the last place I'd be by myself!" They said, "Can you get by yourself?" So I snuck outside of school and they told me I got it.
Is it intimidating to have a big movie be your first role?
I think I was super intimidated when I first flew out there, because I had never been on a set before. I didn't know how cameras worked. How camaraderie between castmates worked. So that was super intimidating for me. That left as soon as I got there. In terms of what I do next, it's a little intimidating. Just because it's a huge, huge film and I don't know what I want to do next.
Was there anyone in the film who helped guide you through all that?
Yeah. Sophie [Turner], Alex [Shipp], and Tye [Sheridan]. They were part of the younger generation of mutants. They helped me so much and still do. Tye and I talk all the time. He gives me advice on this whole world, because it's very different from being a student. Alex and Sophie helped me a lot with things like hair and makeup, for example. When we were going to Comic-Con, I didn't know I needed hair or wardrobe. I didn't know about any of that. I thought I was just supposed to go in my T-shirt. Sophie was like "Are you crazy? You have to have hair and make up!" so they helped me a lot in the girl-y stuff.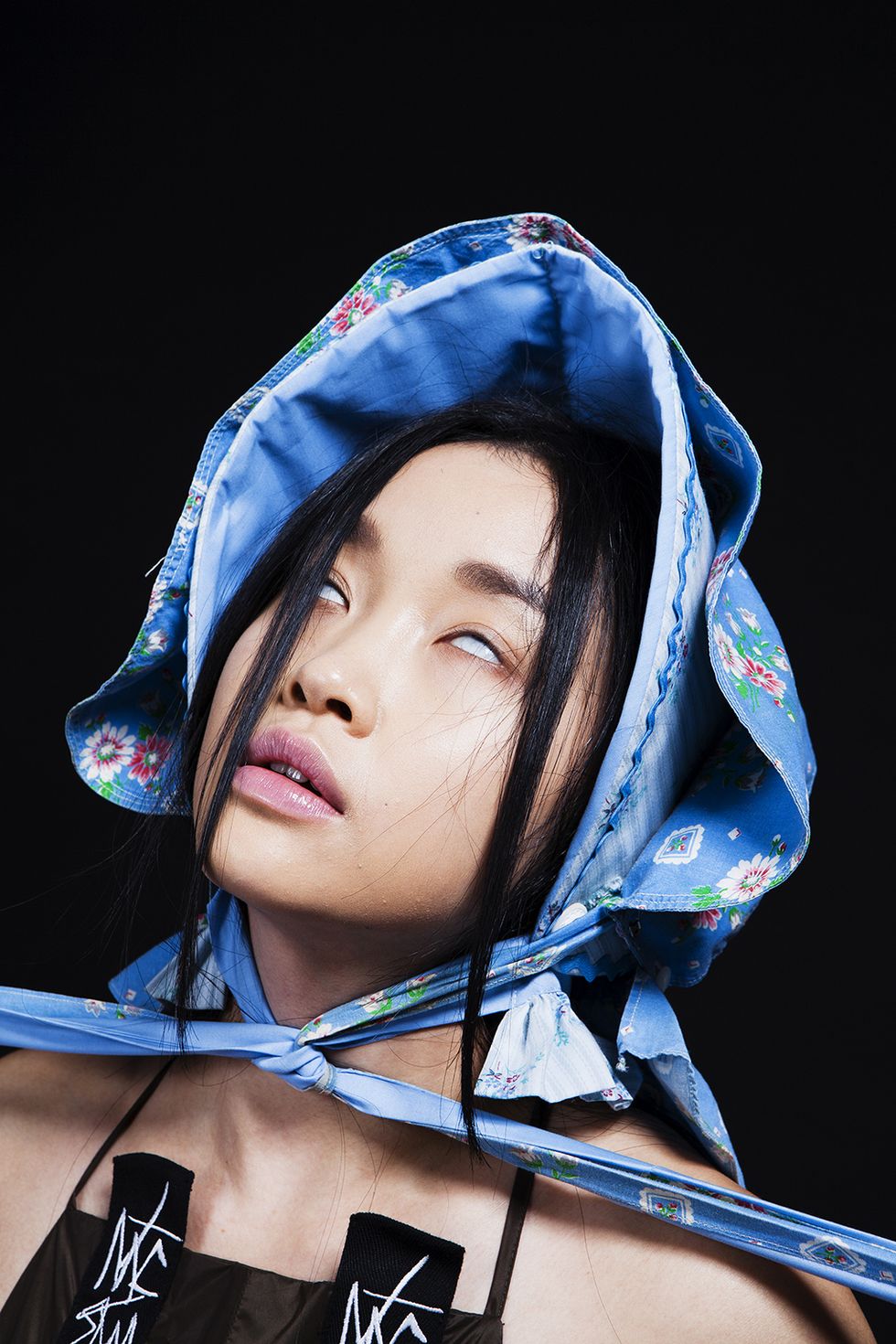 This (and splash photo) by Logan White. Lana wears a top and skirt by Sam MC and a bonnet by Jet Rag

What did you specifically like about the character Jubilee?
She's just so cool. Way cooler than I am, I think. She gets along with everyone. I was having this discussion with Bryan, our director, about how she represents Asians in general. X-Men have always been outsiders – minority groups, gays and lesbians. It's like the outsiders banding together to be one. So they never really had another Asian, except for Blink, so Jubilee gets to represent the Asian outsiders who haven't really had the easiest time fitting into society. And that's cool. A lot of my followers are Asian or Hispanic. People are excited: "A real Asian is in the film?" It's funny but it's kind of true.
Has it been interesting to see how all the super fans react?
Oh my God. At Comic-Con I totally thought no one was going to know who I was. I was like, "There's no reason for me to be here, no one will know." But when I was announced and walked out on stage people were cheering and that was the weirdest thing for me. I'm so blessed for Jubilee to already have a pre-existing fan base, which a lot of actors and actresses just starting out in the business don't have. I was so blessed that Jubilee already had this fan base. It's been crazy how supportive people have been without even seeing my work.
Do you have any upcoming projects?
I'm currently trying to get employed again. Ugh, the struggle! But I hope to have a project pretty soon. I have to turn down some things because of the movie. I just go, "That's not me."
What sort of role are you looking for?
Still action-y. Anything thriller. I'm scared of everything. But at the same time I really want to be in a prison show. Or any show where I get to run and scream. I want to be a badass!
What is the most important thing you learned working on X-Men?
Being able to go with the flow. Because things change so quickly. You never know when you're going to be called to set. You never know if you're time is going to change. If you're an anxious person who needs to know everything at one time, to organize this, this and this, it's going to be super hard for you. You have to be chill and say, "I'll be there whenever you need me to be." And don't take things too seriously.
Did you have to make a choice between going to college and doing this movie?
I deferred going to college. I've been accepted to a bunch of places, but I deferred to LMU, Loyola Marymount. Just because it's close. I've had some people in the business tell me that if I plan on going to college, which I totally do, you need to do it earlier versus later because the longer you wait the harder it will be to re-assimilate into peers. But I don't necessarily think that.
What is it you want to study?
If I were to go it would be for psychology or journalism. I wouldn't go for the arts. This is my job – I want to learn something else!
Styling by Lisa Katnic
Makeup by Anton Khachaturian for Exclusive Artists Management using M.A.C. Cosmetics / Hair by J. Michael at DMLA using R+Co.
Location: Apex Studios

You May Also Like