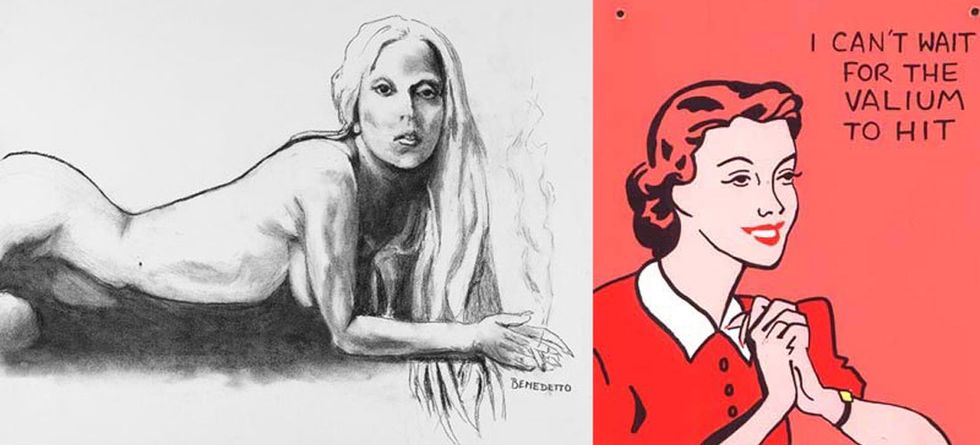 1.  Be sure to read
this incredible New Yorker feature
, "The Power of Nothing" by
Michael Specter,
about placebos. Among the  assertions: "Valium has no discernible effect on anxiety unless a person knows he's taking it."
2. A nude charcoal drawing of
Lady Gaga
by
Tony Bennett
-- as seen in
Vanity Fair
magazine -- is being auctioned
on eBay
. The current bid is $5,400.
3.
Russell Simmons
bought all the ad time
dropped by Lowe's on TLC's reality show
All-American Muslim
next week.  The new ads will promote Simmons' RushCard pre-paid Visa debit card. [Hollywood Reporter] Meanwhile, Russell's nephew
Diggy Simmons
is heading over to Brooks Brothers (346 Madison Avenue) tomorrow, December 14, 5 to 8 p.m., to celebrate the holidays at a benefit for St. Jude Children's Hospital.
4. Check out "
The 106 Best Street Art Photos of 2011
." [StreetArtUtopia] (Thanks for the tip, DB)
5.
Anna Calvi, Eleanor Friedberger and New Moods
are playing BrooklynVegan's holiday party tonight
, December 13, 8 p.m., at Music Hall of Williamsburg (66 North 6th Street, Brooklyn).
6. Wondering what to give your drummer friends for Xmas?  How about an Electronic Drum Machine t-shirt?  It's got nine different drum kits plus a looper built -in and it's only $29.99
here
. [ThinkGeek]
7.
Rihanna
is
selling her "leaky" Beverly Hills mansion
for only $4.5 million. The singer bought the 8,520-square-foot home in 2009 for $6.9 million, but is suing the previous owner and the builder as well as the real estate agent and home inspector involved in that transaction.  [CBS News]
8. Two people
claim they got ear infections
in
Carsten Holler
's isolation tank art installation at the New Museum. [Gothamist]