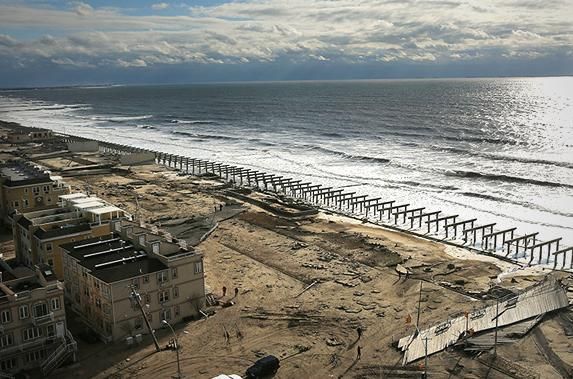 Below is an open letter to Mayor Bloomberg from members of New York's art community encouraging support for, and assistance towards, areas devastated by Hurricane Sandy. For more ways you can help, please follow links at the bottom of this story.
Open Letter to Encourage Mutual Citizen Support
New York City Artists Unite to Support the Rockaways and the Flooded Areas of New York City
Dear Mayor Bloomberg,
The Rockaways geographically, as you know, are the area that is breaking the waves between the Atlantic Ocean and JFK Airport and New York City in general. Demographically, it is very diverse and not a privileged area.
In recent years, the Rockaways became an incredible inspiration and haven for the artists and creative community of New York. As the Rockaways are, at their best, a melting pot between the local community and the creative energies of the city, it is a location where New York is anticipating and creating the images and dreams we all live on.
Hurricane Sandy completely devastated the peninsula, and a couple of days after the storm, families with children are still standing next to their destroyed and ruined houses trying to keep warm without food, water, electricity, heat, or internet.
The artistic community is sending you this letter to support the city in your amazing, monumental efforts in all boroughs to save our city and to encourage the creative communities in New York to invent exemplary ways of helping our neighbors and fellow New Yorkers!
Respectfully yours,
Marina Abramović
Doug Aitken
Francis Alÿs
Darren Aronofsky
Tauba Auerbach
Matthew Barney
Klaus Biesenbach
Adrien Brody
Giada Colagrande
Francisco Costa
Anthony D. Curcio Jr.
Willem Dafoe
Anna Deavere Smith
Roe Ethridge
James Franco
Lady Gaga
Antony Hegarty
Jonathan Horowitz
Spike Jonze
Steven Klein
Terence Koh
Padma Lakshmi
Madonna
Laurel Nakadate
Gwyneth Paltrow
Richard Phillips
Jonathan Pierce
Rob Pruitt
Terry Richardson
Rockaway Artists Alliance
Cynthia Rowley
Cindy Sherman
Jenny Shimizu
Patti Smith
Michael Stipe
Mickalene Thomas
Ryan Trecartin
Liv Tyler
Gus Van Sant
Martha Wainwright
Rufus Wainwright
Rachel Weisz
Italo Zuchelli
(
Photo via CNBC
)
RELATED
:
MoMA Hosting Free Seminar On Preserving Sandy-Damaged Art + MoMA PS1's Klaus Biesenbach Organizing Rockaway Help
Ways You Can Help Hurricane Sandy Victims, From Volunteering to Donating