The power of Gaga compels you!
All over the world, Little Monsters are coming out in FULL force in a fantastically iconic ruse to help their Mother Monster's upcoming Mark Ronson/Tame Impala/Blood-produced single "Perfect Illusion" achieve top 40 success.
Following multiple radio stations' accouncement that they would be playing the fuck out of the new track THIS FRIDAY (September 9th), Gaga's fiercely devout disciples have organized in Little Monster forums to ensure that the song will dominate the airwaves: BY PRETENDING TO BE SOCCER MOMS.
Sources have cited one particular forum, where the brilliant ruse was hatched: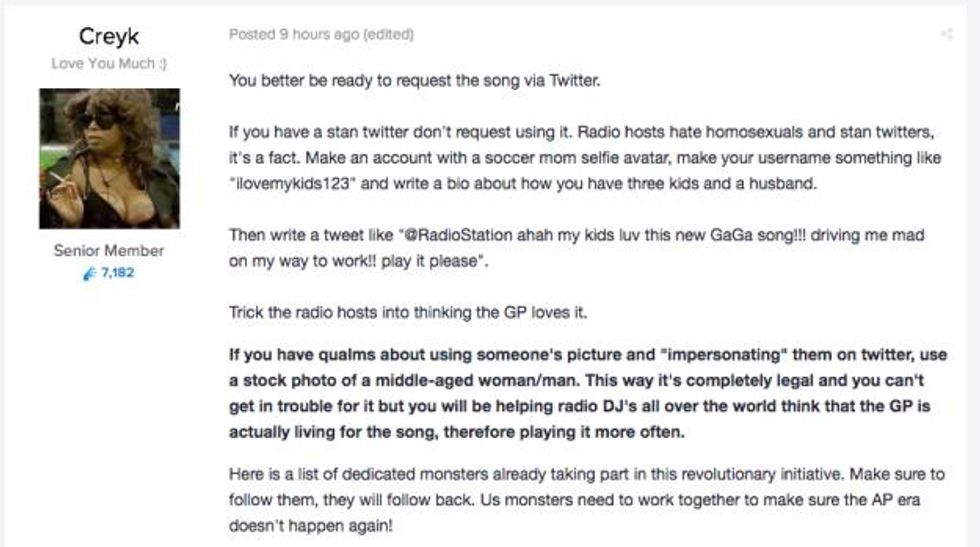 "Radio hosts hate homosexuals and stan twitters, it's a fact."
Lil' Monsters everywhere soon made-over their accounts on Twitter, going to such lengths as establishing "back stories" to these new, artificial personas--a means of "evidence" for when a given radio station seeing said tweets wouldn't suspect that a Gaga devotee is behind the inquiry.

Some of them seemed to take the assignment...a little too far.
Example Mom: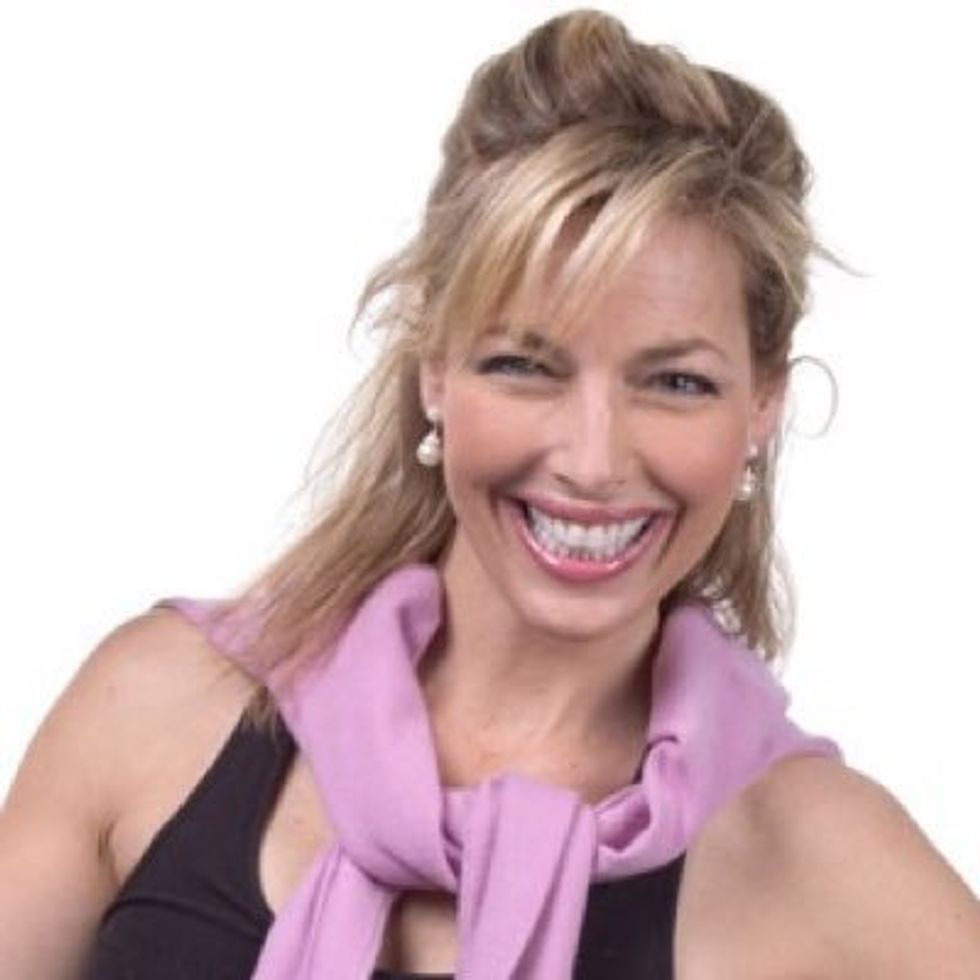 Bio: Devoted wife! Mother of 4 children & 3 little chihuahuas! I enjoy a good romance novel & more than one glass of wine. #BlueLivesMatter #TrumpPence16
Location: Texas, USA
You see? Gaga's impact is SO great, even a mild-mannered mother of four and staunch Trump supporter can't help but snappin' her fingers!
@mix961sa my homosexual nephew loves your station! He's been gabbing about some new Lady GaGa song for weeks! Y'all know anything about it??
— Deborah Parr (@DebParr58) September 6, 2016
Changing my Linkedin occupation to "Homosexual Nephew."
The Monsters were not afraid to flirt with the macabre, either, establishing "Widow" soccer moms--single, and trucking through life, with a little help from Ms. Germonatta.
#PERFECTILLUSION pic.twitter.com/ZnFgk5FXIK
— Scarlett Rose 🌹 (@ScarlettRose65) September 6, 2016
"My husband is dead."
Scarlett Rose is my favorite, I think:
These were the days, girls right? Miss the time when our boys played soccer together! Reunion anybody?? Miss you ❤️ pic.twitter.com/o1rVMTduTs
— Scarlett Rose 🌹 (@ScarlettRose65) September 6, 2016
She's making waffles, right, ladies?
Ladies I'm making waffles, who want some? 💁🏼 pic.twitter.com/L7beD0YBfZ
— Scarlett Rose 🌹 (@ScarlettRose65) September 6, 2016
A lot of them.
A little waffely update, need to hurry, boys are gone come any second from school 😀 pic.twitter.com/zy23dac5tb
— Scarlett Rose 🌹 (@ScarlettRose65) September 6, 2016
While the waffles baked, she tweeted with other #moms.
I'm bringing the wine https://t.co/wtsxmrv9KU
— Scarlett Rose 🌹 (@ScarlettRose65) September 6, 2016
And nodded in solidarity with other widows...
pic.twitter.com/jzoI7rywbM
— lachlan (@lachmaq) September 6, 2016
Not before making another steaming batch of delicious waffles; boys will be boys! And they love to eat waffles.
RT if you're a #SoccerMom4Life señoras! Let's show the world who we are! pic.twitter.com/rF5vEq4vWc
— Alondra Tapatío (@AlondraTapatio) September 6, 2016
Señoras!!!!
Some stations, catching wind of this glorious scam, promised the huddled monsters that they do not need to worry about a lack of #PerfectIllusion plays...
You don't need to send the fake soccer mom tweets, @ladygaga fans, you already KNOW we got you! #PerfectIllusion https://t.co/xD3TAVFTkE
— 961 KISS (@961KISS) September 6, 2016
Unclear if that's enough assurance for at least some of these fans...
Husband at work, Kids at school, Cooking pies at home. Living life simply #MomLife
— Bonnie Miller (@bonnieamerica12) September 6, 2016
Header photo via Billy Farrell/BFA
You May Also Like
Art
​Story by Justin Moran / Photography by Tanner Abel and Nicholas Needham