Saturday morning, I woke up with an hour to spare before making an important call. Tickets for Lady Gaga's The Fame Ball Tour were expected to go on sale, and my quest to purchase them was particularly difficult. The venue, Minneapolis' Fine Line Music Café, had decided to make the show 21+, which meant I needed to somehow finagle my 15-year-old self inside. A week prior, I phoned Fine Line, begging for a solution to get tickets to Gaga's debut club tour in support of her breakout album The Fame, now 10 years old today. They told me they'd created a list for only 10 minors to be accompanied by an adult, and I was determined to get my name on there before anyone else could.
In my mind, every other Minnesota teenager was doing the exact same as me, and waiting anxiously for the clock to strike 11 AM in order to claim their coveted spot. So when I called, I expected a long frustrating delay, a series of employees to speak with, and the dark potential of being 11th in line. To my surprise, the voice on the other line was nonchalant — almost insultingly so —and quickly filed my name away with little-to-no excitement. After weeks of self-induced stress, I would actually be going to The Fame Ball Tour, and dragging my completely uninterested dad along for the ride as a legal guardian.
Gaga's debut album was, in many ways, a pivotal moment in my own experience consuming music. For the first time in my life, it felt like a modern mainstream pop star was making art from the underground-up, and infiltrating radio with an outsider perspective that I closely identified with. She was openly bisexual, made consistent references in her work to queer icons like Andy Warhol, David Bowie and Grace Jones, and used her growing platform to shine a light back on the LGBTQ community who passionately supported her art. The LP itself was refreshingly experimental but digestible, building a bridge between Studio 54 glamour, '80s arena rock and sugary synth-pop.
It also was my first experience with super-fandom; I remember biking to Target to buy the physical copy the day it released on August 19, 2008; I remember religiously checking every fan forum online to hear demos, see unreleased footage, and track every rumor; I remember even making a papier-mâché doll modeled after Gaga's iconic origami dress, complete with a disco stick, long platinum wig and the three moving screens she performed live with at the time. It wasn't just her music, but the entire ecosystem Gaga created to accompany The Fame that left me endlessly inspired.
Which is why seeing her live show was such an important piece in understanding Gaga's early vision — her interlude videos, her choreography, her costumes, her monologues. By the time she rolled through Minneapolis in March 2009, "Just Dance" had already certified her as a rising artist to watch, and "Poker Face" had only begun to slowly climb the charts before later becoming her second number one song on the Billboard Hot 100. At this stage, Gaga was in the very beginning of her long, chart-topping career, so she had a lot to prove on her first headlining tour.
The Fine Line Music Café, located in downtown Minneapolis, is a small 750-capacity club that traditionally hosts young alt-indie or hip-hop acts. It's by no means a space that warrants the type of massive production Gaga's known for curating now, but she still managed to squeeze a believable DIY pop spectacle into the intimate venue. Her openers — The White Tie Affair, Chester French, and Cinema Bizarre — set the stage for an off-kilter live show, especially Cinema Bizarre's German glam-rock vocalist Strify, with his snakebite piercings and bleach blonde hair. Gaga wasn't just a pop star, she was a rock star, and The Fame Ball Tour was an unruly rock show with pop music.
While my dad sat on the second level, I positioned myself front and center, waiting with the adults for the giant white sheet they'd hung across the stage to fall down. There was a huge tube, snaking from the second level to the first, that began dramatically spewing fog, as a projected video of Gaga started playing on the sheet. "I need more to feed my pop heart," she said through a glitchy, robotic vocoder. "Give me more, I want the future. Gaga, fashion, technology, dance, New York, music, pop culture. I want the fame. I can hear you! Can you hear me? The revolution is coming. And I want, what we want. You deserve the future. My name is Lady Gaga, and this is my Haus." The audience roared.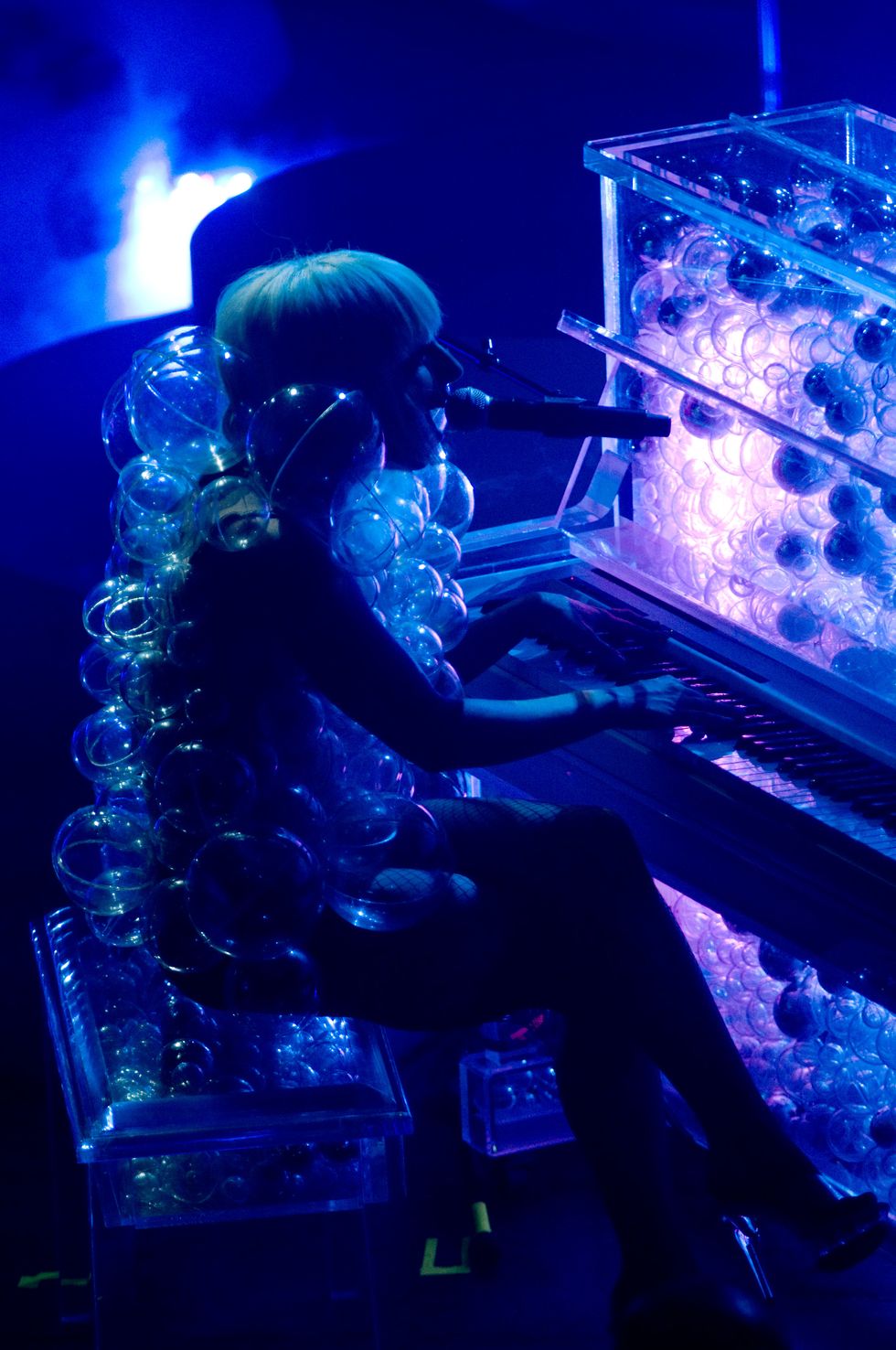 As the sheet fell, Gaga's DJ, Space Cowboy, began spinning "Paparazzi," and those strange warped synths became the soundtrack for her live interpretation of a blood-thirsty camera shutter. Backup dancers individually held onto mirrored shields, surrounding and suffocating Gaga, who wore a similarly mirrored dress and face mask. She writhed within the DIY shutter — lights flashing manically — before ultimately being destroyed by them, and moving onto "LoveGame" and "Beautiful, Dirty, Rich." She seemed unreal, hidden behind giant black sunglasses and a wig. When she yelled during songs, the walls rumbled; when she spoke in-between songs, she nearly whispered. Gaga was a performer, not a person.
A surreal interlude video saw Gaga embody a character named Candy Warhol. "I've been brushing for hours just to make sure — it's gone," she said, combing through her wig with a pink Hello Kitty hairbrush. Puffing on a cigarette, a man behind her suggested she'd "lost her mind," but Gaga assured him she hadn't. "I know exactly where it is. In his belly, of course," she said, abstractly referring to Pop, the monster, who ate her heart and swallowed her brain. "I was scared at first […] But then I thought, The Fame." As pink and purple lights began fluttering, Gaga reemerged, her dancers moving her to center stage on a black-and-white patterned Vespa and matching costume change.
The bright guitars of "The Fame" blared, and Gaga delivered her album's glam-rock title track. At one point, she scaled the venue's walls and speakers to reach a drag queen sitting on floor two, as if to signal that she was the song's physical embodiment. "Doing it for The Fame," Gaga sang — a mantra Little Monsters would carry throughout her career. It wasn't celebrity or popularity she referred to on the song, but boundless self-love and the assertion that you can be famous without anyone knowing your name. "The Fame" wasn't about status, it was about confidence and creative agency. Space Cowboy remixed the end, so the word "Fame" repeated like a broken record — "Fame! Fame! Fame! Fame! Fame!" — and Gaga wildly whipped her wig, screaming fiercely into the microphone.
Her acoustic piano set has become a performance highlight today, but was just as strong in the beginning of Gaga's pop tenure. It's where her songwriting starts, and where Gaga feels the most comfortable on stage. Wearing a replica of Hussein Chalayan's iconic 2007 bubble dress, Gaga sat down with a matching clear piano, filled entirely with plastic bubbles and whimsical starfish. She sang a stripped down version of "Poker Face" — now a classic — but also introduced a never-before-heard track, called "Future Love," which would unfortunately never see a proper studio release. The song was signature Gaga, somehow wielding a love story with bizarre cosmic references. "When he gets back from outer space, I'm gonna punch him in his face," she sang. "My eyeliner runs in constellations for you dear." Though she'd famously referenced Ziggy Stardust's lightning bolt makeup on The Fame artwork, this moment felt like peak Bowie.
Of course, The Fame Ball Tour closed with "Just Dance," Gaga's defining single that brought electronic dance music back to Top 40 radio and jumpstarted her career. One final video introduced the song, featuring Gaga with her face shielded by pantyhose and holding a bright yellow gun. With a blonde hair-bow positioned atop her head, she introduced herself as "Miss Candy Warhol," before the real Gaga strutted onto stage holding iPod LCD glasses over her eyes. "Thanks for making this number one," she gushed, as the Fine Line crowd jumped so aggressively it wouldn't be shocking if the venue sunk a few inches into the ground that night. The production of "Just Dance" is so full, it filled every crevice of the space, and the lyrics so commanding, it was impossible to deny Gaga when she sang, "Just dance, gonna be okay."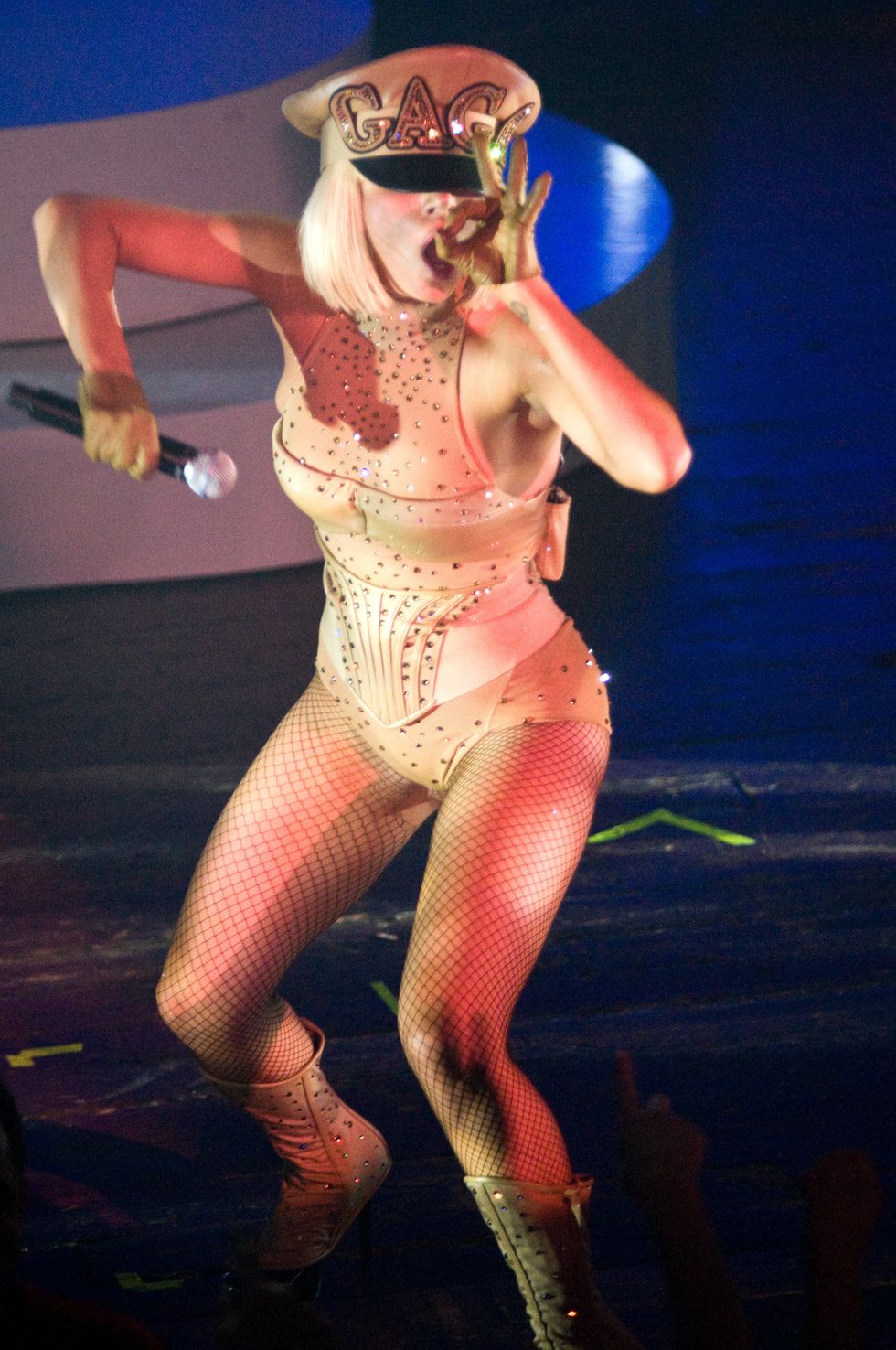 But she wasn't done. Gaga left the stage long enough, so that fans' screams became shameless cries of desperation. They demanded an encore, and Gaga's theater background made her well-equipped to deliver an explosive grand finale. She appeared one last time wearing a nude beaded bodysuit and military hat with "Gaga" bedazzled across the front. Saluting the audience, Gaga broke into the anthemic "Boys Boys Boys," and finished with "Poker Face," the giant second single that was quickly racing up the charts. I still remember the final seconds of Gaga dancing on stage at the Fine Line, knowing full well this would be the smallest space I'd ever see her in. But she closed things off as if it was her last show ever, working through those last bits of choreography with such determination and focus. Though her celebrity justified significantly larger venues, it was clear Gaga didn't take the Fine Line for granted.
Before the show, I bought a $25 VIP wristband, which included a copy of The Fame and a meet-and-greet with Gaga herself to sign the CD. Similar passes now cost hundreds of dollars, so it's safe to say my 15-year-old investment was well worth the coin. Waiting in line, I decided I wouldn't ask Gaga for a photo together, not because I didn't want one, but because I wanted to somehow show her I was cooler than that — I wasn't a fan, I was a friend, though I, of course, deeply regret not capturing that moment today.
When we met, Gaga kept her sunglasses on and earnestly asked me, "What was your favorite part of the show?" I told her the moment the camera lens swallowed her during "Paparazzi." She agreed. I admitted I'd watched hours of YouTube clips of The Fame Ball Tour before coming to see it, in hopes of showing her how dedicated I was. "That's no fun," she responded, much to my chagrin. I was a bit taken aback by her honesty, but she'd later come to say she designs her stage shows for YouTube, knowing that a majority of her fans wouldn't be able to make it to a show. I'm sure our exchange was minor in the hundreds of Fame Ball meet-and-greets, but I like to look back and think I had an impact.
Now a decade since The Fame first dropped, Gaga's career has seen a lot of twists, from penning one of the biggest LGBTQ anthems of all time to collaborating with Tony Bennett on a jazz effort and stripping back the synths to embrace her country interests and family history. She's proven herself to be one of today's most dynamic pop artists, capable of endless change and possibility. But there's something special about a debut album: it's not clouded by celebrity, or the ability for an artist's personal life to affect the way their music is received; and it exists without any expectations. The Fame has not only become an enduring pop classic, but a heartbeat for outsider culture, and its live show only punctuated this position by packing ambitious ideas into cramped, sweaty clubs — a high-low dichotomy that Gaga's leaned on since day one.
Sign Up For The Morning PAPER