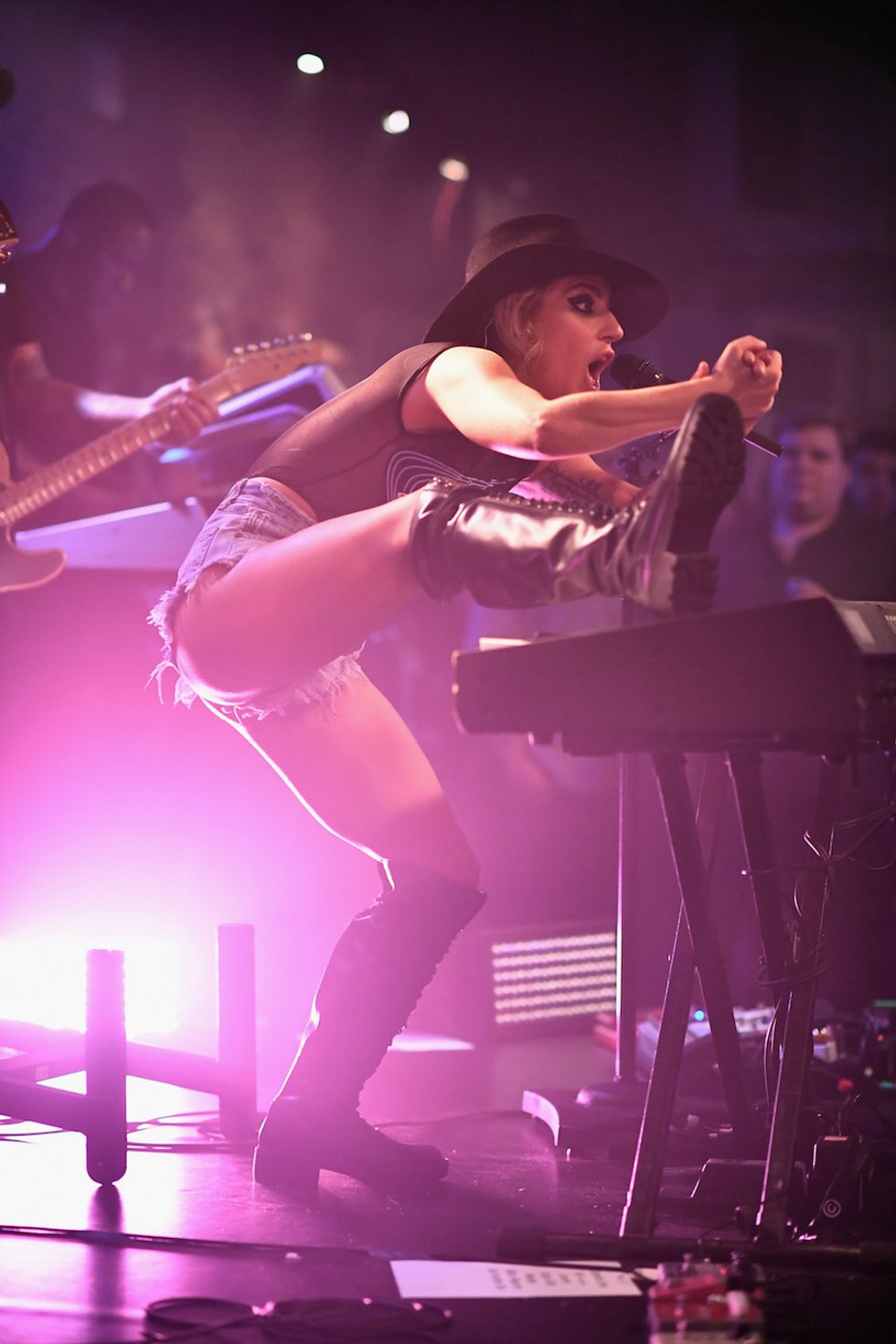 On the eve of the release of her new album, Joanne, Lady Gaga surprised fans by bringing her Bud Light-sponsored dive bar tour back to her home city last night. Playing in front of a crowd of 230 or so inside a tiny Greenwich Village joint Gaga has frequented -- and performed at -- since she was in her teens (we're not allowed to reveal which one but savvy Little Monsters should be able to Google it from photos on social media), the pop star treated guests to an intimate set that featured renditions of her newest songs like "Million Reasons," "Joanne," "Grigio Girls," "Another Day" and "Diamond Heart" (though she opted not to perform the album's lead single "Perfect Illusion"). Befitting the night (and the show's sponsors), Gaga wore a see-through Bud Light-branded body suit and cut-off jorts and spent the set alternating between playing the piano and the guitar, sometimes accompanied by her album's collaborator Mark Ronson and singer Hilary Lindsey.

There were several poignant moments, including a tribute to the album's namesake, Gaga's late aunt Joanne. The singer revealed that, like her, Joanne had been sexually assaulted as a teen and the resulting trauma went on to cause of a flare-up of her pre-existing lupus, which would lead to her tragic death at the age of 19. She also dedicated a song, "Grigio Girls," to her best friend, Sonja, who has been battling cancer for several years and who was in attendance at the show.
Bud Light X Lady Gaga Dive Bar Tour In NYC
NEW YORK, NY - OCTOBER 20: Lady Gaga surprises fans while on the Bud Light x Lady Gaga Dive Bar Tour where the singer performed three new tracks off her upcoming album 'Joanne' on October 20, 2016 in New York City. (Photo by Dimitrios Kambouris/Getty Images for Bud Light)

In the midst of all of these touching tributes, there were also moments of levity, with Gaga joking about having gotten her start performing and hanging out at the bar since she was 15. She spoke about her family and her pride in her Italian-American, New York-raised heritage and shared that she and Mark Ronson had at one point attended the same pre-school. Gaga's parents, Joe and Cynthia, were in the crowd (as was Mark's mother, Ann Dexter-Jones) as well as some famous faces like Robert De Niro, Helen Mirren and Broad City's Ilana Glazer and Abbi Jacobson.
After the show finished, Gaga wasn't done. As a treat to all of her fans who were not able to get inside the venue, she went upstairs and performed outside on a terrace above the bar. You can watch the whole spectacle, below, and snag a copy of Joanne today.
All photos by Dimitrios Kambouris, Getty Images for Bud Light