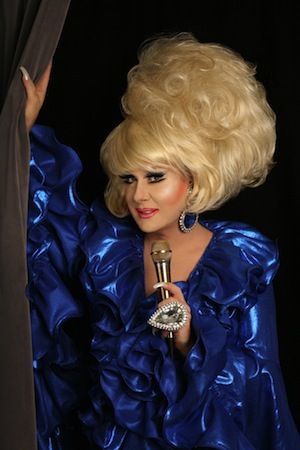 Lady Bunny
is both a New York City drag legend and a hilarious, old-school entertainer who's brought her cabaret show "
That Aint No Lady
" to midtown club
Escuelita
(known for its sexy, Latin go-go boys). Here, we chat with Bunbun about the un-lady-like details of her filthy new revue, the show's mandatory 25-drink maximum and how she keeps her gorgeous gams in shape.
You're famous for your hilarious parodies of pop hits. Can you tell us about the new ones you'll be doing in "That Ain't No Lady!
"
While I still do some of my classics like "Don't Let Your Son Go Down On Me" and "It Takes Two To Make My Hole Feel Tight," I've added new parodies by Cee-Lo, Ke$ha, Britney, Kelly Rowland, Taio Cruz and Katy Perry. The Katy Perry medley really puts the head back in headliner with a very, shall we say, climactic ending! And as an homage du fromage to the sexy, uncut Latino studs of La Escuelita, I'll also be making my rap debut with my parody of "Like a G6" called "Like A Cheese Stick." Look out, Cazwell! There's a new gay rapper in town!
Speaking of Latino studs, you seem to be particularly popular with Latino gentleman. Are you expecting a lot of fans to be waiting for you at the stage door each night?
Not at the stage door. I made sure that I'll be sharing a dressing room with those
mucho caliente
rascals. Prior to singing, it's so important to warm up one's throat. And no, that's not semen-flavored lip gloss I'm wearing. It's semen. To be honest, my extreme generosity towards my fans dictates that I allow these sexy devils to mingle among the crowd as cocktail waiters. These boys are very friendly and I'm sure that lap dances can be arranged. There are no more hustlers in the wretchedly Disney-fied Times Square so we've brought them indoors as a community service of sorts. I'm so giving!
Is it expensive to see your show?
In a nod to tight recession budgets, the ticket price is as cheap as my humor ($14.98). We have only a 1 drink minimum. However, since my singing has been known to drive people to drink, there is a strictly enforced 25-drink maximum. What people might not know about Escuelita is that they have very comfy cabaret seating with tables, couches and chairs which they got for their Hunk-O-Mania strip nights for ladies. So some of the seats come pre-moistened.
Gross! What is it like performing live in NYC? Are the audiences here tougher than they are around the country?

I wish I could tell you! This month alone I will have performed in Hawaii, San Francisco, Detroit, Denver, Atlanta, Palm Springs, Toronto and Sao Paolo. This bitch gets around! But since my show is every Tuesday night that leaves me with weekends to travel. Honestly, I've neglected my NYC fans. Wigstock [the legendary drag festival Bunny co-founded and hosted for over 20 years] is long gone and I actually  DJ more in New York now than I perform.  My last one-woman show was a decade ago at Fez. But, like a bonafide Broadway show, I've tried out bits and pieces out of town and assembled only the very best stuff for NYC. Of course, New Yorkers are gonna be cooler, more intelligent audiences and more likely to get  jokes or be less politically correct than audiences in, say, Montana. And my humor can be edgy. But the time was right for this act since there's a lot of topical material. Soon, Amy Winehouse jokes are gonna switch from "too soon" to "too late." Because what's the difference between Amy Winehouse and Amy Winehouse jokes? The jokes
will
get old.
You compared your show to a Broadway performance. Do you ever go to any Broadway shows?
I've been to a lot lately -- 
Catch Me If You Can
,
Bengal Tiger at the Baghdad Zoo
with Robin Williams, the amazing, dark
The Motherfucker with the Hat
with Chris Rock, and John Leguizamo's wonderful show,
Ghetto Klown
. Musicals are often too corny for my taste, but I do love
Gypsy
,
Grease
,
Oliver
and
West Side Story
. And in
That Ain't No Lady!
I do perform a snippet of "All That Jizz" from
Chicago
.
Charming. You're known for your signature gowns that show off your sexy legs --  will there be many costume changes in the show?

Honey, the legs are all I've got left! So I have to showcase them every way I can. I work so hard to keep them in shape. I do regular leg lifts --one behind each ear nightly!
That Ain't No Lady! is currently at La Escuelita, 301 West 39th St, every Tuesday at 8 p.m.
Tickets are $14.98
, plus a one-drink minimum.