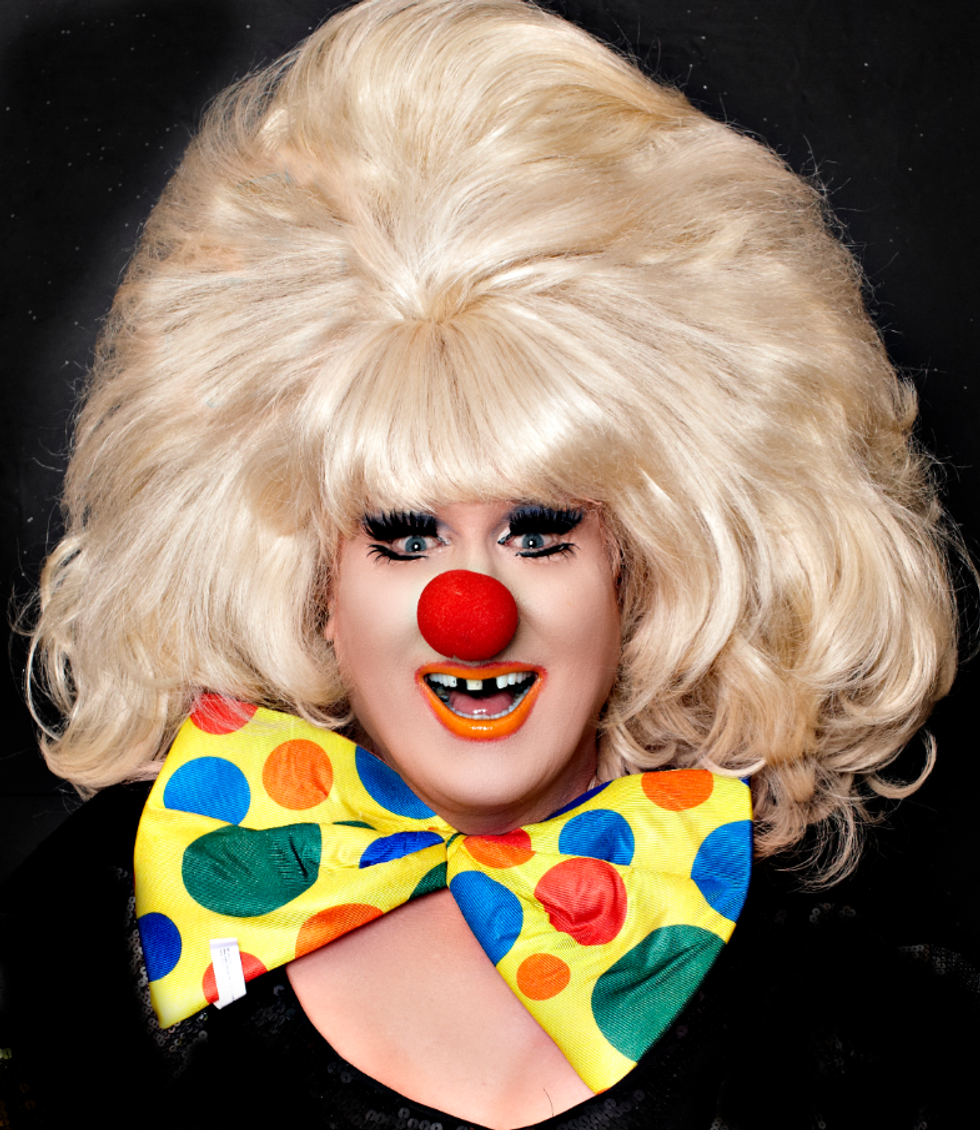 She's back! Following 2011's
That Ain't No Lady
, her critically acclaimed one-woman show (or "one-and-a-half-woman show" as she puts it) at La Escuelita, Lady Bunny has returned triumphantly with
Clown's Syndrome
. The whirlwind, totally-offensive show, originally only slated for the month of May, has been extended to July. (Tickets
here
.) Below, Bunny talks to us about performing a few non-parody numbers this time around, the recent controversy over the word "tranny," and the state of New York City.  
This is your second cabaret show at Escuelita. What did you learn from doing the first one?
Firstly, I learned that it's a crazy, hectic place. It's an older club so there are frequent tech malfunctions which add a kookiness that matches my off-beat stage persona. Both the venue and me are old and falling apart! The biggest laugh in this current show is when my giant wig gets caught in a low-hanging sprinkler -- which is not the kind of low-hanging "sprinkler" that I usually enjoy shaking my wig at! I feel more safe on Escuelita's stage because it seems more like a home for my raunchy humor than a "serious" place like Joe's Pub.  And I really feel at home because my apartment is also in a moldy basement! I found a great lighting/sound guy, spotlight operator, dresser and door girl at the last show. The exact same team is with me for my new show.
And my first show increased my bond with Escuelita's owner, Big Ben. He's a true NYC character and we hit it off very well whenever I'd perform there late at night. Ben has always been supportive of me -- even in his own sick and twisted ways, like trying to get me to drink when he knows that I don't, always with a malicious twinkle in his eye. He gave me a chance to try an early show on Tuesday nights and we were both surprised by how well it worked out. And when I said I needed some hot latino boys in the show, Ben really delivered! If the seats seem a little moist, it's because La Escuelita is the home of the male strip show for ladies called Hunk-o-mania on the weekends.
It also taught me a lot about timing and lighting and cues and pre-setting props. I don't do a lot of one-and-a-half-woman shows and it's a very different ballgame from a late-night, 15-minute performance in a club. You have to pace it more in a one person show and you're able to speak longer and in more depth than drunk clubbers would allow you to at a 1 a.m. show. I've never devoted much time to develop a cabaret following because I thought of myself as primarily a club performer. I'm a big fan of Varla Jean Merman, Coco Peru, Jackie Beat and Dina Martina, Jimmy James, etc -- but I never felt that what we are doing was quite the same. That's why I like Escuelita -- I feel that it's more of a club than a stiff cabaret with a vase of flowers on a grand piano. That just isn't me. I'm more like  "Gimme a beat!"
The New York Times loved your last show. Did you ever think you would be praised by the Times?
I was just thrilled that the David Rooney "got" me. He got the fact that I'm trying to be lowbrow and that it's a kind of humor which can be really funny -- if you're open to it. He also mentioned that drag has become somewhat sanitized and that I was the antidote for that trend. I was like, how does this straight guy accurately identify drag trends so well? Had the publicist sent a prudish reviewer, I could have been crucified. The thing is, I love offensive humor but I hate to offend. I want people who like dark humor to see the show, but I try to warn people that I'm a twisted sister so that they can avoid it they are politically correct. That's why I don't invite my mom to my shows.
Another thing that was wonderful about a rave from the NY Times is that it encapsulated what it is I actually do. I am a performer, but many of my gigs are out of town. So people in New York City may have vague impressions of me as a DJ, or an organizer of Wigstock or as someone who appears on
RuPaul's Drag U
or makes YouTube videos, but many aren't quite sure exactly what my act is were I to perform for an hour. The
Times
review let them know.

You sing some non-parody songs in this show. What inspired you to do that?
I was performing for a conservative gay crowd in Rehoboth, Delaware last summer. My act involved a lot of props -- fellating dildos which "ejaculated", munching chicken McNuggets, snorting fake cocaine, etc. And the audience was quite close to the stage at an early show. I could literally feel them squirming as I squirted menstrual blood/tomato juice out of my "vagina" to the tune of Leona Lewis' "Bleeding Love." When I sang a song "straight" with no parody or raunch factor, they gave me a standing ovation. Isn't that what you call it when everyone gets up and walks out demanding refunds? So I got the idea to sing a few songs by Shirley Bassey -- I sing them straight, but her arrangements from the 1970s are so demented and dramatic that even my "choreography" can become a punchline. I just felt that for a cabaret crowd, I was making the audience work too hard with this onslaught of filth. It's great in a bam-bam-bam short club kind of show, but a one hour cringe-fest may be overkill. And if you take a break from the insanity, then it's even more insane when you return to it. And it adds another element to the show when you are focusing more on sounding good in a few songs.
What do you think of the recent controversy about political correctness in using the word tranny?
Tranny is an abbreviation for transvestite and transsexual, so I'm free to use it since I fall with that category. Much as blacks can use the N-word. I know tranny from London, where they abbreviate everything -- breakfast is brekkie, biscuit is biccie. Tranny is used affectionately on the club scene. Even transsexual advocates like Jayne County and Kate Bornstein have come out and said that these words aren't necessarily slurs. I can understand how the word "shemale" in RuPaul's "Female or Shemale" game could be more offensive, because shemale is mainly a porn term which stresses the male parts. But Ru's use of shemail [as a play on mail or e-mail] is fine. I've used 'shemail' on my own site as my contact info for over a decade. It's a silly play on words to indicate that since I'm a drag queen, my e-communications are going to be more feminine. In no way is it derogatory to trans women. I think there are a few militant trans women who have started this mudslinging and I'm sorry that Ru backed down. The same people who would bash a trans in a dark alley would probably also bash a drag queen or someone gay. I wish we could stick together as a community instead of in-fighting. Because the gay/trans community's real enemies aren't RuPaul or people who say tranny -- it's the people who would physically bash us. And it's the well-funded national organizations whose agenda is to deny our right to marry and for equal opportunities for housing and employment.
Fight the real enemy -- not the gay community,
which has always been the most accepting of trans. I scratch my head thinking how are these trans people going to use gay community centers, counseling, protection and parades, transition out of our community, and then jump back in to police our speech? 
And I'm sick of people thinking they can ban words because they make them feel bad. Boo hoo for you! Any time we choose a different path in life, we're going to get shit for it -- whether you choose to be openly gay, trans or even a straight guy with tattoos all over his face. If you don't have the balls to take shit, then choose an easy path. And for huge gay organizations like GLAAD to join in to censor Ru or anyone else confuses me. "Gender bender" is on GLAAD's list of banned words. That's what Frank-n-Furter, David Bowie and Sylvester were--that's not a slur except to the most precious, uptight goody two-shoes. And no one has ever bashed a trans person and said "Take that, you gender bender, you!" It's typical of how conservative the gay movement has become. Angling to fight in the military and getting married are totally establishment goals. Now they're banning words? ACT UP was anti-establishment and took back offensive words like "queer." If the current gay movement wasn't so conservative, they'd be listing the huge, national chains who regularly give to anti-gay groups to set back our movement so we could boycott them. But a year or two ago, the head of GLAAD had to step down in disgrace after taking money from AT&T to push some merger. I don't need a corrupt motherfucker telling me what I can say.
It seems like your 'rants' about politics and New York City gentrification have become a signature for you. When did you start taking such an interest in these issues and why?
I took an interest in politics only after 9/11. I saw the second building fall from Murray's Bagels all the way down 6th Avenue. It scared me, but instead of wondering "What do we do?" I wondered "What has the US done to make people hate us so much all over the world?" I then realized even the liberal media doesn't stress what I think is important. To stick with the 9/11 example since the memorial just happened -- of course it was horrible and of course the victims and heroes should be remembered. But if 9/11 was so horrible, why aren't we doing more to prevent another one from happening? George W. Bush and Condoleezza Rice ignored warnings that terrorists would strike the WTC using planes and they didn't even check these guys on the no-fly list? Afterward, US citizens couldn't fly but rich Arabs who were watching the coverage with George Bush, Sr. were allowed to scurry home? George, Sr. had met with Bin Laden's brother the day before 9/11. We don't need conspiracy theories -- the truth is frightening enough.
Yet is everyone still crying over 9/11 able to see that the horror of it was used as a way to trick this country into a baseless war in Iraq which ruined the US's reputation worldwide and broke our economy. Maybe if we were a little less reverential towards 9/11, we could see that Obama's increased use of drone strikes on weddings and children are creating such ill will towards the US that our military aggression will give birth to generations of terrorists to come. And they'll be coming to my home in New York City because we are the ultimate target. Obama's refusal to prosecute Bush as a war criminal proved that he's in on the same dirty game as his predecessor. And let's remember that 2016 presumed Democratic favorite Hillary Clinton lost to Obama partially because of her vote to go to war in Iraq. The country said quite plainly in the last presidential election and regarding Syria that we are sick of war. If Hillary voted to go to war with Iraq on no evidence, I fear that's what she'll bring more of. Besides, I suspect that Hillary only wants to be president so she can finally know what it's like to sleep in the president's bed.
We have to read between the lines of what our "news" is telling us and realize that the job of the US president is to create war to pay back it's campaign donors from the military/industrial complex. We don't have military bases all over the world standing by in case Nigerian girls are kidnapped -- we have them because this is a warlike nation which conducts its foreign policy like a terrorist, even breaking America's own laws. But did you hear that the Nigerian government has offered a $3 million dollar reward to whoever returned the missing girls? All you have to do is send them your full name, date of birth bank details and mother's maiden name. Ba-dum-pum!
As far as the gentrification, it's happening in every city, but I'm starting not to feel at home here. Remember, every time you shop in a national chain, you kill a kitten. We pay a fortune to live in shoeboxes in New York City and we do it because of the city's unique flavor. If we have the same shopping choices they have in Nebraska, is New York still special?
For the kids out there who don't know the wild story of how you got to New York City, can you tell us a bit about how you ended up moving here
?
I was living in Atlanta go-go dancing with RuPaul for a band called The Now Explosion. Ru and the band got gigs in New York City and I came along for the ride. They actually had me ride up in drag to entertain them, since I couldn't pitch in with the driving since I don't know how. If you ever see me behind a wheel, run! I arrived at the drag queen-owned and operated Pyramid Club on Avenue A and became one of their house queens -- which was quite an honor! Wanting to showcase the talent at that club, I created Wigstock in the park across the street. The festival of love, peace and wigs grew every year and ran for 20 years, attracting tens of thousands each year--as well as bona fide recording artists sandwiched in between some of the craziest drag you've ever seen.
I still live in and love this city but am saddened that it's losing a lot of its flavor to Disney and other corporations. We've got one large gay club and three Disney shows, so in no way could you call NYC a clubbing destination any more. Which is bad news to me, since I earn a living in clubs and never learned how to do anything else! I wish NYC was a little wilder--and it is on Tuesdays at La Escuelita! Billy Erb and I are scheming to launch a new dance night right after my shows. Kind of an earlier thing for the kind of people who don't like the top 40 played in many clubs. So they might hear anything from Frankie Knuckles to Prince to Disclosure and Beth Ditto with a cheap cover and drinks. There are a lot of fun people still in NYC -- we just want to get them away from typing on a screen and back into dancing on a dance floor.