We loved watching the roller derby when we were youngins and are happy that a new generation is being exposed to the "sport." But the hellcats we used to watch looked like they were all just out on parole. These new chicks known as the L.A. Derby Dolls could've been in Pulsallama! Our friend Gary Stella files this report on what to do when your 12-year-old nephew comes to L.A.
I Wish I Had a Derby I Could Skate Away On
By Gary Stella
Earlier this month, I went on my annual "nice weather" pilgrimage to my hometown of Kenosha, Wisconsin. Yes, Kenosha and Kenosha County are part of the areas in the Midwest currently being flooded and yes, the rains started on the last couple of days I was there.
I flew back to Los Angeles last week with my 12-year-old nephew in tow, Master Vince Stella. The last time one of my family members came here was in 1991, when my mom came to attend my cousin Julie's wedding. The Kenosha Family Stella has some sort of EXTERMINATING ANGEL-like condition that prevents them from coming here. So, Vince's visit is a landmark event.
Vince turned 13 on August 27th (which incidentally, also marks the 20th anniversary of my arrival in Los Angeles). In consideration of being "the best uncle ever," or "Uncle Mame," I was deciding between taking him to Jumbo's Clown Room or Cheetahs for his actual birthday (for a rock history lesson, of course – Courtney et alia at Jumbos, the legacy of The Shamrock, etc.). Then I considered Lucha Va Voom at the end of the month, which, unfortunately, also has a 21 and over policy.
Saturday arrived, and I spent three unexpected hours that morning in the dentist's chair, which was truly painful in every way. As I needed some downtime to recover from my Little Shop of Dental Horrors experience, Vince and I nixed the previously planned trip to Kids Space Museum here at the Pasadena Rose Bowl. Just an additional excuse, as I discovered via the website that he's age inappropriate – they suggest the range of ages 2 through 9.
Modern dentistry also put a kink in the plan of visiting the conveniently Rose Bowl-adjacent Gamble House tour. This would have illustrated the Midwestern connection to the area originally called "The Indiana Colony," which was incorporated as "Pasadena" in 1874. David and Mary Gamble of Cincinnati, Ohio commissioned Greene & Greene to build their home in 1908.
When I found out Vince was coming to visit, I did some research and discovered a website called Eye Spy LA, which features a section called "Things to Do with Kids in Los Angeles." So, I checked the site. I discovered that The L.A. Derby Dolls were having a game that night in The City of InDUStry. I'm not sure if it was on "Things to Do with Kids in Los Angeles" page, but it was there nonetheless, AND it was an all-ages show.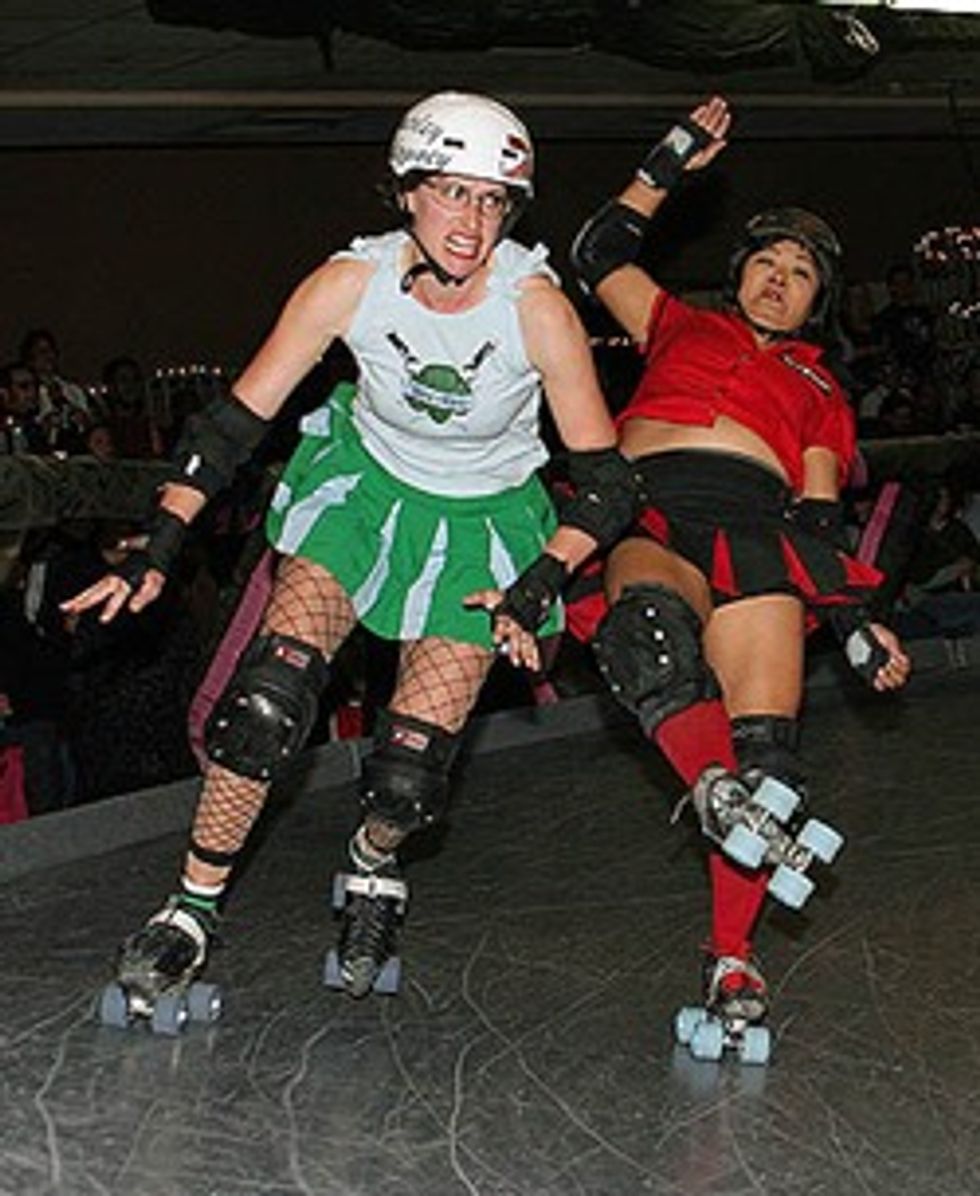 The L.A. Derby Dolls are "Los Angeles' original women's quad-skate roller derby league." Their motto is, "We're half-clad, all bad!!!" As a rapidly decaying hipster, I'd been wanting to see this event for the past couple of years, when the Dolls were having their matches at the top floor of the Little Tokyo Shopping Center on Alameda.
I pulled up the website and showed the clips to Vince. We both agreed that we needed to check it out. So, I mapped the location, and we headed out to The InDUStry Hills Expo Center in The City of InDUStry. (The voice of Gator, Aunt Ida's nephew in FEMALE TROUBLE, kept echoing through my head all night long, "I came to say goodbye Aunt Ida, I'm moving to Detroit. I want to be near the auto inDUStry, I'm sick of hairdressing and besides, Dawn had me fired.")
We took the 210 (parts of which completely crawled with traffic – on a Saturday?!?!) to the 605, past the City of Hope hospital, past the Sante Fe dam, exited Valley. We passed great expanses of the rare, undeveloped property of Los Angeles County. It was an opportunity to point out to Junior (Vince) what the landscape would be without water, or power or humans.
We arrived right at 5 PM, as the doors opened. The parking lot was full of greasers, motorcycles, fishnet stockings, tattoos, piercings, and eyeliner. Just as I'd suspected. it's the riot grrrl/rockabilly/kustom kar/Velvet Hammer/Lucha Va Voom of roller derby, right here in LA! Vince noticed a sign that said "No cameras" so we walked back to the car and ditched the backpack. Little did I know, we should have asked the box office grrrl, because there were plenty of people taking photos all night long. Apparently the "no smoking" signs carried similar non-adherence. I bought a VIP section ticket, the price of which included these groovy, buttcheek-saving bleacher cushions:
We checked out the Vendor Village and the Dolls' Merch Booth, the hot rods provided by the Cavaliers car club in Long Beach and Hell's Belles, listened to the bands, and had a bite to eat.
The first match was the junior league, The Baby Doll Brawl. These are the young inductees of the league, and it did not disappoint. The main event was the Sirens versus the 2006 season champions, The Fight Crew. Judy Gloom and Crystal Deth were the two main jammers for the Fight Crew; Roxy Cotton, Amber Alert, and Paris Kilton were main jammers for the Sirens. (For an explanation of the rules of roller derby, check out the Dolls' website.) Photo below of Vince Stella being happily corrupted.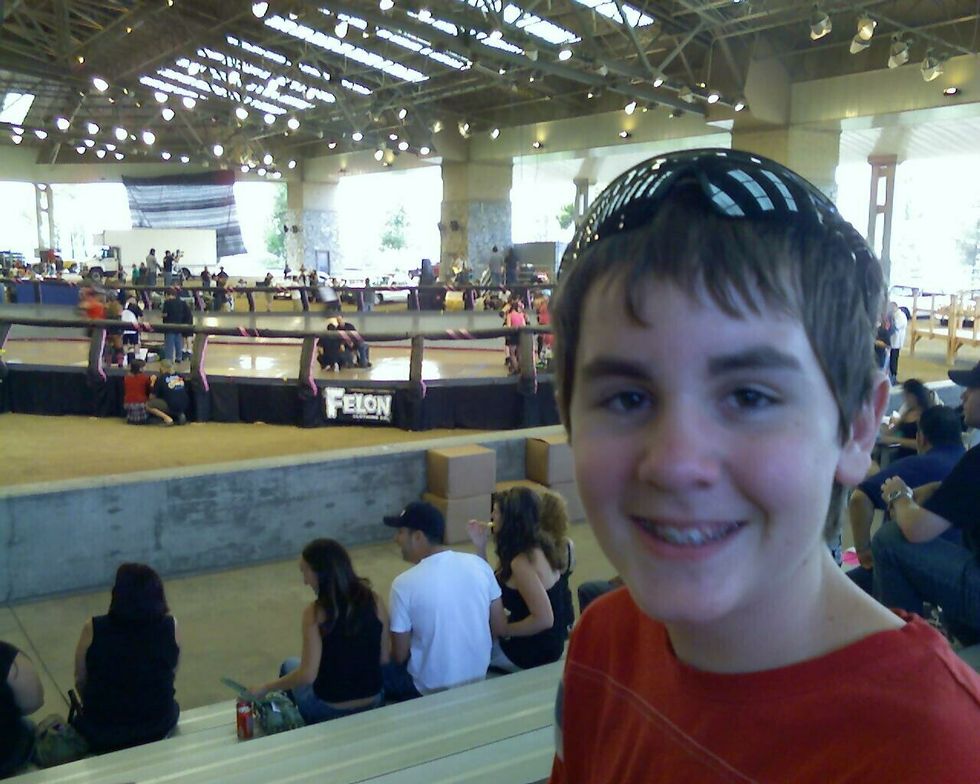 It was everything I'd expected – very talent lady skaters showing much athletic skill, intense physical crashes with quick recoveries, as well as humor and good ol' show business. The refs and pit crew were also a cool thing to watch, as they skated back and forth. A lot of the crowd assembled around the guard rails, much to the lady MC's admonishment about drinks and children on the edges – oh yeah, we had to sign liability waivers at the entrance, while waiting in line for tickets. The Fearleaders were entertaining, but needed some amplification, as I'm sure their cheers were clever.
While watching the main event, I became acutely aware of my consistent ADD tendencies when attending sporting events: getting distracted by the L.A. Derby Dolls Fearleaders, by people in the crowd, by people I know across the stadium, the setting sun, the blinking radio towers, etc. I had a similar experience at a Dodgers game last year – I had to really make an effort to concentrate. What is that?
One person came up behind me and put her hands over my eyes and asked, "Guess Who?" It was a former co-worker, Deb, with whom I worked on an organizational-design reality show in 2004. I told her that the drive there made me have flashbacks about driving to all those nasty, long-distance locations where we had to clean up peoples' houses. We had a good laugh.
I got the sense that the L.A. Derby Dolls are currently homeless. I haven't had time to investigate (see above-mentioned nephew's L.A. tour-factor), but I think I understood that they're no longer performing in Little Tokyo because of a building issue.
By 9:30 PM, at the beginning of the 4th Quarter, both teams were tied 31 to 31. We decided we had gotten our money's worth, and left. The final score was Sirens: 40, Fight Crew 35. The Derby Dolls need and deserve L.A.'s support – go to their next event!