One of the most buzzed about movies this year, Krisha, the debut film written and directed by Trey Edward Shults, is coming to VOD and DVD shortly, after a whirlwind of festival accolades and seemingly endless critical praise.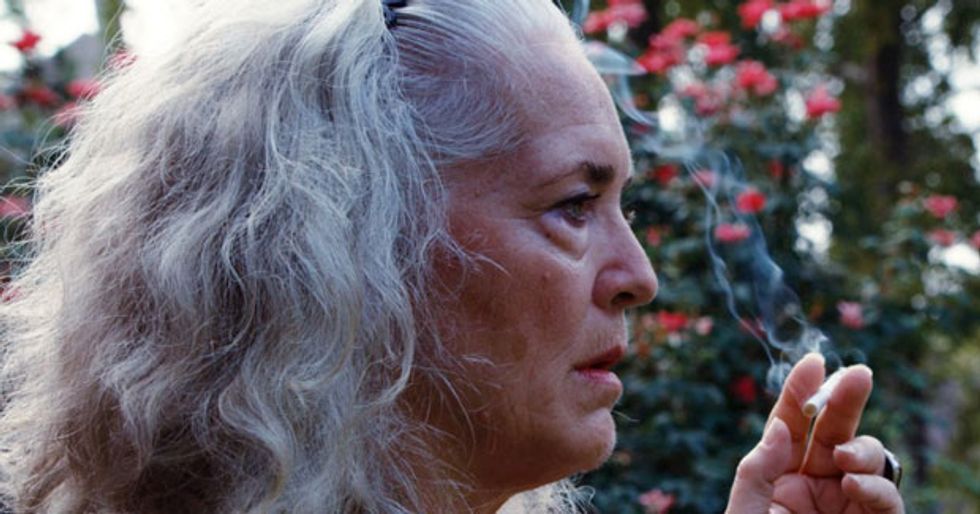 The experimental movie earns its near-mystical reverence. It follows a middle-aged woman, Krisha (Krisha Fairchild), a (semi) recovering alcoholic and drug addict, who embarks on a clandestine mission to reconnect with her estranged son (Shults) at her sister's home on Thanksgiving.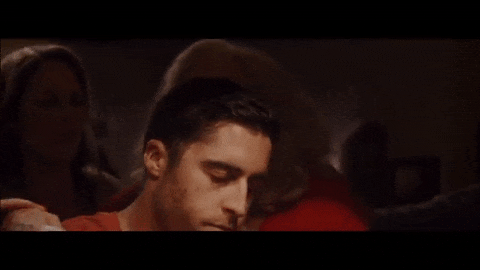 Without spoiling much, you can guess (from the trailer below) that Krisha's questionably earnest plan goes awry, and while family dysfunction around the holidays is certainly a familiar trope in film, Shults's approach is nothing short of revelatory.

Shot over nine days at his actual mother's home in Texas (his mom plays his aunt/adoptive mother in the film), Shults enlisted his family as the cast (his aunt plays his mother/the titular anti-hero), giving the movie an almost voyeuristic quality; it feels like we shouldn't be watching it.
The movie's Terrence Malick-esque feel has earned it many awards, including the Grand Jury Award and Audience Award at the 2015 SXSW Festival, a spot in the International Critic's Week section at 2015 Cannes Film Festival, and the John Cassavetes Award at the 2016 Independent Spirit Awards.
Now being hailed as one of the most important young filmmakers of his generation, the sky is the limit for Shults; we caught up with the director to talk creating Krisha, the joy of improvisation, and navigating trauma through art.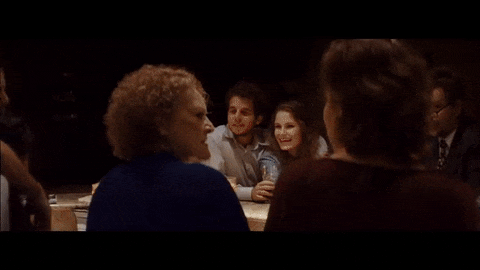 Most of the cast was your actual family, correct?
Yeah, it's really a mix of family and friends, and those friends are actors. So Krisha, that's my aunt, and Robin, that's my mom, plays Robin, her sister. My other aunt, Vicky is in it, she's kind of in the background. My grandma is in it, she didn't know we were making a movie…
I figured that wasn't acting.
Yeah, it wasn't, man, and actually the stuff with [my grandma] is my favorite in the movie.
It was really beautiful.
But besides them, everyone else are friends who also happen to be actors. Like the brothers wrestling, those are my buddies. One of them, I grew up with and made movies with, but he's trying to make it as an actor in L.A. right now. The other one I met on a Terrence Malick movie, the other actors I met through friends, and then a few guys, Chris Doubek and Bill Wise, both kind of the uncles of the movie...they're both local actors in indie movies. Bill had a small stitch in Boyhood, and Chris was in Boyhood, and Computer Chess.
Bill seemed like one of the voices in Krisha's head, especially at the end.
Oh yeah, oh yeah. And some of the stuff he said to Krisha as Doyle was tough, because his character is not a blood relative, you know? He's an in-law, and he calls it like he sees it.
They have this dynamic, I think, where they could be the best of friends and worst enemies at the same time. Because they see themselves in each other. If you look in the background, he's sneaking booze out of the dining room, and that's where Krisha finds the booze when she relapses, so that was really fun to play with.
How much of it was scripted, and how much improvised?
The final movie is probably seventy percent scripted and thirty percent improvised. We had this woman's journey on the page and how we would get there. But I wanted there to be room, and layers to that, and just life, [so you could] feel this family and this history and this life that Krisha abandoned. But for a more practical example, the uncle and Krisha and the porch, that is all 100 percent improvised. And that's some of my favorite stuff in the movie. That came from that character Doyle barely being in the script, and I kept telling Bill [Wise], "don't even read the script, you're not in it. Let's just talk about this and where we could take it." Because Bill is such a one-of-a-kind personality, like the stuff he says, like "I eat shit saddles and leather like I'm superman." I couldn't write that, and I feel like if I did it just wouldn't work. It had to come from this particular dude. So that was conversations with him, and just a bottle of wine, and talking about his character. And things like when [Olivia Applegate] sings to the baby--I didn't even know Olivia could sing. One of the guys playing the brothers was dating her, and he was like, "She has an amazing voice, why don't we have her singing to the baby?" She figured it would be nice to go down the hallway with the family photos and end on this kind of lovely note. But for Krisha, you know, she's hearing this, she's hearing it down the hall, and to her, it's haunting, because of the life that she could have had with her son--it comes right after this moment of trying to reconnect with him.

That moment was really brutal. You had a lot of seemingly random shots strewn throughout. For example, the brothers wrestling. They added to this sort of primal, menacing feeling. Like it was setting up for this hurricane that was about to happen.
Exactly. It's like the tension's in the air, you know?
Especially with that first shot of Krisha, and those shrill violins. I was like "Oh fuck! What is she going to do?" That was perfect--like a lead in to a horror movie, because families are the truest horror sometimes.
Hell yeah, man, families can be horrific, and this woman's demons. She has demons.
When you showed it at South by Southwest last year, did you expect it to blow up this much?
No, not at all. I had no idea, man. We premiered the movie at SXSW, and I'm actually the only person who had seen the final cut. Not even my friends and family had seen the final cut, let alone an audience. We premiered on Sunday afternoon, after most of the movies had played, and I had no idea what to expect. The premiere turned out to be one of the best days of my life. There was this beautiful energy in the room and it seemed like so many people were touched by it, and my family were crying and hugging, and it was incredible, man. And then the next night we won the Grand Jury Award, which was not expected at all. And then we won the Audience Award, and we're selling out screenings. Then we went to Cannes, and got my dream distributor on board, and it was that ripple effect, that domino effect, and all of the things I had fantasized about but never believed would happen. It's been a really humbling and beautiful journey.
And despite her being a middle aged woman, and it seems like your aunt's career is just beginning now.
I hope so.
Well, Hollywood, I'm sure, as you know, women over a certain age--
Well, we're going through that exact thing right now. Agencies don't want to represent her because there's no roles for women her age and everything. It's crazy. All of it's weird.
What's happening with the movie now?
I think they're putting it out on iTunes later this month. Personally, at this point, I love the movie, and it's my baby, and I'm proud of it and everyone involved, but I'm also so sick of it. Because I made it back in August of 2014. Before that I made the short in summer of 2012, I wrote the first draft in 2011, and now it's 2016 and the feature's finally coming out. So for me, it's like, I want to get it into the world, and I want as many people to see it as possible and I want them to like it. But I'm also ready to move on.
Yeah, are you working on a new project?
I am, with [studio] A24, it's my new baby. I started writing it before I made Krisha. I think, like 2 and a half years ago now. It's like my version of a horror movie, and I started writing it right after my dad died. He and I had a rocky relationship, much like the one Krisha and my character had in the movie. We didn't talk, we didn't have much of a relationship for, like, eight plus years, because of his issues with drugs and alcohol. But then he suddenly got pancreatic cancer, and I was rushing to him on his deathbed. He was so full of regret for the way he led his life, and he wasn't ready to let go, and it was easily the hardest thing I had ever gone through in my life. I had never confronted death like that before, so I think my way of processing something like that was that months later, I started writing a script. The opening scene was almost word for word what I was telling my dad, and then it just jumps off and it's this narrative about this family trying to survive. It's like this horror/thriller kind of thing, but it's kind of about putting those emotions into that story. It's all about death and fear and family, emotional violence and physical violence, and all this stuff. I don't know. It's my baby, and I just want to make it.
I'm sorry to hear about your father. Were you trying to work some of that stuff out through making that movie, and Krisha?
Well so far, it seems like the things I write, they're definitely about me processing trauma, and traumatic experiences. Krisha was based on my cousin. She came home for a family reunion--I believe that it was Christmas, not Thanksgiving--but we thought that she was sober after five years and she relapsed. And two months later she overdosed and passed away. And a couple of months after that, I started writing the first draft of Krisha. This was back in 2011. So this is sort of the same kind of thing. It's just coming closer to being more autobiographical. I wanted to take these kinds of emotions and experience them in a whole new story.
Krisha is available on VOD and DVD soon.