Los Angeles has a longstanding history of fascination with the young, the beautiful, and the broken, so it comes as no surprise that model and writer Kris Kidd has been enthralling readers with poetic musings on youth spent in the city's underbelly. When he isn't shooting campaigns and editorials for brands such as Calvin Klein and Marc by Marc Jacobs, Kidd spends his time penning thoughtful, self-deprecating poems and essays about his less-than-fun teenage years and his struggles with depression, drugs and drinking. We sat down with the literary wild child to talk growing up, getting it together, and the release of his debut collection of poetry, 'Down For Whatever.'

Your collection of essays I Can't Feel My Face was lauded for its rawness and honesty, and Down For Whatever is just as confessional What is it that allows you to be so vulnerable and deeply open with your readers?
Sometimes I think vulnerability is one of the only survival tactics we have at our disposal. I started writing as a teenager because I felt like I was crying for help and nobody was listening. I had no idea it would turn into a 'thing.' [Laughs] But nowadays it's so strange, I get these messages and emails from kids, and even their parents sometimes, from all over the place telling me how much it means to feel understood. I love that. I think vulnerability creates connection. It creates community. If lacking shame in regards to the disaster I was when I was younger makes even one person out there feel less alone, then it's all worth it.
As a long-time reader of your work, I've noticed some changes in your writing over the course of the last few years. It seems like you're a little less self-deprecating this time around. And less reliant on humor.
Absolutely. I think a lot of the change has just been letting go of certain parts of my past, or at least the inhibitions those parts gave way to. I know it seems like I've been laying it all out on the table since day one, but I definitely had a lot of walls built up when I was younger. Breaking those down and exploring what's left behind has been a big focus in my writing lately.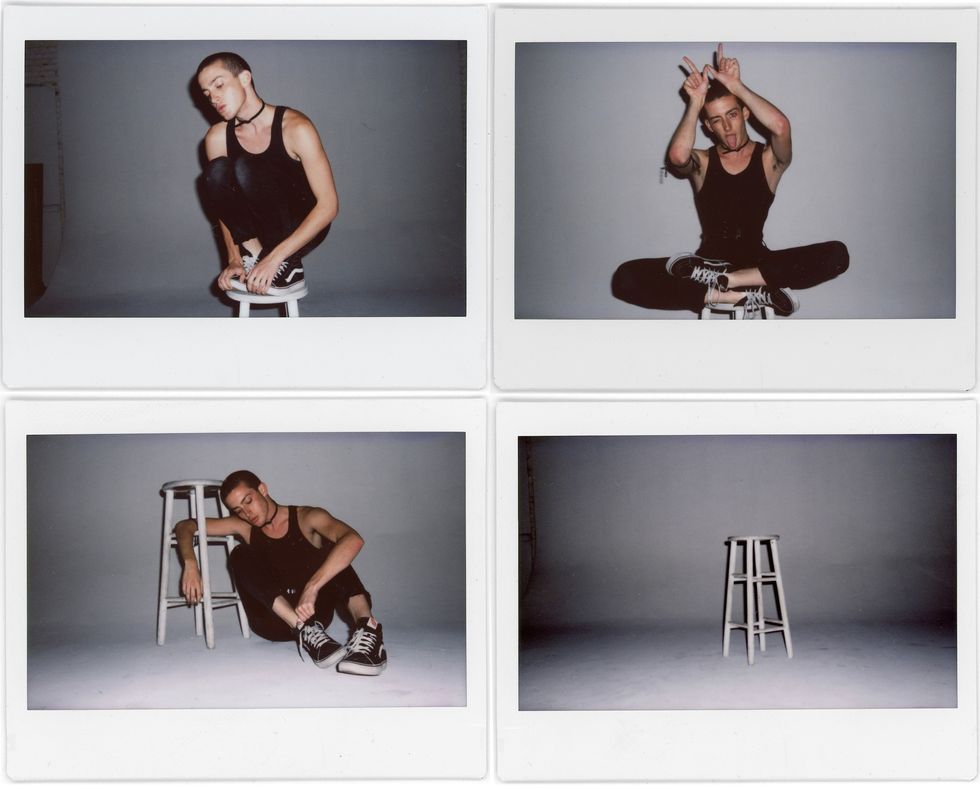 You're often asked about your prior experiences with drugs -- are you sick of talking about drug use and the role it played in your writing/life, or do you see it as a valuable topic of discussion still?
I'm not sick of writing about it, but I'm definitely sick of talking about it. People tend to put a lot of emphasis on the drug use. They try to label me an "addict." I don't really think that's fair. I was just a stupid kid. I write about the drugs because they were a very formative part of my life and they really shifted my trajectory for a while. I don't use them anymore, but their impact is still there. I don't think that will ever go away.
Like I Can't Feel My Face, this book ends ambiguously. What was the motivation behind leaving these collections so open-ended?
I have a hard time with endings. I'm 22 and not a lot feels concrete, and I think that's okay. I don't want to have all the answers right now. That ambiguity is as terrifying as it is exciting.
I will say though that I feel better now than I have in my whole life. I'm learning to be happy with myself. I'm learning to accept love. I'm literally trying all the cheesy self-help bullshit therapists have been spewing at me for years. I don't know how that's going to end either, but it's been a lot of fun so far.
* Down for Whatever was published by The Altar Collective and is now available online and at Marc Jacobs' BookMarc in Los Angeles and New York *