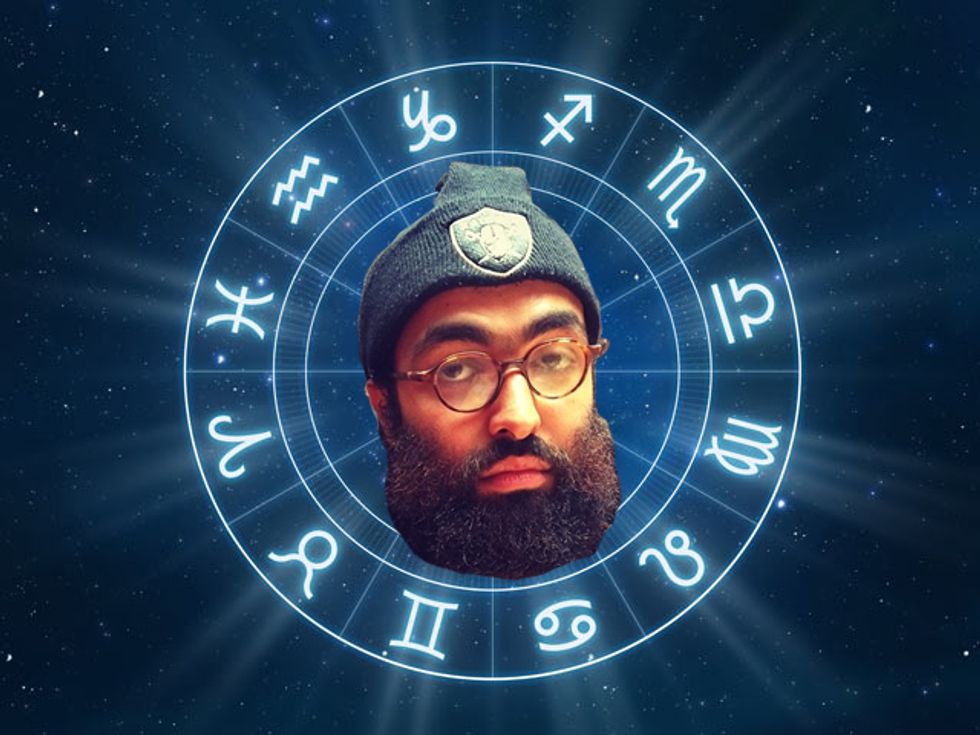 Trouble with love? Work problems? Mercury retrograde? Don't worry. Rapper, author of the forthcoming novel
O.K.
(Sorry House), and expert astrological navigator, Kool A.D. will safely guide you through the coming month.


TAURUS
Watch
Killer of Sheep
. Kick it with a Gemini. Listen to a song by Sage the Gemini. Burn some sage. Get drunk. Throw a one dollar bill in the garbage. Burn another one dollar bill over the kitchen sink. With a third one dollar bill, buy a piece of candy and eat it in the same room as an Aries.
GEMINI
U can ask "why?" a million times and a million times the answer will be "why not?" The thing a lot of people don't tell u is that "why not?" is just another way of saying "why?" So what I mean to say is that the question is the answer and the answer is the question. And that question/answer combo is Love. Love is a process, not an achievement or a destination. Knowledge is an illusion. U don't know what u know. Heaven is not a place but a feeling. Heaven is inside of u. But u already knew that.
CANCER
Everything that applies to Aquarius this month applies to u this month too so read what I told them. Shoplift something. Smoke some weed. Drink some liquor. Go on a date. Raise ur voice at some point this month. Buy a good hunting knife. If you already have a good hunting knife, buy a gun. If u already have a gun, buy another one and give ur old one to somebody else.

LEO
If you know a Cancer with a gun, ask them to give it to u. Read Chekov, Nabokov, Cornel West and Frantz Fanon. Kiss a white woman. Watch an episode of a white people show like
Mad Men
or something. Listen to
College Dropout
and take a shot of expensive whiskey for every mention of drugs or alcohol. If ur in college, drop out of college. If u find urself broke and spinning ur wheels years later, try to work for a nonprofit or some sort of co-op type situation. Have kids as early as possible. Eat healthier. Or whatever, do whatever.
VIRGO
Looks like ur gonna break even this month but things don't look so good in terms of profits. U should be focusing less on these financial concerns tho and more on problems of integrity, urs and those around u. Don't be afraid to take a critical look at ur love life. Not the best month for u tbh.
LIBRA
Communication is key this month. Talk it out. Politic. Chit chat. Shoot the shit. But don't forget to listen either. Stay alert and hydrated. Like I told Pisces and Aries last month, meditate on the concept of Hello Kitty. Listen to Sly and the Family Stone.
SCORPIO
This is a time for reflection and gratitude. Try not to drink too much. Look up how to make cannabis tincture but don't make it til like next month or even the month after or whatever do whatever. Listen to Sly and the Family Stone with a Libra and/or Gemini.
SAGITTARIUS
Listen to Los Crudos, Las Malas Pulgas, Fe D'Ratas Influencia, Godstomper, Chest Full of Arrows, Los Huaycos, Surcos, Baja Sociedad, Massacre 68, Los Lobos, Santana, Tower of Power, Special Forces and Leadbelly.  
AQUARIUS
I'ma tell u what I told Leo last month, listen to a lot E-40, Too Short, Mac Dre, Rappin 4-Tay, C-Bo, B Legit, Mac Mall, The Jacka, 2Pac, Andre Nickatina, Dru Down, Paris, Luniz, Yukmouth, Equipto, Iamsu, Problem, Kendrick, Schoolboy Q, Ab-Soul, D-Lo, Beeda Weeda, Cousin Fik, Davinci, Messy Marv, JT the Bigga Figga, Erk Tha Jerk, Keak Da Sneak, Migos, UGK, Three Six. Get a Trapflix subscription. Also Listen to Kanye, Jay-Z, Nas, Dipset, Beanie Sigel, Freeway, Cassidy, Meek Mill, Peedi Crack, Talib Kweli, Mos Def, Common, Pharoah Monch, Chief Keef, Twista, The Roots, Big Pun, The Fugees, Mobb Deep, CNN, The Lox, The Firm, Wu-Tang, Mase, Biggie, Fabolous, Jeru The Damaja, KRS-ONE and Black Moon. Watch Loisaidas. Also listen to everything I just told Sagittarius to listen to a second ago. Also listen to Sly and the Family Stone.
CAPRICORN
Ay bruh, u know what, do whatever mane. Like fuck it bro, go in. Do u. Do ur thing. Why u listening to me for? Turn up. Wild out. Get jiggy with it namsayin. Whole hog the bitch. Ain't no half steppin. Full monty, full steam ahead. Yolo. swag swag swag. Fuck the Police. U know like WOOP WOOP DAS DA SOUND A DA POLICE feel me? Bruh. Anyway man, stay up kid. Peace Allah.
PISCES
Look at the Wikipedia page for
The Giver
by Lois Lowry. Don't read the book tho, it's hella boring. I heard there's a movie, feel like that might be boring. Maybe get hella high and watch that movie. Consider buying a gun. Read the Wikipedia entry for IKEA. Steal something from IKEA and assemble it.
ARIES
Buy a book that u already read before and throw it into the ocean. Steal another book u already read before and throw it into a swimming pool. Write a book. Buy a piece of candy and keep it close to ur bed for the whole month before eating it. Buy or steal a pair of dice.
You May Also Like