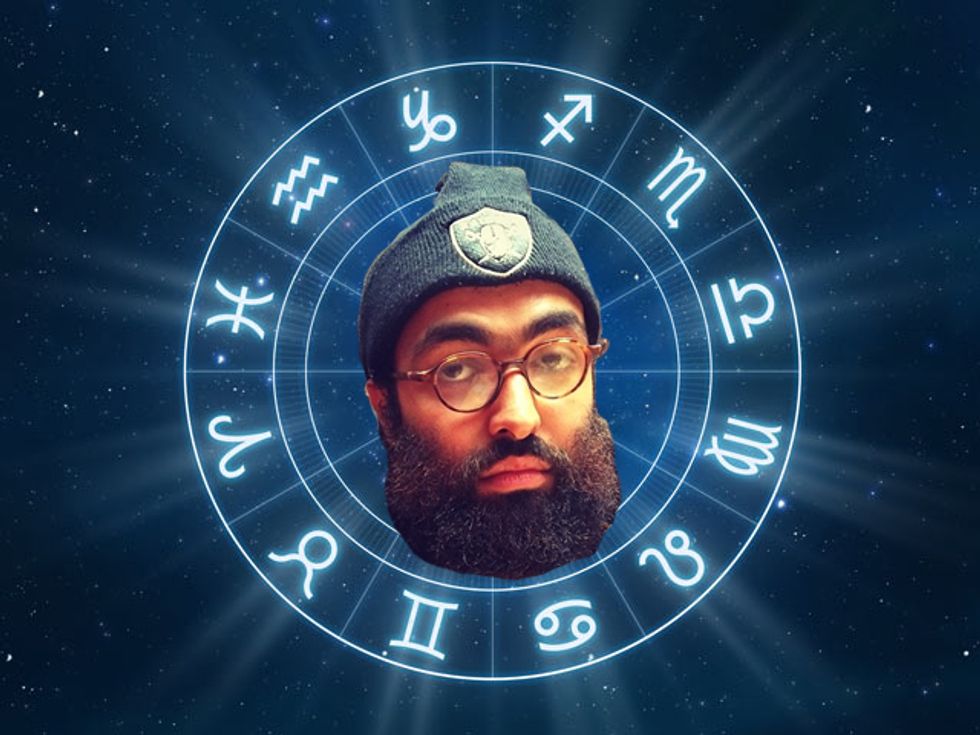 Trouble with love? Work problems? Mercury retrograde? Don't worry. Rapper, author of the forthcoming novel
O.K.
(Sorry House), and expert astrological navigator, Kool A.D. will safely guide you through the coming month.
GEMINI
BUY GOLD. BUY BUTTER. BUY STEEL. BUY APPL. BUY GOOG. SELL DIAMONDS. SELL PORK BELLIES. SELL CVX. GREEN ENERGY. ART.COM. GUITAR CENTER SESSIONS. EVERYTHING THAT IS NOT INFINITY IS A MERE DISTRACTION. THING IS, NOTHING IS NOT INFINITY.DUBAI. DIPLOMATS. BLUES BROTHERS. WAVVES. BEST COAST. TYGA. BLACK CHYNA. THE FADER. PLAYBOY. CULT DAYS. KOOL A.D. GEMINI. SCORPIO. LIBRA. ARIES. CAPRICORN. AQUARIUS. TAURUS. TOYOTA. CADILLAC. CHEVROLET. ACURA LEGEND. GIVENCHY. ROLEX. GUCCI. REAL TRAP SHIT. LIFE AND TIME. HIP HOP. LAS VEGAS. MIAMI. EVERYBODY LOVES MIAMI. OH PS HAPPY BIRTHDAY. THE TIME IS NOW AND AS SOON AS NOW GETS HERE UR THERE, FURL MEH? EVERYTHING IS EVERYTHING. ONE LOVE. BLESS UP. JAH BLESS. I LOVE U.
CANCER
The world is one continuous space. All walls are temporary and to that extent illusory. The door provides a means of exposing and in effect even freeing the wall from some of its illusory nature. So does a window. So does a skylight, which is also basically a window but whatever, who cares, that's not even really the point. The point is there's a number of ways to expose and free the wall of its illusory nature. Meditate on the architectural (and extra-architectural) concepts at play in the Pantheon in Rome this month while eating a bowl of noodles.
LEO
U just made a big leap into something new and very positive, congrats. On another note: "Politics is war without bloodshed -- and war is a continuation of politics, with bloodshed." That's Bobby Seale. Get his cookbook, the ribs go hard.
VIRGO
Last month was rough but u should be ok now. Unless last month was ok then this month might be rough I don't know it's not always an exact science. Patience has been and will continue to be a theme for u. Uh... Eat some pineapple... Uh... Front me a pound of OG kush I got u in a week.
LIBRA
Go surfing. Smoke weed. Drink water. White wine more than red this month. If u have any family or friends in prison try to visit them this month if possible. If it's next month that's fine too. High protein diet. Front me one pound of OG kush.
SCORPIO
Read
Seize the Time
by Bobby Seale. Then when ur done doing that, seize the time.
SAGITTARIUS
Buy a guitar. If u already have a guitar, sell it and buy another one. If u can't afford a guitar, steal one. Ok now that U have ur guitar, play one song on it and set it on fire.
CAPRICORN
Watch
Downton Abbey
,
The Good Wife
,
House of Cards
,
Scandal
and
Empire
, just one episode of each is enough. Listen to Iron Maiden, Motörhead, Thin Lizzy and Bad Brains. Eat some pineapple with a Virgo or a Libra.
AQUARIUS
Everything I said about ARIES (below) applies to U too. Except instead of Gucci and Erykah Badu, it's B.B. King and Miriam Makeba.
PISCES
There's a documentary on Ornette Coleman U should check out. Milestone put it out, I forgot the title. Another good Milestone joint is
The Connection
. Another good one is
The Exiles
. Play some Roy Ayers on good big speakers with somebody ur sexually intimate with. Shoot a firearm this month.
ARIES
Ur playlist should be mostly Gucci Mane and Erykah Badu. Front me 1 pound of OG kush. Watch
When We Were Kings
again. Go to an art museum or art gallery. See live music.  Watch Memorias de Subdesarollo. Watch
Soy Cuba
. Buy a devotional candle of ur choice and light it on the full moon.
TAURUS
Money is a form of literature and like all forms of literature it can be hella boring. Also, being that money is a literature, it can also, like literature, be weaponized against the people. Meditate on the phrase: "The Banality of Evil." Money is a philosophy and like any philosophy its vast set of interpretations often contradict each other. Money isn't bad per se. Money is essentially nothing, and the more u come to understand that, the less of a psychic hold it will have over u.