Trouble with love? Work problems? Mercury retrograde? Don't worry. Rapper, author and expert astrological navigator, Kool A.D. will safely guide you through the coming month.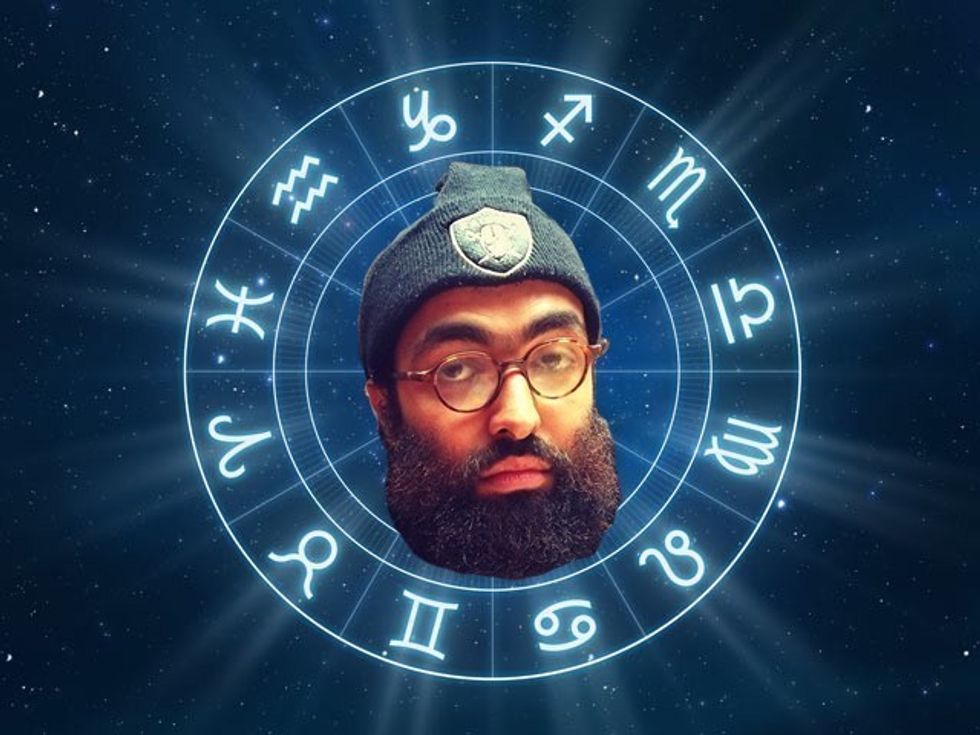 CANCER

Anarchy is a real, palpable, powerful, useful energy. Use it to ur benefit. Meditate on the concept of weather. Gaze at some ocean waves. Recalibrate ur spirit to the universal if need be.
LEO
Keep an eye on CANCER and PISCES month, I'm not saying steal their wave, just take notes, they on a big wave. It's a wavy watery month for everybody. It's an air season but the air is humid, which could spell danger for a young fire sign player such as urself but it's more useful to consider this time as a time of learning because really in all actuality it is. This is like a Summer School of the Soul for u. Take some notes and ace the final.
VIRGO
Partying is servitude. Culture is just taking a couple breaths before speaking. Drinking is an option. Try to think clearly, whatever that means to u. Reality is real and it shimmers fiercely against ur eyeballs. And into ur earholes. Game is unnecessary, the ultimate game is no game, bruh oh snap, intention without intention, zen is a thang, bruh fuck the noise bruh get ur head in the damn game godamn. Listen to uncle snoop uncle 40 water etc. Listen to Ice Berg and Suga T and Suga Free, listen to Short Dogg and Dre Dogg, consult with the elders listen to ur appointed legal aide. But more importantly, listen to ur mama amor whatever motherly force may be present in ur life. Fight any and every case but plus also live lavishly in a laidback and luxurious manner and be kind to all those whom u encounter, furl meh? Ali BOMBAYE.
LIBRA
LOS COLIBRITOS SON ESKEITERS TU ME SABE? Embody the totem of the hummingbird. Grind the infinite stair rail of life. Existence is poetry, post lingual, eternal, La Poesia furl meh? Listen to Vincentico Valdez y La Sonora Mantancera. Any album will do but the one with the joint that's like "Tu hablas de mi porque no soy jugete de tu falso amor" is a super real one.
SCORPIO
Strive from strife to a comprehensive liberation furl meh? Truth beyond language, energy beyond calculatble energies, furl meh? The reality of ur existence is the reality of ur existence, nothing more or less, furl meh? Like Libra, listen to Sonora Matancera. Watch a vintage bullfight. Bet on a baseball game. ALI! BOMAYE! Abandon Death Consciousness.
SAGITTARIUS
Watch some pornography on the Internet without masturbating, try to judge it like u would an episode of Law and Order or Game of Thrones or whatever the fuck passes for TV these days. Listen to seminal 1968 Ornette Coleman album Free Jazz. Sell something for one dollar (or more) this month. Do 50 push-ups, take a candle lit bubble bath.
CAPRICORN
Ain't nobody head gota b on no chopping block that's pure symbology, rubbish, semantically speaking, the object becomes the image, the image vanishes within language, language is a necessary, if frustrating, agreement to be collectively wrong, cop that relatively new KOOL A.D.
AQUARIUS
Take notes from Cancer and Pisces this month they on the wave. This July is all u player, go in. Meditate on the concept of recon. Psychedeliia is a real alternative to warfare, it sublimates warfare to other realms of consciousness. Keep ur body healthy and ur labor ecstatic. Throw out three old articles of clothing, buy one new one.
PISCES
Like Cancer (and really everyone this "Summer 16" as it were) ur energies this month lean towards the anarchistic. Embrace and love that. How u luh that? Exactly, I'm sayin. But also, some pause, some repose, some delicacy. Really hit all angles, carve the swells, bring forth a shimmery prismatic lite plus also the deep knowing blackness of the nite, love is a yin yang, be ye bruh, mami or some other gender identified woadie.
ARIES
Turn up. Tell somebody to shut the fuck up in so many words this month. Act like the rules don't apply to u at least once this month. Crazy thing is, the rules don't apply to anybody. What are "the rules" even? Who made those up? U? No? Then why follow some rules u ain't even had a part in making? Do u. Go hard or go home. Where's home? Home is where the heart is. So what I mean to say is follow ur heart.
TAURUS

There's no difference between literature and journalism. Language is language. Comfort is not freedom, sometimes even the opposite of freedom. Comfort is subjective, prismatic. Go warriors. War can be sublimated to subconscious dream realms but the violence merely turns from physical to psychic. Best probably to abandon war consciousness all together? That seems faulty too. Imagine War Without Death, the Psychic Videogame of Existence. Or how about this: Do Ur Thing, Fuck The Haters? Also lacking. There is no end to the questions of the tongue furl meh? Literature is, end of the day, kinda gross, better a beach, la playa, el sol.
GEMINI
Bless up, recognize and realize. We all need peace. Real recognize real. Listen to "My Mellow My Man" by The Roots. Listen to that Digable Planets joint that's like "I'm Cool Like That." Download the Lil B emojis and the Kim Kardashian emojis and incorporate them flawlessly into ur textual communications. Google "Anime Bruh Meme" haha or whatever do whatever bruh lmao.
You May Also Like
Fashion
Story by Mario Abad / Photography by Alyona Kuzmina / Styling by Stefania Chekalina