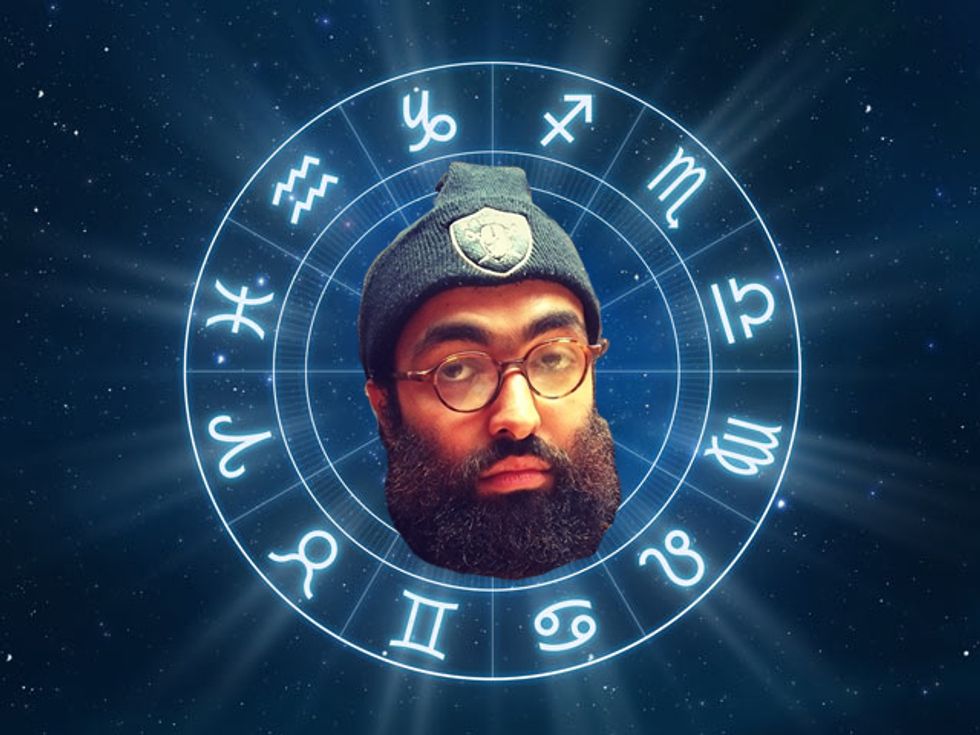 Trouble with love? Work problems? Mercury retrograde? Don't worry. Rapper, author of the forthcoming novel
O.K.
(Sorry House), and expert astrological navigator, Kool A.D. will safely guide you through the coming month. 
LIBRA 
Buy some sunglasses. Push them down ur nose a little and peer over them. This is called "shade-tipping" and it's a crucial thing for u in February. 
SCORPIO 
Patience is required, bruh. Do a perfunctory google of Buddhism, then get bored and look at World Star fights for an hour or two. Do some pushups. Stay hydrated. Cook up weed butter (quarter ounce weed, one stick of butter (salted), melt weed into butter, simmer on low heat for 45 minutes, careful not to let it smoke, strain, refrigerate) and then put it on everything u eat all month. Listen to "classic jazz greats" like John Coltrane, Miles Davis, Thelonius Monk, etc. Like Aries, listen to Turk's Young & Thuggin'. U should also listen to The Clash's Sandanista!
SAGITTARIUS 
Listen to the whole Bad Brains discography. Make weed butter too (see Scorpio for recipe). Listen to a lot of Burning Spear, Dennis Brown, Black Uhuru, Gregory Isaacs, Lee "Scratch" Perry, Peter Tosh, Bunny Wailer and early Bob Marley. Stay hydrated. Listen to 
Danny Brown
's 
XXX
 and 
Old
. Listen to Death and then watch the documentary on them. Take a long bike ride. If u don't have a bike, just buy or borrow a bike. 
CAPRICORN 
Eat hella fruits and vegetables. This is a big salad month for u. Keep ur nights mellow this month, particularly on the full moon. Read a book that's not written by a white dude and only listen to music made by women of color this month. 
AQUARIUS 
Like Capricorn, eat a lot of fruits and vegetables this month. U should probably stop reading books by white dudes too. Try to kick it with a Capricorn at least once this month, or just try to have two long phone conversations with a Capricorn. You should also kick it one-on-one with an Aries. Be attentive to Taurus and Gemini. 
PISCES 
If u play a musical instrument u should be playing it a lot this month. If u don't play a musical instrument, pick one up and try to play it. Listen to Miles Davis' Sketches of Spain. Also listen to Alice Coltrane and Erik Satie. Listen to the seminal 1968 Ornette Coleman album, Free Jazz at least twice in a row. Meditate on the concept of "keeping it real" and its multiple significances.
ARIES 
U've been killing it, no lie. Keep up the good work. Ur playlist this month is
Rae Sremmurd
(not the singles, the deep cuts), Rich Gang (same here), Turk (
Young & Thuggin'
,
Convicted Felons
), Kilo Ali,
Kilo Kish
, Heathered Pearls, XXYYXX. U might have some romantic prospects, but don't jump into anything ur not sure of. U have time, so be patient and cherish ur alone time when u can. 
TAURUS 
The sun is important this month for everybody, but it's important for you in particular because the sun is one of ur main things. Ur probably the luckiest sign in February, so spread those positive vibes -- especially to Aquarius and Pisces, who need special attention around their birthday this year more than other years. When choosing seating, always sit next to a window. Listen to some Gangsta Boo. Tweet something disparaging at Iggy Azalea, she needs a little more friction in her life. 
GEMINI 
Read the Autobiography of Malcolm X. If u've already read it, read it again, fuck it. Flip thru the Koran, find a random passage and write it down. Think about what u wrote down the whole month. Like Taurus, u should listen to some Gangsta Boo. Stay charismatic, diplomatic and attentive. Focus on work. Not ur job, per se, but work that is meaningful to u. Light a white candle on the full moon and burn some palo santo, sage or sandalwood. Stay hydrated. 
CANCER 
While the sun is the big mover in February, Cancers should focus on the moon. Go out on the full moon and drink dark liquor. Spend a lot of time being active at night this whole month. Ask a stranger on a date. If they say no be like, "U A DAMN FOOL BUT DO U." This is a time to be working on creative projects, building things, making things, etc. Play some chess. If u don't know how to play, consider learning. 
LEO 
Ur money making game is particularly fleekish this month, so focus on connecting with people. It couldn't hurt to listen to FUTURE:
FINESSIN
one more time. Neptune and Pluto are in ur corner this month so listen to Jay-Z's "I Just Wanna Love U" (Give It 2 Me) (Prod. Neptunes) and Future's 2013 album,
Pluto
. Read a book by a Japanese author. 
VIRGO 
Go to Beni-Hana's. Smoke weed. Burn incense. Light a white candle, a yellow candle and a red or pink candle on the full moon. Drink 8 glasses of water a day. Skim the Bible and the Koran. Listen to Snoop Dogg. Try to hang out around a bonfire, if possible. If you can find some fireworks, set those off on the full moon. Lean is a bad habit, but double-cup it one night this month if u can. Everything in moderation, including moderation. 
You May Also Like