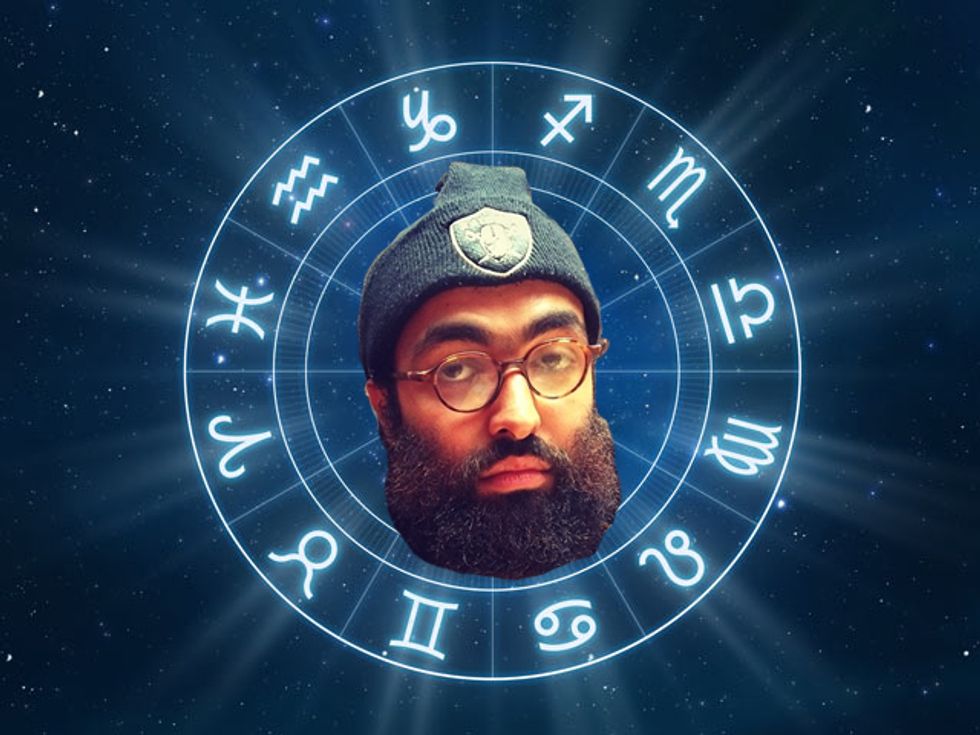 Trouble with love? Work problems? Mercury retrograde? Don't worry. Rapper, author of the forthcoming novel
O.K.
(Sorry House), and expert astrological navigator, Kool A.D. will safely guide you through the coming month.


LIBRA
Ur gonna be doing a lot of fast learning this month, roll with the punches, be calm and patient. A lot of new opportunities popping up, no need to feel overwhelmed tho, just chill out, relax. They made a new word not too long ago that's a combo of "chill" and relax" -- it's called "chillax." Do that. Watch one episode of
Seinfeld
and one episode of
Martin
. Eat Korean food. Take naps.

SCORPIO
With any luck ur finally finishing up a project or intention that began roughly a year ago and u already have the next couple moves after that planned out. Just focus on ironing out details, being attentive to the people around U and calmly executing that which is already at hand and underway. This is more of a hold 'em than a fold 'em period. Have a drink with a Cancer, Pisces and/or Leo.
SAGITTARIUS
U should be reading holy books this month: Koran, Torah, Bible, Bhagavad Gita, Tao Te Ching, maybe some Rumi some Hafez, some Khalil Gibran. There's a collection of Virasaiva devotional poems from a couple thousand years or so back called
Speaking of Siva
that go pretty hard, too. Listen to Lee "Scratch" Perry and Bob Marley.

CAPRICORN
Vandalize a cop car, buy a lotto ticket, pet a cat, watch lesbian porn, eat a chocolate candy bar, listen to Miles Davis.
AQUARIUS
Watch a movie directed by a Mexican. Take a shot of tequila on the night of the new moon. Visit a casino at some point. Buy something at a toy store. Pet a dog. Throw away one article of clothing. Ride a bike. Drink water.
PISCES
Nose to the grindstone bruh bruh. If ur doing it right, ur working very hard this month.  Listen to Plies, Red Cafe, Danny Brown, Dopehead, Organized Konfusion, Saint Lunatics, Bone Thugz, Trinidad James, Dinosaur Junior, Acrylics and Pavement. Or whatever, listen to whatever u want. Keith Haring and Hello Kitty are two concepts to meditate on this month. Have a drink with a Cancer.
ARIES
Watch (or re-watch) the first season of
Keeping Up with the Kardashians
. Listen to one 2Pac album and one Biggie album. Watch the
Bernie Mac Show
. Listen to the song "Natural High" by Bloodstone. Eat some Indian Food. Eat some Mexican food. Watch old episodes of
I Love Lucy.
Like Pisces U should also mediate on the concept of Hello Kitty.
TAURUS
Set a guitar on fire if u can find the means to do so. Watch skateboarding videos. Throw a brick through the front window of a Forever 21.
GEMINI
Love is the question and the answer. Love is the problem and the solution. Love is the beginning and the end. Love is eternal. Love is the truth. We are made of love. Love cannot be forgotten, only remembered.
CANCER
Chances are ur dealing with some heavy shit right now. Something has changed ur life forever. It's important to not let sadness, regret or anger paralyze u in this moment. Find some solace in routine. Exercise. Stay hydrated. Spend time with Pisces, Leo and Scorpio. Spend time with people older than u. Don't be afraid to ask people's advice or opinions.
LEO
Take some time to be there for a Cancer. U should be listening to a lot of E-40, Too Short, Mac Dre, Rappin 4-Tay, C-Bo, B Legit, Mac Mall, The Jacka, 2Pac, Andre Nickatina, Dru Down, Paris, Luniz, Yukmouth, Equipto, Iamsu, Problem, Kendrick, Schoolboy Q, Ab-Soul, D-Lo, Beeda Weeda, Cousin Fik, Davinci, Messy Marv, JT the Bigga Figga, Erk Tha Jerk, Keak Da Sneak, Migos, UGK, Three Six. Get a Trapflix subscription. Also Listen to Kanye, Jay-Z, Nas, Dipset, Beanie Sigel, Freeway, Cassidy, Meek Mill, Peedi Crack, Talib Kweli, Mos Def, Common, Pharoah Monch, Chief Keef, Twista, The Roots, Big Pun, The Fugees, Mobb Deep, CNN, The Lox, The Firm, Wu-Tang, Mase, Biggie, Fabolous, Jeru The Damaja, KRS-ONE and Black Moon. Watch
Losaidas
.
VIRGO
Read
You Can't Win
by Jack Black. Listen to James Brown. Drive  somewhere far from home. Hang out in nature. Smoke weed, drink water, tea and beer.
You May Also Like