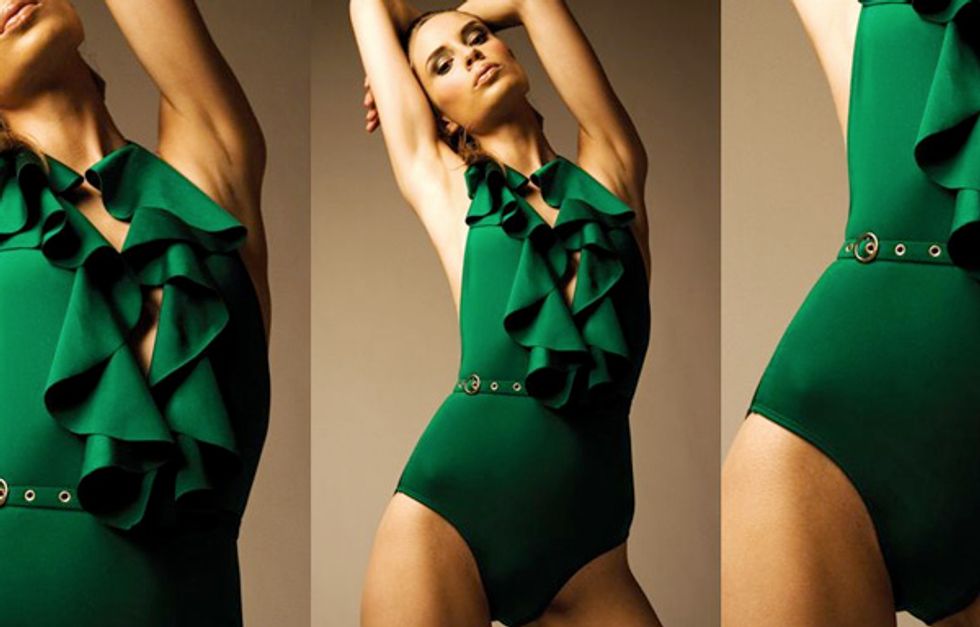 Prompted, while prepping for a trip to L.A., by the glut of too-plain, too-tacky or too-expensive swimsuits in stores, Toronto-based designer Jennifer Bharti gave herself a mission: to design swimwear that was equal parts glam, comfortable and affordable. The result is her label, Koi Swimwear.
Just as its name is inspired by a variety of sources -- in fact, it's a tribute to both the water-friendly nature of the collection, and Bharti's Chinese heritage -- Koi pieces are meant to be worn in a variety of ways. Designed to look fabulous, whether you're lounging poolside or schmoozing at a cocktail party, Koi's bikinis, maillots and cover-ups layer luxuriously. For example: a plunging one-piece takes on sophisticated street style, when paired with trouser-cut denim pants.
Since our days as undergrads at the University of Western Ontario, Bharti has been known for adeptly combining chic, sexy and sporty in her wardrobe. She has translated this sartorial sensibility into Koi, creating more-than-just-swimwear swimwear. We recently caught up with Bharti to discuss bathing attire and style.

Sacha Phillip: What informed the prêt-a-porter aspects of your collection?
Jennifer Bharti: For 2007, I was greatly inspired by the sensuality and boudoir-appeal of vintage lingerie, along with edgier elements of traditional rock 'n' roll style such as chains, gunmetal and studs.

SP: Do you design to intentionally blur the boundaries between ready-to-wear and swimwear?
JB: Yes. I love to incorporate elements of everyday fashion into the pieces. Because swimwear is so spare I find that a little bit of detail or embellishment goes a long way.

SP: Cut is important to each Koi garment -- what are some ways in which your suits are designed to flatter?

JB: I always test my designs on real bodies. Not everyone is built or proportioned like a mannequin and so constructing the suits on actual figures highlights fit issues that are sometimes missed. I find that lower slung bottoms are generally the most flattering as they streamline and elongate the torso -- they play an important role in the collection.

SP: Do you keep comfort in mind?

JB: For the sake of comfort, I like to incorporate a little extra coverage in the back of our bottoms. Once again, a little goes a long way and so an extra inch of fabric here and there can make the difference between a bikini bottom that shifts up, when you move, or that one stays put. Also, a well-cut top with proper elastic support can make a woman feel "held together."

SP: What are some of your influences?

JB: My fashion background lies in denim, so I've always had an appreciation for street wear and more youth-driven trends -- I find that that's where a lot of the major fashion trends begin.

SP: There are quite a few sculptural aspects to your designs. Do you have any fine art influences?
JB: I have an appreciation for all forms of art and design and so I'm sure their influences creep into the collections on some level, but more specifically this season a Kelly green that was inspired by painting by Tamara de Lempicka.

SP: What would you say, to the woman who is afraid she can't "pull off" wearing one of your suits?

JB: "Why not -- you live once!"
Koi swimsuts are available at select retailers and at www.koiswimwear.com