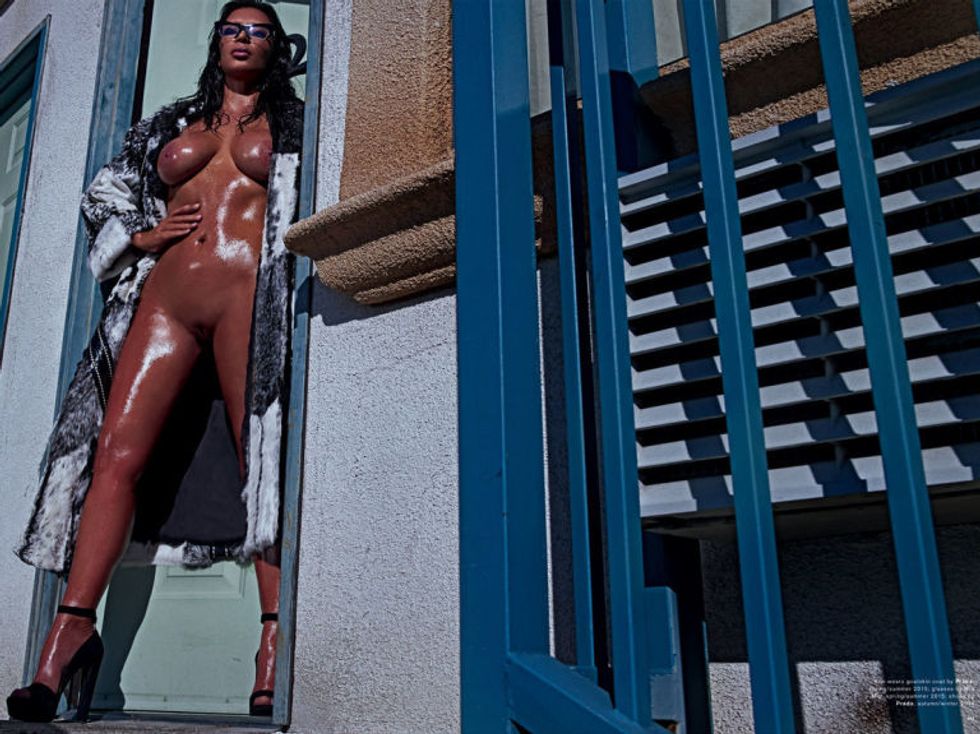 In a variation on our
Break the Internet theme
(oil!),
Kim Kardashian
appears as a fully naked, glistening, disorientingly tall glamazon from the future (in the future no one has eyebrows or wears clothes, FYI) in the latest issue of
Love
magazine. Yes, the same issue that also features
Kendall Jenner
with comically massive
fake boobs
and now Kylie Jenner,
as a blonde
.
We can all blame Cara Delevingne for this
.
Since each member of the Kardashian-Jenner fam has something exaggerated or absurd done to their bodies for this issue of
Love
, our guess is that Kim K's gargantuan appearance is intentional. Shot by Steven Klein, the proportions of the moody photos make the tiny Kardashian look 10-feet tall, and I honestly would not be mad if she crushed me with those 6-inch Prada heels. The ice-queen-on-vacation vibe she's giving off in the spread makes me feel like I'd definitely deserve that because I am so clearly not worthy. I get it, this is Kim's world; we all just live in it and have to deal with seeing her pubic area from time to time. That seems fair. See the rest of the photos from the latest issue of
Love
, below.