For Kiersey Clemons, it's important to pursue projects that grapple with a social issue or question the state of things. That's why the actress has especially found satisfaction from her roles in last year's race dramedy Dope and Amazon's transgender-themed series Transparent. The actress, who also appeared in Extant with Halle Berry, is taking a broader swing this year with Neighbors 2: Sorority Rising, which she stars in alongside Seth Rogen, Zac Efron and Chloe Grace Moretz. We spoke with Clemons about working with Rogen, why she wants to pursue work with a social message and working with a large cast of women on Neighbors 2.
How did you find yourself cast in Neighbors 2?
I don't know! I got a call and I went and read for Seth and Evan [Goldberg] and [director] Nick [Stoller]. We just talked and read some of the script and hung out. It was cool.
Was there any anxiety walking into that room?
To be honest, not really, just because I knew Seth had seen Dope and he liked it. That actually gave me a little bit of confidence. It calmed my nerves a little bit. I think there was a little bit of anxiety living up to people's expectations, but the lines were so funny already so you just had to say them. You couldn't really say them wrong. The writing was so great.
Did Dope prepare you for this kind of comedy at all?
No, actually. I think they're very different. Neighbors is straight comedy and it's a lot of improv. Like with lines we'll get a script and it will have three different ways to do it and we'll see which one works. Whereas with Dope we had the script and that was what we had to say. With Neighbors the storyline was always kind of changing. It wasn't as structured as Dope was. They were two totally different experiences, but they were both amazing.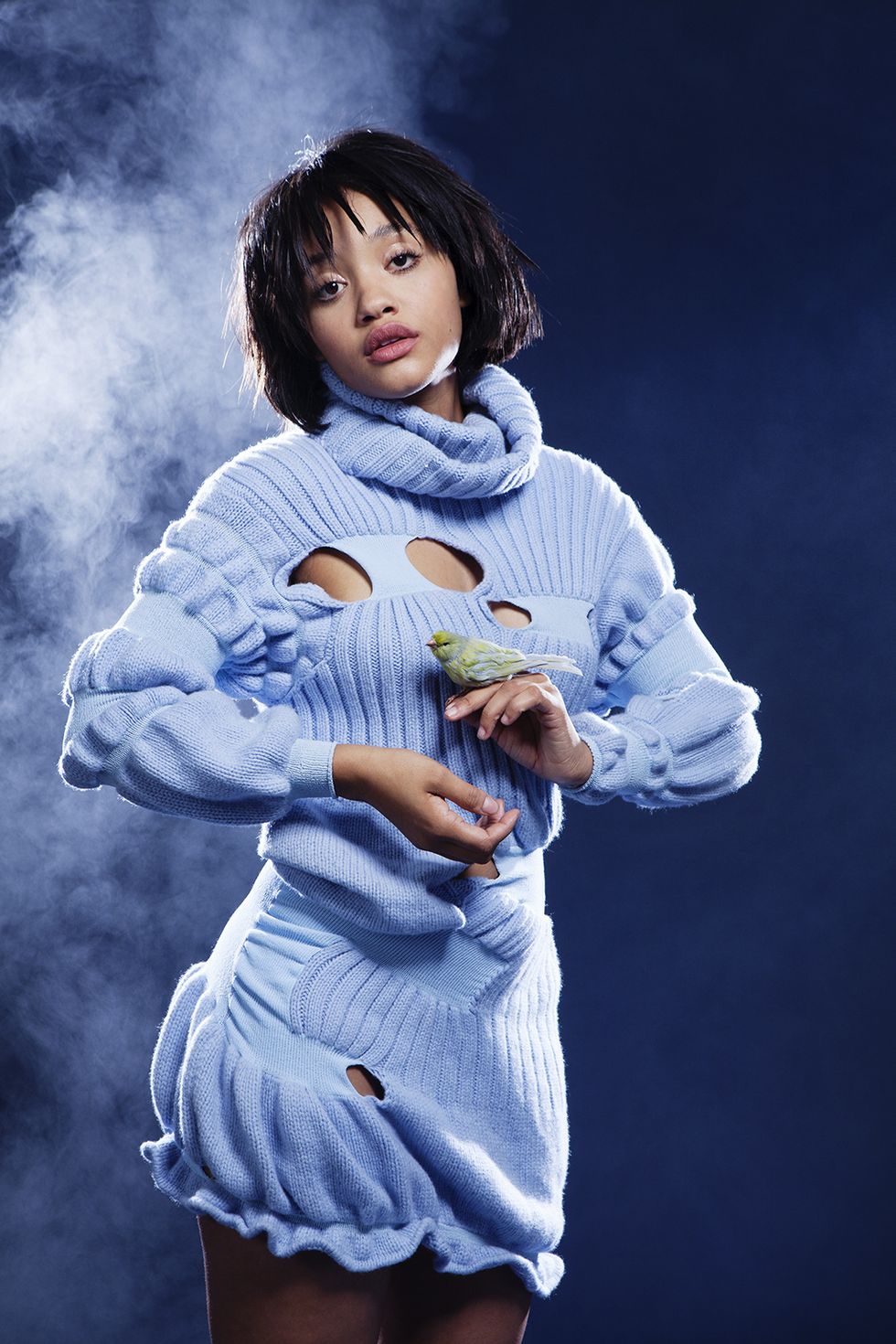 This (and splash photo) by Logan White. Kiersey wears a dress by Helen Lawrence

What was the most important thing you learned from doing Neighbors?
I feel like I always hear "Oh, those girls didn't get along when they were filming" and "Oh, that's so many girls -- how was that?" So to film a movie with so many prominently female actors and for us to get along. We didn't have any drama or catfights. So it's funny when people are like "Ooh, how was it? Was it a lot of drama?" I'm like "No, you asshole, actually it wasn't. You can put a group of girls together and have them work together without them being competitive." Things are changing. We're coming together. And we were all really excited that the movie was even mostly girls. You don't really get to see that very often -- at least girls our age. It's very rare that you see a bunch of college girls coming together and making a comedy.
Did you do any research into sororities?
There were a lot of girls onset who were actually in sororities, so I just talked to them. I would be like "Is this real? Does this really happen?" We thought our script was crazy and these girls were like "No, it's worse than the movie." I was like "How could it be worse than this?" I've read about stuff, like there are things that have gone viral about crazy sorority instances. We're doing a lot of crazy shit.
Was there anything you were worried about doing?
There were things that I was worried about how they were going to be delivered. Things that we made jokes to get the point across because we couldn't really dig deep into stuff without it becoming all of a sudden a serious movie. Because a lot of fucked up shit happens in sororities. We had to shed light on that, but make it a joke. So I was really worried "Would it come across and be delivered in the right way?" But once you're on set with everyone and everyone is so amazing and after working with Nick I was like "Oh, we're fine. We're in good hands." Right now we're in the middle of a feminist movement, so I was thinking of all the opinions we could get. But I can't think about that because there's always going to be someone who doesn't like the movie. There's always going to be someone on the other side. But I'm proud of what we did. I think we handled everything correctly. I don't think there should be controversy around anything -- I think you should just laugh.
Do you want to pursue more of these sorts of comedies?
For sure. I would love to live in that world. It's more so working with really great people that I trust and knowing we're going to get something great of out it. Nick Stoller was someone I always wanted to work with. Seth is someone I always want to work with, too. I just wanted to see if I could do something like that so it was cool I got the perfect opportunity. I'd love to do that again.
It seems like a lot of your roles are in projects with a social message, like Dope and Transparent. Is that important to you?
Yeah, because if I don't I'll go crazy. If I make my job solely about entertaining people I start to feel like a robot. I feel like that's why most actors are dealing with depression and eating disorders. Because it's a control thing. So I have to make it bigger than me so I don't fall into that control trap. So I don't fall into feeling like I need to control everything. I try to do things that are bigger than me, because if I'm affecting other people and I'm using my platform to spread a message or spread awareness about something then it fulfills me. It gives me purpose and it gives me worth. I get really bored if I'm doing stuff that there's no reason to it. I do try to pick things very wisely and carefully. Also, you never want to insult people. So it's also really important to work on passion projects that tell honest stories and don't bite you in the ass.
Styling by Lisa Katnic
Makeup by Samuel Paul at Forward Artists using NARS / Hair by Larry Sims at Forward Artists for Got2b / Bird by Prey Taxidermy
Location: Apex Studios