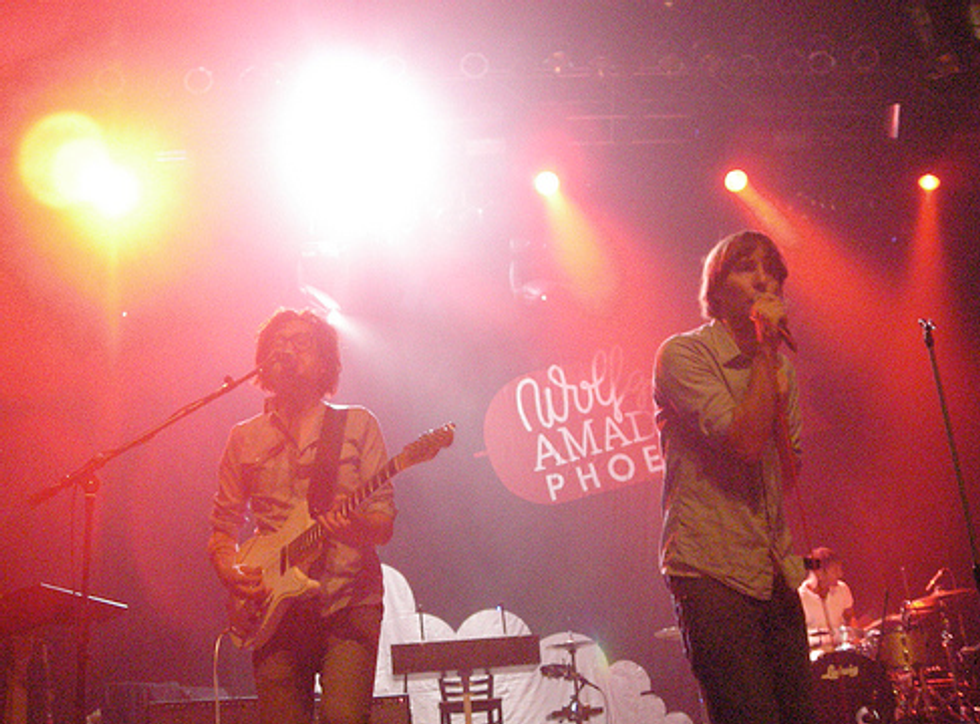 Kid Cudi may never have stood a chance at defeating Lady Gaga for Best New Artist at the VMAs. But he took a shot at fighting AIDS on Saturday night at Terminal 5, where he and Phoenix headlined a concert thrown by the music charity LIFEbeat, along with MTV and Pepsi. Cudi, who performed at our Sounds like PAPER concert at the South Street Seaport in July, didn't just come surrounded by a boat-load of Internet hype ahead of his new album. He was also surrounded by a cloud of pungent smoke that wafted over the audience and the stage, befitting his stoner-rap style, a smoke-free policy be damned.
After taking a puff from a fan down in front, Cudi launched into a set that included older mixtape tracks, including a partly a capella rendition of "Day N Nite" (he noted, "this is probably the ten millionth time I've played this song -- rage!") and some cuts from his new album, which succeeds best when it's darkest: accordingly, "Solo Dolo," the Mum-sampling "Soundtrack to my Life," and "Sky Might Fall" (video above) were all stand-outs. Despite the pathos, backed only by a DJ, and wearing a T-shirt with a cartoon version of himself on it, the Cleveland MC moved about the stage and rocked along to his beats with the look of someone still stunned and delighted they get to do this. Not even the leak of his album, Man on the Moon: The End of the Day, seemed to bother him. "My album's on the Internet right now, so y'all can download it," he teased. "But make sure to buy it Tuesday, don't fuck around!"
Shortly afterwards, while people played with the Beatles Rock Band in the back, Phoenix took the stage, looking kind of like a cool French version of their very distant British predecessors, and whipped through a sharp set of old and new songs, like the delightful "Listzomania" and "1901." Even if we pined for the old song "If I Ever Feel Better," the excitement of the audiences and the performers -- and the good cause -- had us feeling pretty good nonetheless.
Photo from hippiesaredead