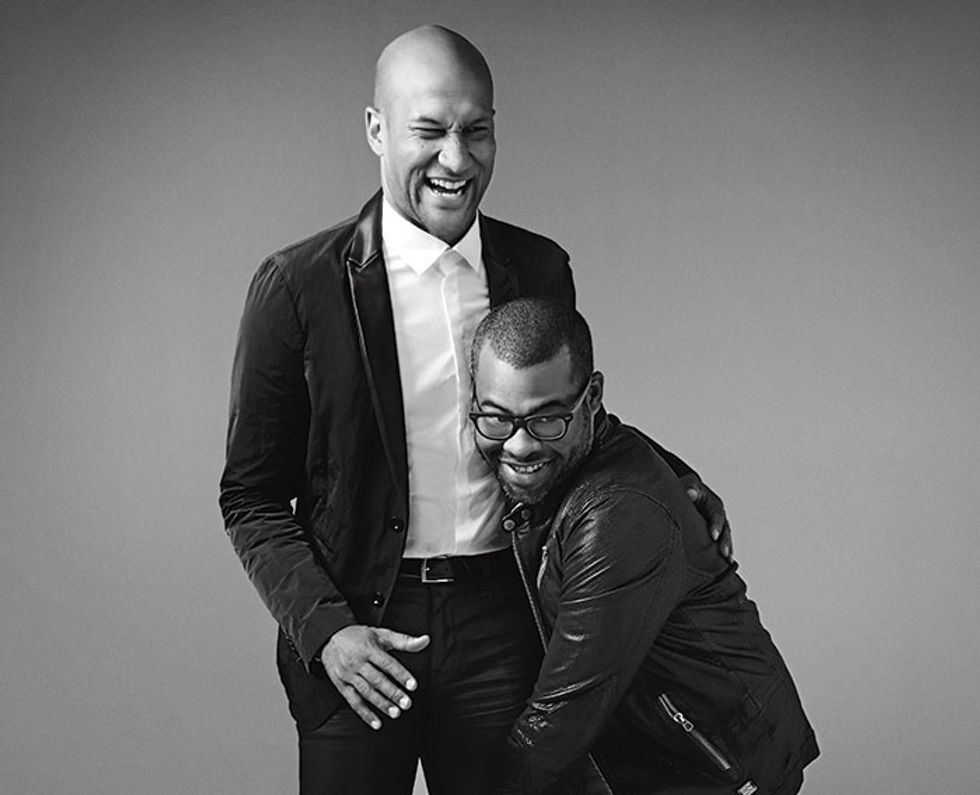 Keegan (left) wears a blazer by Diesel, shirt by Halston, jeans by Guess and belt by Barneys New York. Jordan (right) wears a jacket by Diesel.
One thing quickly becomes obvious when watching Keegan-Michael Key and Jordan Peele's hit Comedy Central sketch comedy show,
Key & Peele
: they love liars. The duo tends to create characters who are caught up in an obvious lie or fantasy. Our favorite? Peele's plus-sized character Wendell, who goes through the pains of pretending he's throwing a party when he calls to have numerous pizzas delivered, though he's clearly alone. Their third season premieres September 18th. You'll laugh -- honest.
What was your first day on the set of Key & Peele like?
KK
: The thing I remember most about it was that it was a nice, crisp morning in California. I remember being excited and (this is not a surprise to Jordan) I almost started crying. I picked him up that morning and we were about 500 feet from the front gate and he said something lovely like, "I can't imagine doing this with someone other than you."
Would you be friends with any of your characters?
JP
: I tend to like to play characters who are unattractive spiritually. I like undateable characters. One thing I've realized recently is that they are all kind of representations of things I don't like about myself.
KK
: I would actually want to befriend a lot of Jordan's characters because of how sad they are. Wendell to me is a friend. Like, "Hey buddy, let's go to the gym and work it out together."
What TV shows are you guys currently watching?
KK
: A lot of comedians, a lot of guys who work in our office, don't watch a lot of comedy. More often than not you'll find us talking about
Breaking Bad
. The one comedy that I watch religiously is
Veep
. Oh, also I can't miss
So You Think You Can Dance
.
JP
: Yeah,
Game of Thrones
is just about the only non-reality TV show I watch. I am a reality whore. I watch
Catfish
,
Survivor
,
Big Brother
.
If you could have drinks with any TV characters, past or present, who would they be?
JP
: I'd love to have drinks with Urkel, Kimmy Gibbler, Mallory's boyfriend Nick from
Family Ties
, Buddy Lembeck from
Charles in Charge
. Clearly these are the characters that came on for an episode or two and they were so magnetic or stupid that they caught on. I could see it being a fun, funny time because they're all deeply flawed and sort of hated and yet have some charm. As long as it's just one drink.
Photographed by Emily Shur / Styled by Camille Yvette / Hair and Makeup by Christina Buzas