Kesha, who we last heard slaying a Bob Dylan color at the Billboard Music Awards, and surprising Coachella with her new track "True Colors" with DJ Zedd, has announced a new US tour spanning from July to September.
Kesha and the Creepies: The Fuck the World Tour will kick off at Las Vegas' Intrigue Nightclub on July 23, and go till October 1, where they will play the Mad Decent Block Party in Los Angeles.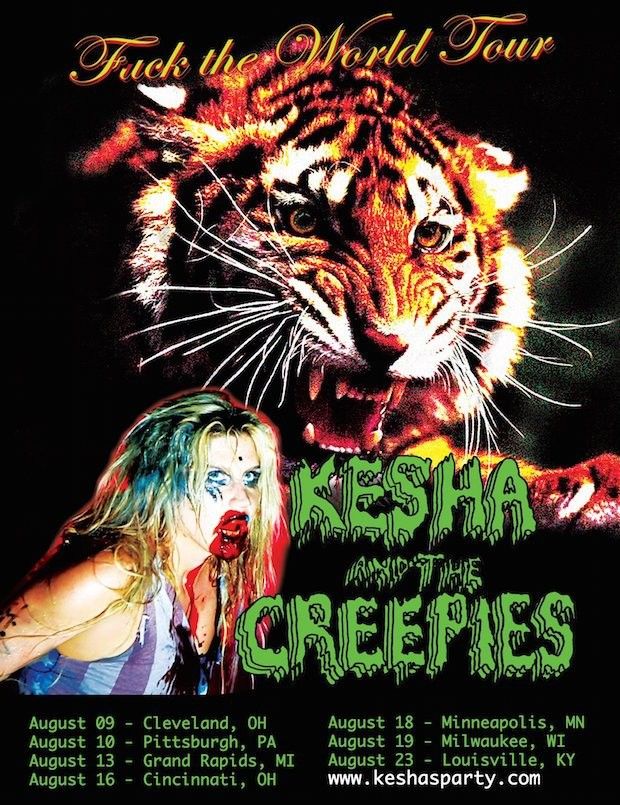 This will be the first music tour Kesha has embarked on since her legal war with former Dr. Luke in 2014.
The singer posted a cute announcement video on Twitter, where she (and a horse) told us she'll be playing songs we've "never heard before and may never hear again."
i'm going on tour this summer!!!! xxxclusive fan pre-sale starts today at 1pm CT, deets coming soon! ✨ 🎤 🎸 ⚡️ 🚀 ✨ pic.twitter.com/VaOR0dk0Sf
— kesha (@KeshaRose) July 19, 2016
"I want to see you there purely for the love of rock 'n roll and my soul," she added.

Do right by Kesha's soul, and get yr tickets here.
Header photo screenshot from Kesha's website