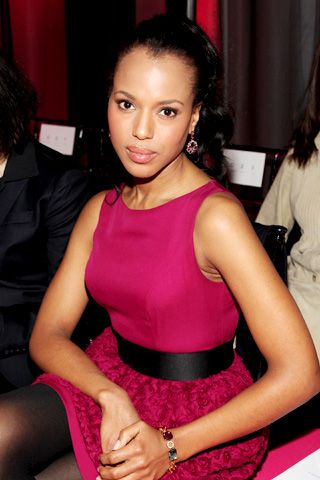 Academy Award nominee Kerry Washington is known as much for her beauty and style as she is for her great acting. The star was front and center (and with her boss from Movado, for whom Kerry is a spokeswoman) at the Jason Wu show where Mr. Mickey asked her about her work in David Mamet's Race, in which Washington made her Broadway debut this past December. 
So my feeling about David Mamet is that he hates women and he hates black people.
[Laughs] Well, put it this way, I get the last word!
What did you think about David Mamet before this?
I thought he was  complicated and interesting. I was actually just terrified of going to rehearsal. I was a little intimidated by his theories on acting and the work he has done. I never expected him to be quite so lovable. He's great.
And it's such a great cast.
Oh my God. We're loving it. We love each other. It would probably be a really sucky job if there was one bad apple in the bunch because there's only four of us, but everybody's great. I feel like I got three new brothers and I don't have any brothers, so it actually works out.
CLICK HERE FOR PAPERMAG'S COMPLETE DOWN-LOW FASHION WEEK FALL 2010 COVERAGE. >>