On Monday night in Paris, Pyer Moss founder Kerby Jean-Raymond expressed his disappointment and anger with Business of Fashion on his Instagram stories. This year, Jean-Raymond was added to the esteemed #BoF500, an index of professionals making waves in the global fashion fashion industry. 2019 inductees include the likes of Dapper Dan, Lizzo, and Teen Vogue Editor-in-Chief Lindsay Peoples Wagner. But Jean-Raymond wants no part of it. "BoF 499," he wrote. "I'm off the list."
Jean-Raymond attended the seventh annual #Bof500 gala in Paris on Monday night, where guests were greeted by a Black gospel choir. Jean-Raymond has utilized gospel choirs to great effect at several of his shows — but the BoF event, unlike Pyer Moss presentations, was a largely white affair. "This is some insulting shit," he wrote on Instagram.
Brother Vellies designer Aurora James agreed. "Not everyone gets to have a black gospel choir," she wrote on her Instagram story. "I'm so confused. Aren't we supposed to be celebrating diversity? And inclusion? Not appropriation? We are at a fashion awards show. Fashion exploits more women of color than any other industry. Why is there a black gospel choir?"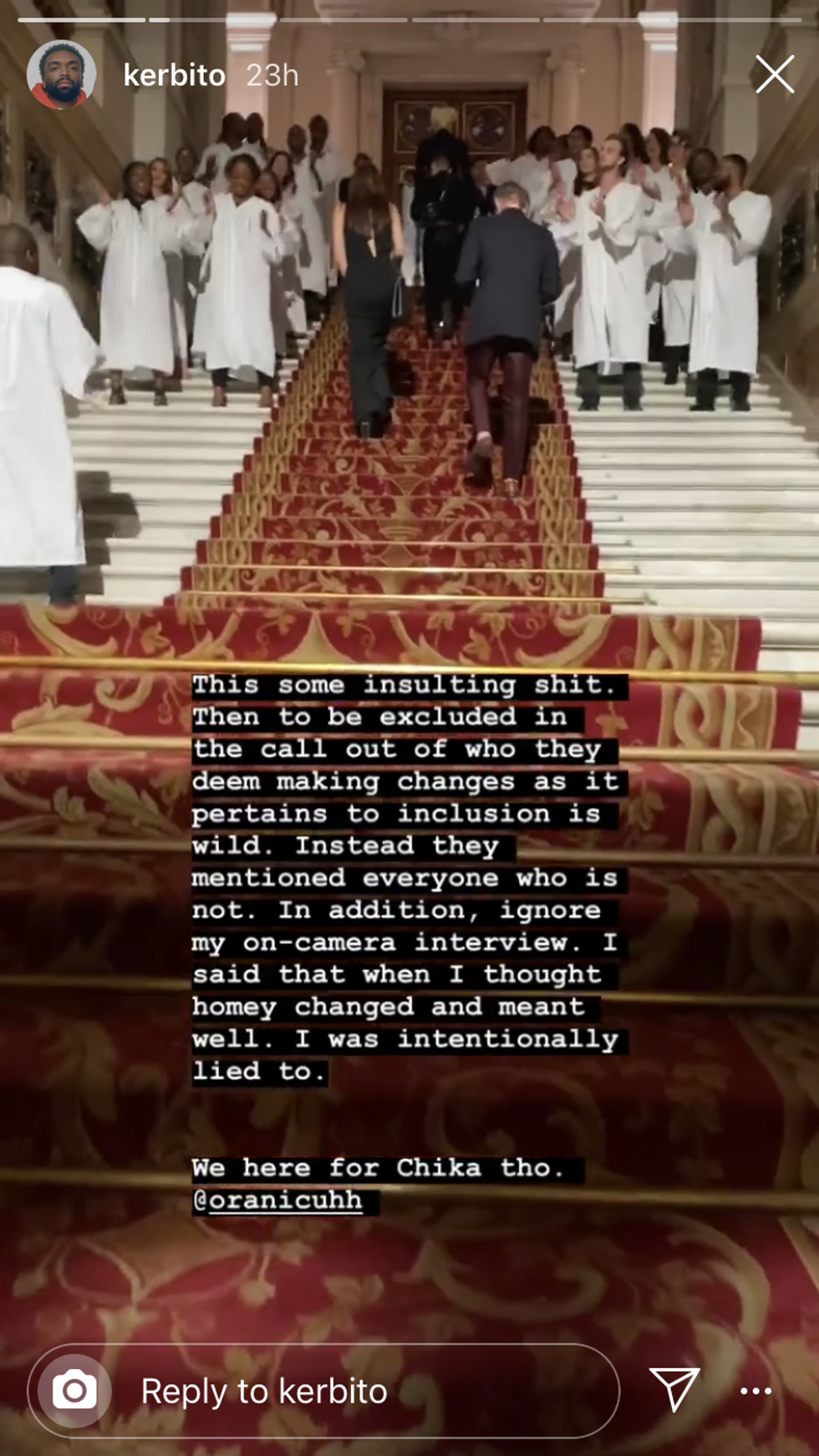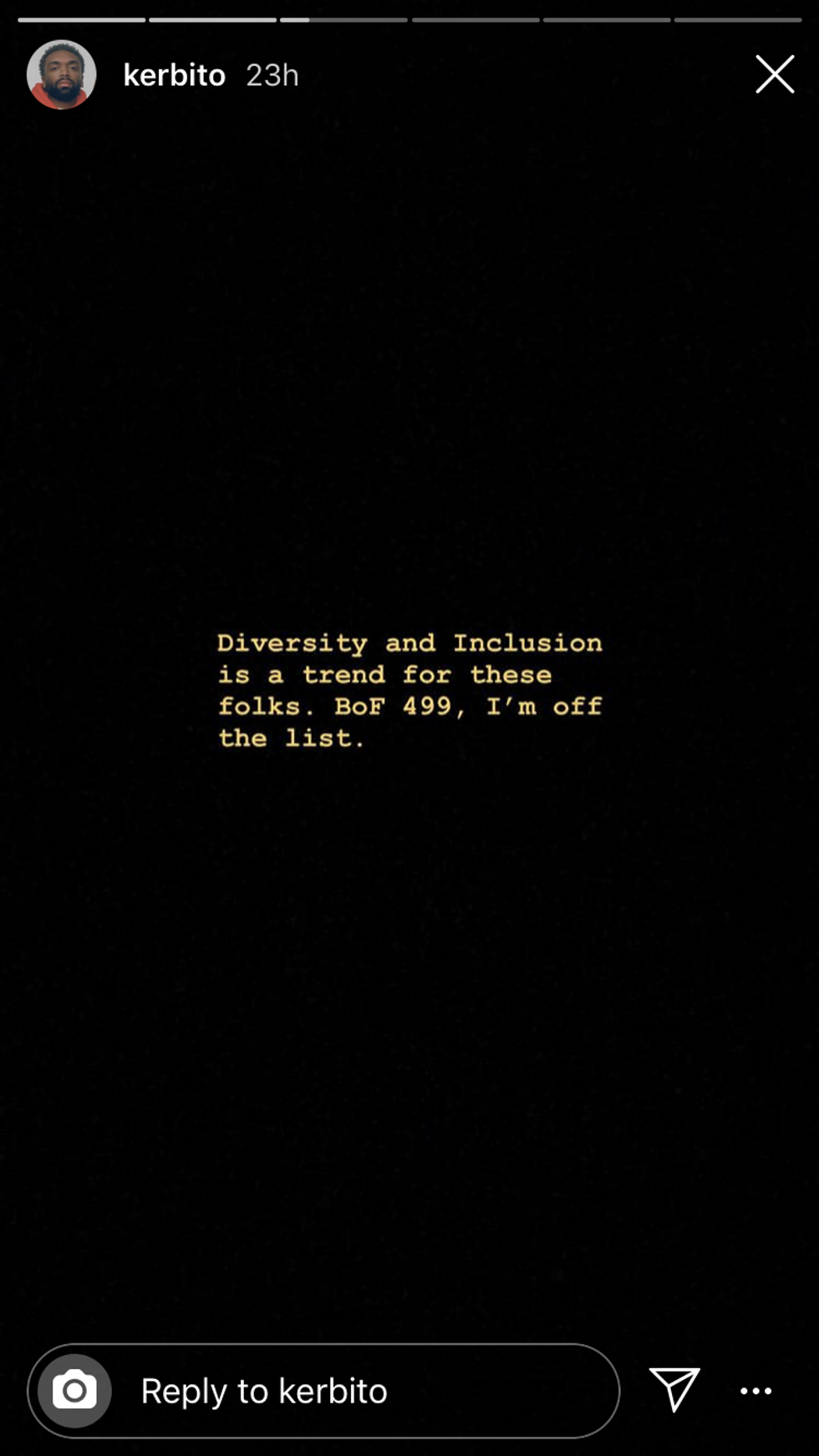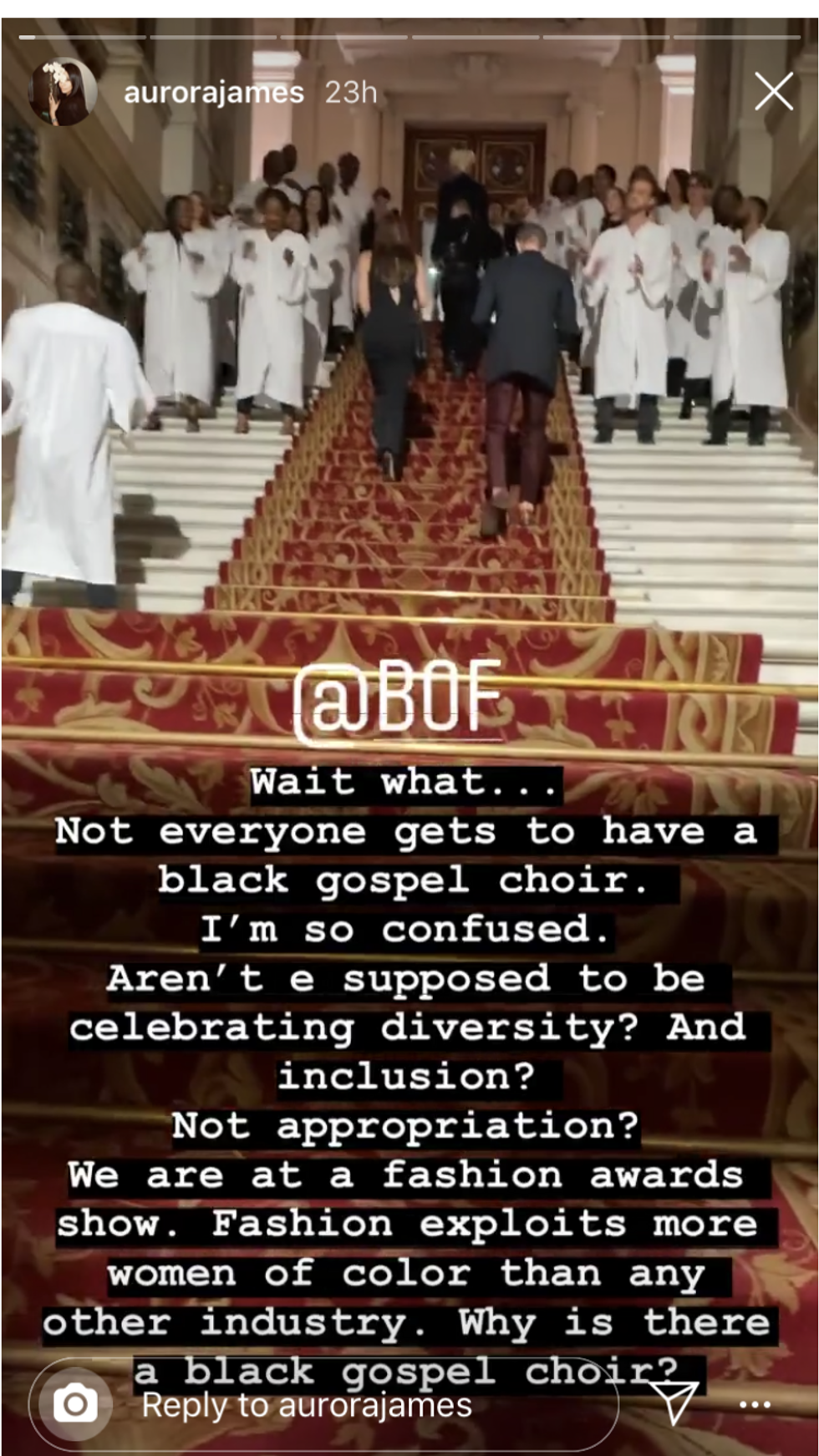 Jean-Raymond wrote a long statement for Fashionista in which he clarified his frustrations with Business of Fashion. He wrote of a "hellish" experience at the BoF Voices conference in London, during which he felt thoughtlessly grouped in with other Black designers. He also wrote that BoF had offered him a cover for their print issue, and that he attended several meetings with founder Imran Amed to discuss the prospect (and his new position at Reebok) only for Amed to rescind the offer. Jean-Raymond wrote that he texted publicist Nate Hinton to say that "I knew I was being played for info."
The designer also wrote that at the gala, Amed spoke about huge fashion houses that inspired him to center the new issues of BoF around diversity and inclusion, mentioning huge brands while failing to recognize Jean-Raymond and his peers. Amed then began to dance with the choir. "What inspires people to do this?" Jean-Raymond wrote. "What motivates someone to feel that they have the rights to do a Kirk Franklin dance on the stage? Because ultimately that level of entitlement is the core issue. People feeling like they can buy or own whatever they want... if that thing pertains to blackness. We always up for sale."
"Homage without empathy and representation is appropriation," he wrote. "Instead, explore your own culture, religion and origins. By replicating ours and excluding us— you prove to us that you see us as a trend. Like, we gonna die black, are you?"
UPDATE 10/02/19: BoF's founder and editor-in-chief Imran Amed issued a lengthy response to Kerby Jean-Raymond this morning. He explains that while he disagrees with some of their opinions on the gala and the details of their past interactions, he is "deeply sorry" for upsetting Kerby and for making him feel disrespected, and that he is "committed to making this a listening and learning opportunity for myself and BoF." Read the entire letter here.
Sign Up For The Morning PAPER