Fashion films are often, by definition, very lovely. And in Kenzo's case, they tend to actually be highly entertaining – the design house's creative directors Humberto Leon and Carol Lim previously attained a viral hit with that amazing fragrance commercial from Spike Jonze, the one where Margaret Qualley maniacally danced like a possessed Willi Ninja in a parody of all other (worse) fragrance commercials. Their most recent offering, The Everything, was sure to be good. But until the screening and premiere party on Friday, it wasn't clear just how good. And it is so! Good!
Related | Britney Spears, the One and Only, is the Face of a New Kenzo Campaign
The Everything, now available to view in full on Kenzo's website, stars Milla Jovovich as Georgie, the matriarch of an enormous, paranormal blended family in Rosemeade, California (Leon's hometown). Her children – played by Alexandra Shipp, Kodi Smit-McPhee, and Sasha Frolova – have been blessed-slash-cursed with what Leon calls "dumb powers." They can switch people's shoes by snapping their fingers, transform fingernails into keys and weapons, instantly change hairstyles. Frolova awkwardly courts a crush, played by Ekaterina Samsonov; superhero films tend to cloak queer themes in layers of metaphor, and it was nice to see one that included them casually and with grace. An emo hairdo is used to defeat a bully!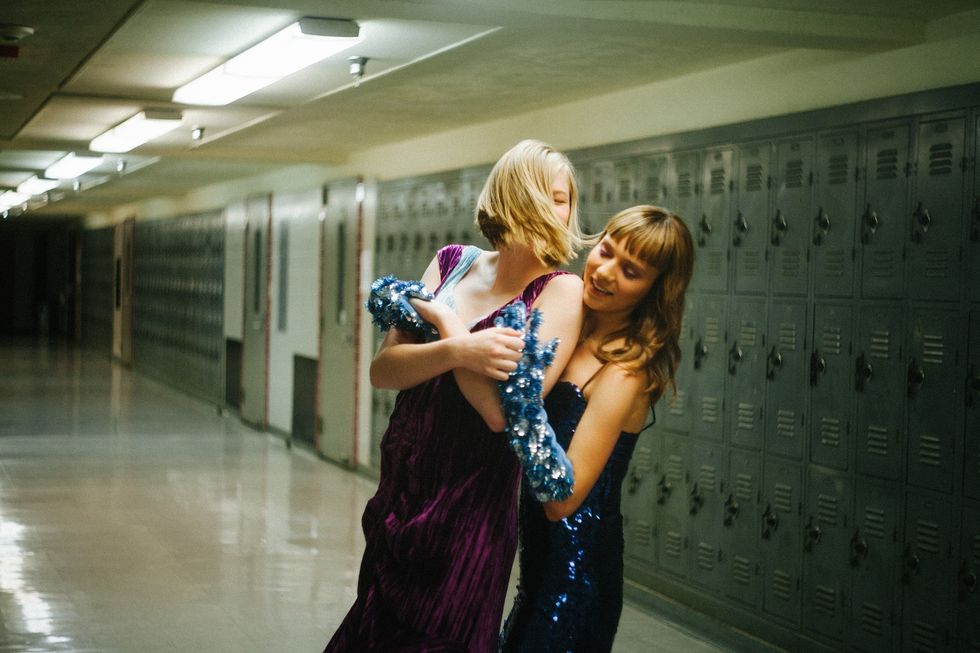 Ekaterina Samsonov and Sasha Frolova shooting The Everything. Photo courtesy of Kenzo.
The touching, funny film, reminiscent of '80s teen classics, also stars Jay Ellis as Jovovich's boyfriend and the great Regina Hall as a close family friend. Spike Jonze and Leon's mother Wendy make cameos. And everyone is of course outfitted spectacularly, though Leon, who wrote the script on an airplane, insisted that he didn't want the clothes to overpower the story. But I did think it was important that Ellis, who became king of the breakup sweater during his run on Insecure, was shot in a luxurious turtleneck. During a Q&A after the premiere (where they provided both popcorn and champagne, thank you Kenzo) I asked if the turt was a callback to Lawrence. It was, uh, not. "I don't think so," Ellis said graciously. "But I guess I like turtlenecks."
In the spirit of the film's family vibe and high school setting, the after party was prom-themed. Attendees, including Natasha Lyon, Justin Theroux, Sita Abellan, Moses Sumney, and Hayley Kiyoko, could take photos against a tinsel-strewn background, just like the one featured in the film (and nearly every American adolescence). Wendy Leon made the food. It was by far the warmest party at fashion week.
Photography by Serichai Traipoom. Additional imagery courtesy of Kenzo.
Sign Up For The Morning PAPER
Nightlife
Story by Zach Shucklin / Photography by The Cobra Snake (Sponsored by Cuervo Tradicional Cristalino)