Kenny Kenny came to New York from Ireland in 1986 and the city has never been the same. The innovatively dressed Renaissance man proved to be an irrepressibly witty doorman, promoter, and photographer, and he remembers every second of it. Here's my talk with Kenny about his tantalizing trek through the night, which is only just beginning.
Hi, Kenny. What was your first nightlife job in New York?
In 1987, I worked the door for Susanne Bartsch's weekly party at Savage. It was really easy. It got worse later on. When I was working at Peter Gatien's Club USA [which opened in 1992], I thought I was going to lose it. You're trying to please an owner and trying to please people and then you have your own view of what nightlife should be. It's such bullshit because the owner's just trying to make money and wants a crowd that's really clean and really white. I always want mixed up street queens and God knows what.
But you had already worked the door at his Limelight.
Anybody could get into Limelight. It's when they have that delusion that they're going to be the next Studio 54 and put so much money into it [meaning club USA]. I actually had a breakdown. I wanted to fucking mix it all up, and it's trying to be an upscale place, and I'm back into a place where I never wanted to be.
Did you quit?
No, but my body did. I don't quit -- not when there's a dollar involved. You'll have to push me out.
You promoted a great party called Panty Girdles.
It was me, Sister Dimension, and Bella Bolski. We were doing it at Morrissey club at 28th Street. On the first night there, [videographer] Tom Rubnitz was having trouble getting into VIP and spat on the security guard and told him he had AIDS, which caused total panic. Sister's boyfriend wanted all his peeps in VIP, and threatened me with a knife and told Sister he would leave and kill Sister's poodle. Sister was freaking out -- not about me, but the dog -- so we ended up giving him whatever he wanted. [Dancer] Michael Clark peed in the middle of the dance floor. Not surprised they got rid of us -- still, it was an A list crowd.
I was always so drunk, things didn't really register. I would announce the acts, but I mumbled so much that Bella had to tell everyone what I said. Antony Hegarty [now Anohni] told me later she thought we were doing it on purpose. I hadn't even realized it was happening.
Susan Ainsworth from Tunnel was advising the Morrissey [owners] that they should not be having a party like ours on a main night, a Friday night. It was doing really well. It had that glitzy thing happening, there was a buzz, and all the downtown-y people came. Three weeks later, they canceled us because you're not supposed to have a gay night on a Friday night. She told me it was nothing personal, just business. Bella decided to have a protest outside the club after we were canceled, with placards and all. Three people showed up. Of course, Sister Dimension didn't show up; she was beyond that. We showed up, but the funny thing is, they were broken into that night and their safe was stolen. They thought we did it. Bella and I got a phone call saying we were dead, and we were both shaking. We spent the whole night Valiumed out of our minds, thinking we were going to be killed for something we didn't do. Then Rudolf took the party on to Quick, which used to be Area. At Quick, after 600 people were admitted, we were supposed to get an extra $300 each. So we'd spend the night getting everyone to go out the back door and come back in the front door, so it would count as another admission. I spent the whole night going insane doing that -- and I didn't even want the $300 that much.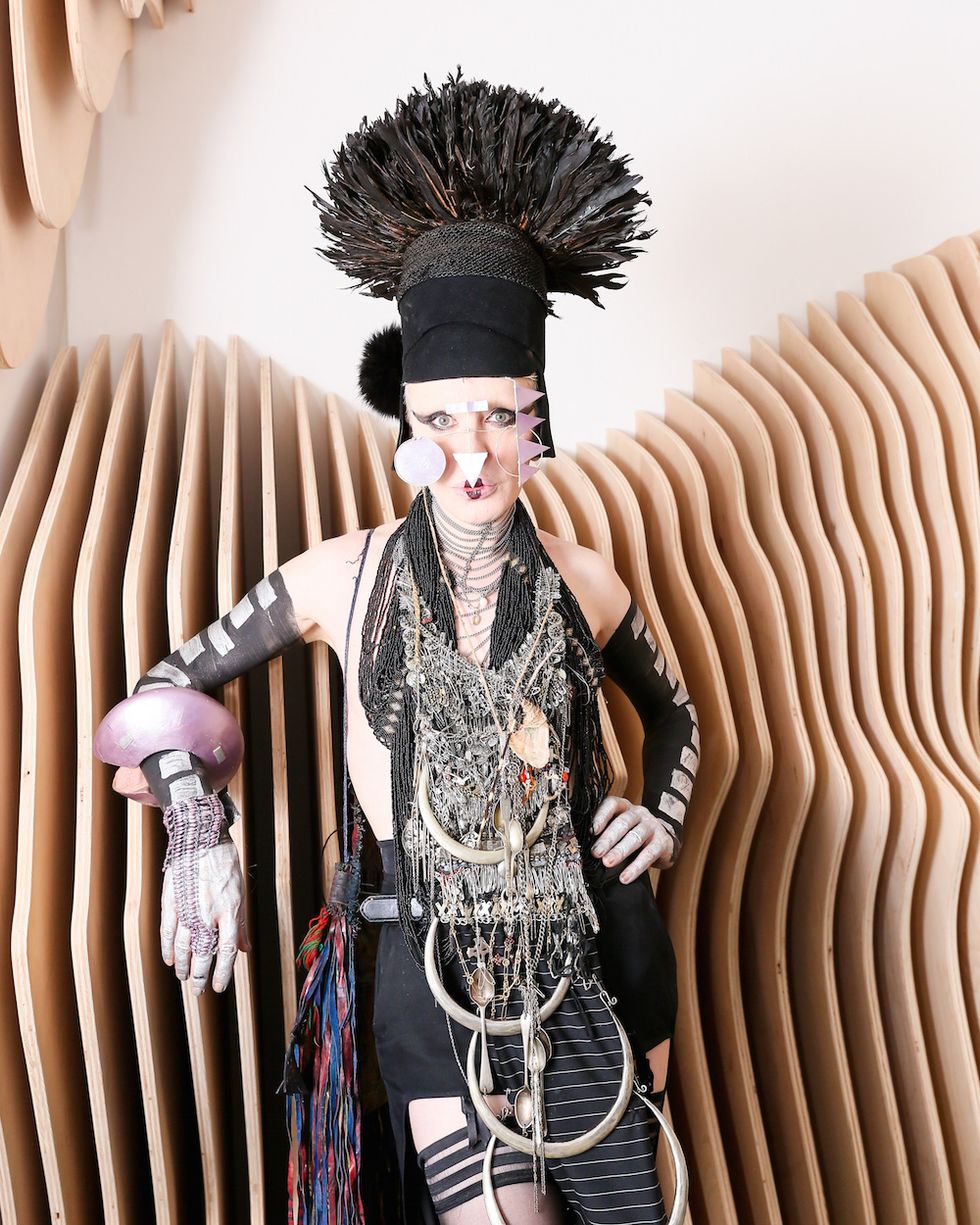 You had a long run with Susanne Bartsch doing Sunday night Vandam parties at Greenhouse, until just a few years ago.
It was going great until we started fighting. It was a fabulous party and I loved it and loved everyone who came, but it was sort of the beginning of the end for me. Fighting with Susanne was not pleasant. My ego wanted to win, but I should have been smarter and known I couldn't. We've made up.
Was the fight about commerce or creativity?
No. We actually are both very similar on that. I trust her and she says she now trusts me. I think it was…I'd have to say it off the record or it would cause another fight. I'll just say it was a clash of ego. My ego got involved, but there were buttons pushed, I think on both sides. The night was so successful, there was no need for a fight.
How did that party (and club) end?
The beginning of the end was that rapper hitting somebody over the head. [In the adjacent club in 2012, there was a brawl involving the entourages of Chris Brown and Drake]. It drew attention to the fact that there's a hip-hop night. And the police have an unwritten rule that any hip-hop night in any residential neighborhood where condos cost a certain amount of money, [you have to] shut 'em down. I was actually dragged into court. They asked me, "Are you telling me you don't know that molly is being used in your club?" I said, "Not personally. I don't know that for sure." If somebody stole something, you have to see it, or you can't say it. I said, "I presume people do lots of things, but I'm not encouraging it."
What for you has been the most fun nightlife happening so far?
I always think that I had the most fun when I came to New York. I think the early days, getting to know Susanne when it wasn't so much of a business -- the Savage days. Also, Limelight was really fantastic. I wouldn't say it was the most glamorous, but it had everything that added up to something that was non-conventional, breaking down rules, and creating something new. As much as Michael Alig gets on my nerves and is a narcissist, I think he actually did create something original. Very few people are doing that. Everyone's copying a formula, and they're fun parties, but he really created something off the wall and original. It was an idea in reconstructing what a society could like.
Do you plan to stay in nightlife?
Only if it's right. I never want to stop dressing up, because that's in my DNA -- creating looks and experimenting and trying to make some beauty out of a costume. Nightlife was the way to do that. Now you can do it at home -- and I do. But I do miss the community part of it, and I only want to be involved if it's right. I've done so many shitty things in the last couple of years that I'll never want to do a shitty night again or be involved with shitty people again. I actually would work with Susanne again. I really do like her. She's a strong woman, but in the end I think we clicked the best and balanced each other. Somebody said, "You're Irish and she's Swiss and it sort of, in a strange way, works."
Photo by Aria Isadora/BFA.com


You May Also Like
America
Story by Mikelle Street / Photography by Renell Medrano / Styling by Anatolli Smith / Hair by Evanie Frausto / Makeup by Marcelo Gutierrez
America
Story by Rob Dozier / Photography by Moisés Arias / Styling by Jason Bolden