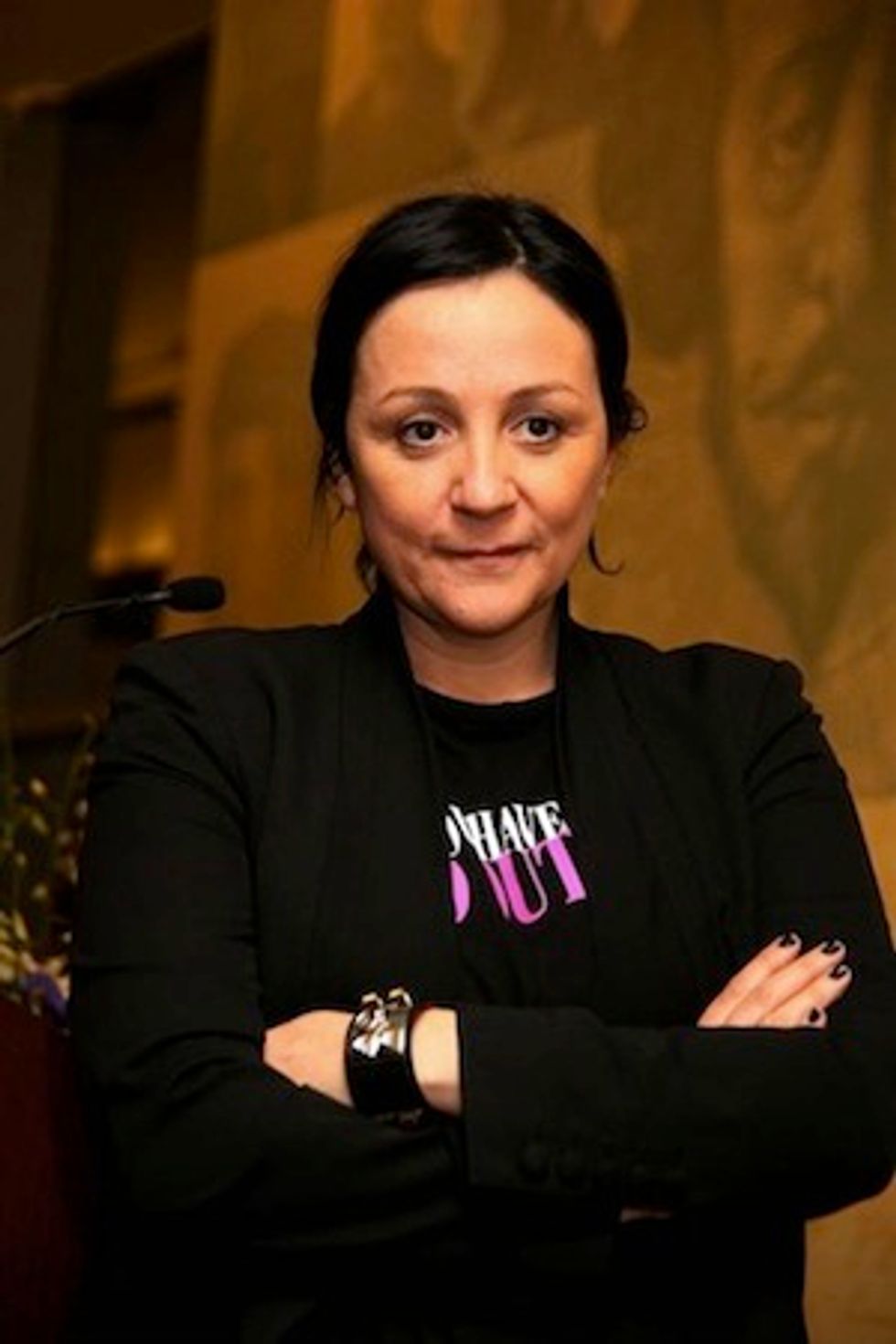 As a whole, the fashion industry has unequivocally embraced the use of social media to promote its news and brands. 
Kelly Cutrone
and her PR firm 
People's Revolution
are no exception. Kelly claims that her use of various social media outlets stems from her desire to be more accessible, and opening the Rev's doors to Bravo's cameras for
Kell On Earth
left her fans wanting more. Luckily, her followers will be getting a
lot
more of her in the coming months; she's openly discussed plans for a retail venture called Electric Love Army, and a new scripted television show she's shopping around with
Gossip Girl's
Stephanie Savage
. 
Early this week, she revealed on her Twitter that she would be holding a "town-hall" meeting in Washington Square Park, and encouraged her fans to meet her there in the early evening. Despite the rain, I decided to head downtown. I was not alone: over a hundred college-aged kids -- along with a mom or two -- crowded under the arch in the park to get their chance to chat with Kelly. Like a genuine celebrity, she was greeted with cheers and applause from her enthusiastic, young fans, who gathered as close as they could to the PR guru, hanging on her every word. 
Kelly seems to genuinely appreciate her admirers, and says that she's always learning from her fans who reach out to her via Facebook and Twitter. In writing her second book, her first order of business is to create a new section in bookstores for twenty-somethings who are just starting their lives, ideally among books about surfing, gaming, and other "cool fucking shit." It would be an understatement to say she was angry to find her work in the "self-help" section, and even worse, the "dating" section in a bookstore in LA. "I screamed, 'THIS IS UNACCEPTABLE'," she recalled. "I'm a single mother! This is a book about independence!" 
Not only did Kelly hand out Fashion Week tickets and order pizza for everyone in attendance, she requested that they tell her exactly what she should address in her next book. While topics shouted out from the audience ran the gamut from finance to fashion quandaries, there are a couple of subjects she is passionate about including in its pages. One chapter will undoubtedly be on "disposable friends" versus the people in your life who will love you "no matter what," and another will explore the idea of "lovers versus partners." A piece of advice that Kelly couldn't stress enough: "always get a pre-nup." 
What wisdom do YOU want Kelly to bestow upon us in her next book? Leave your suggestions in the comments section. We'll be sure to pass them along.